Roasted Pumpkin And Pearl Barley Risotto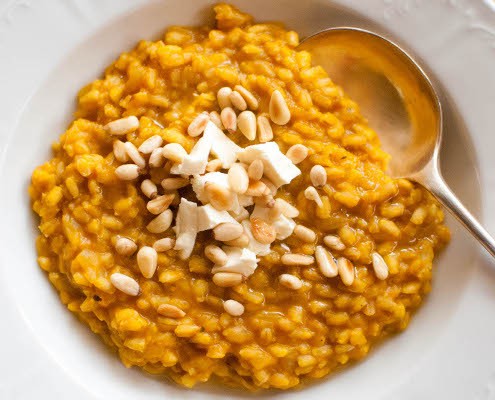 This beautiful barley risotto is a colorful vegetarian dish served by Sydney based Maria Laitinen.
By Maria Laitinen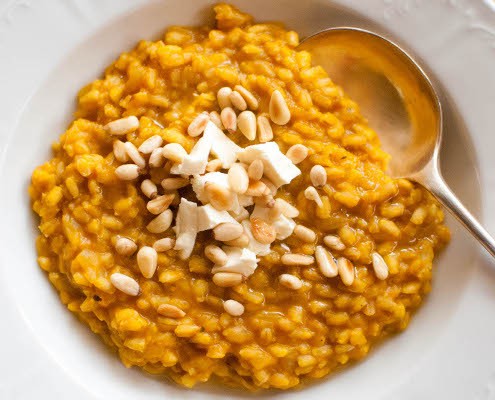 This is one of my all time favourite dishes. I love the texture, the flavour and the colour – it's a feast to all your senses! I love using pearl barley to make "risotto" as it has a lovely nutty and wholesome flavour and goes wonderfully with the earthy flavours of roasted pumpkin. Walnut oil is also my favourite and it gives this dish almost a luxurious finish. Topped with golden pine nuts and creamy feta cheese this is a perfect vegetarian meal on its own.
Roasted Pumpkin and Pearl Barley Risotto
750g (5 cups) Jap pumpkin (kabocha)
1 tsp dried rosemary
1 tsp dried thyme
Himalayan pink rock salt
ground black pepper
2 tbsp olive oil
1 tbsp walnut oil
1 tbsp olive oil
1 medium brown onion, finely chopped
280g (1,5 cups) pear barley
1 litre (35 oz) organic vegetable stock
low-fat feta cheese, to serve
pine nuts, toasted, to serve
walnut oil, extra, to serve
1. Preheat the oven to 180C/356F.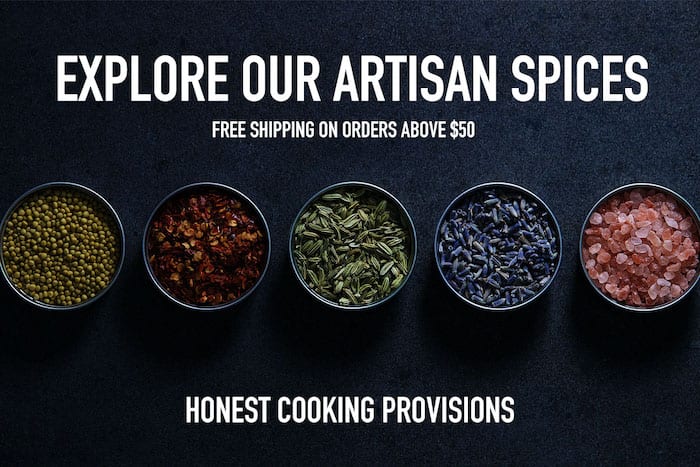 2. Peel the pumpkin and remove the seeds. Cut the pumpkin into small chunks and place on a roasting tray lined with baking paper. Sprinkle on the herbs, seasoning and the oil and toss well to combine. Arrange the pumpkin evenly on the tray, then bake for 20 minutes or until fully tender. Remove from the oven and let cool slightly.
3. Heat the olive oil in a large frying pan. Add the onion and sauté for 5 minutes or until soften. Add the barley and stir through. Add the stock, bring to boil and let simmer stirring occasionally for 25-30 minutes.
4. In the mean while, place the pumpkin into a bowl of a food processor and blitz until smooth. Add one teaspoon of walnut oil and blitz again to mix. Once the barley has cooked through, add the pumpkin puree and let simmer for a further few minutes.
5. Serve the barley risotto with crumbled low-fat feta cheese, toasted pine nuts and a drizzling of walnut oil.
Maria Laitinen
Maria Laitinen is a regular contributor to Honest Cooking. She is the editor of the food blog Scandi Foodie specialising in healthy, feel good food. Originally from Finland and living in Sydney, Australia, her food philosophy and sense of style is heavily influenced by her Scandinavian background. She is a tireless promoter of Nordic cuisine and an avid collector of vintage tableware.