I figured I'd order a Greek salad when my husband said we were going to a Mediterranean restaurant for lunch.  Little did I know my previous experiences with Mediterranean food were about to be expanded.
Away from the strip in Las Vegas, Nevada, and noticeably without the glitz and glamour, we drove into a small mall on West Flamingo Road.  The sign read Jerusalem Mediterranean Grill as we entered the restaurant and a hostess quickly seated us.
We began by ordering hummus made with sesame tahini and the presentation was eye appealing.  Olive oil drizzled in a circle, whole garbanzo beans and parsley on top tempted my taste buds.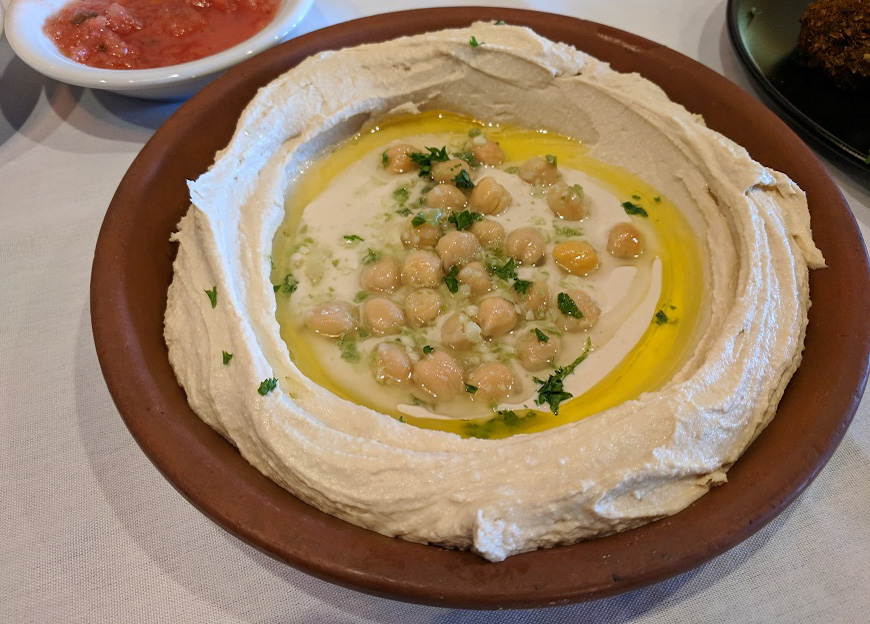 The pita bread served with it was unlike the triangular flat pita bread I'm used to. This bread was thicker and round like the size of a puffy disc. And warm, which meant I couldn't stop tearing it apart to dip in the hummus.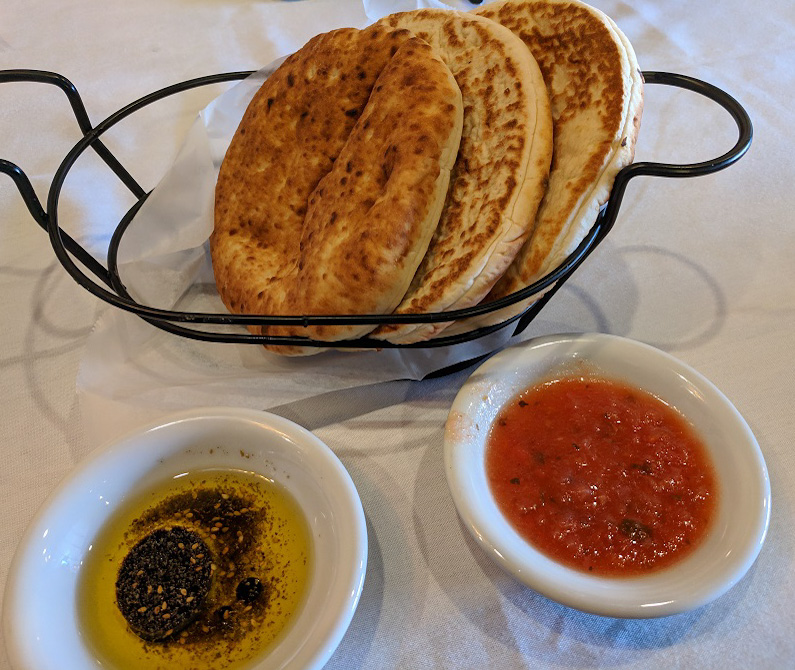 Next, we ordered falafel fusion tabbouleh to share which came with tahini dipping sauce. I cut one open and the inside was bright green and tasted very good.  The ingredients of red quinoa, parsley, mint, tomatoes and roasted cinnamon apricots packed into a fried ball was an awakening to me.  How is this food so fresh and unusually delicious?   I sought out the owner.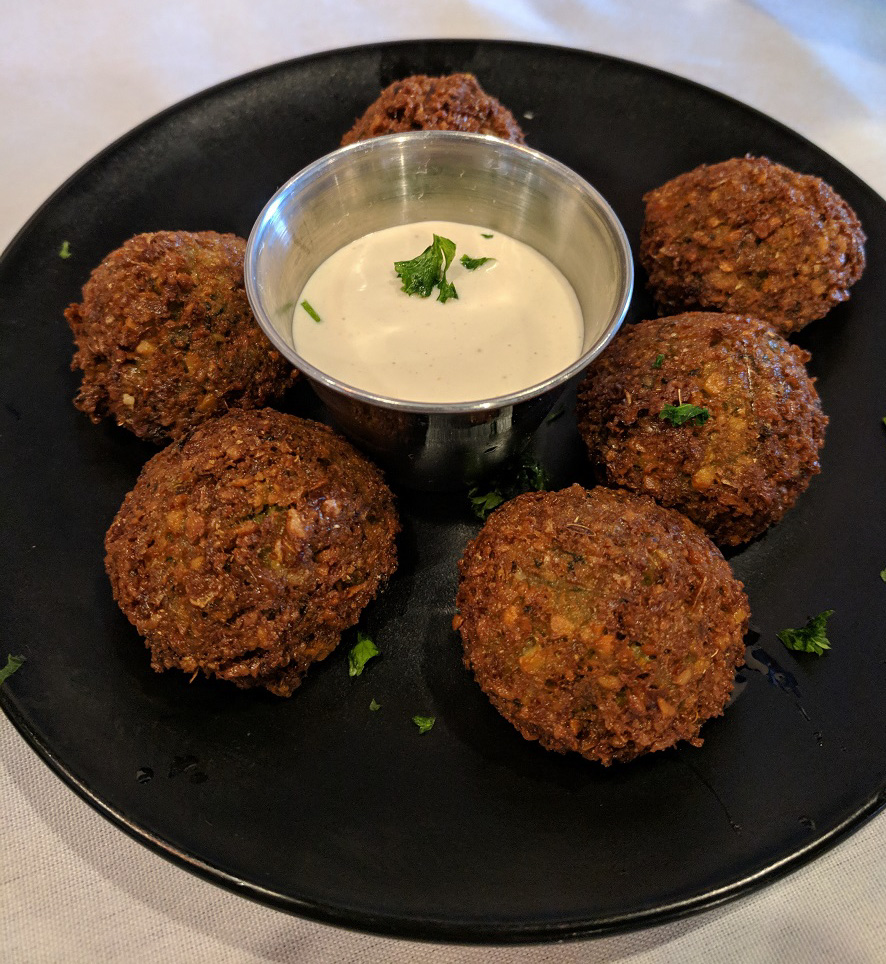 Lior Facher, owner and chef, came to our table and introduced himself.  Mr. Facher started in the food business young. His family immigrated from Herzilia, Israel and he helped his dad with a pita stand in Las Vegas.  When his dad fell ill, he stepped in to run it. School went to the wayside as he learned ways to increase business by cooking ancient recipes and using techniques from chefs he admired.  To ensure the food was the best, he sought out ingredients from various areas of the Mediterranean and spices from Morocco and middle eastern countries. He told us the ingredients used are very fresh and the restaurant is true Kosher.  I expressed that I had not tasted food like his in the many Mediterranean restaurants I've dined in. Facher said he's driven for customers to taste the difference between his menu items and Americanized Mediterranean food.  I realized the differences bite after bite.
The catering side of the business is robust, and he has many international customers seeking Glatt-Kosher and Halal certified foods. Not one to slow down, he excused himself to coordinate a catered dinner for several hundred people.
Facher praised his culinary team and together, they put old world food on the map in Las Vegas. Now I thankfully know there is more to Mediterranean food than a Greek salad.
Jerusalem Mediterranean Chef's Table
4825 W Flamingo Rd Suite 10
See Also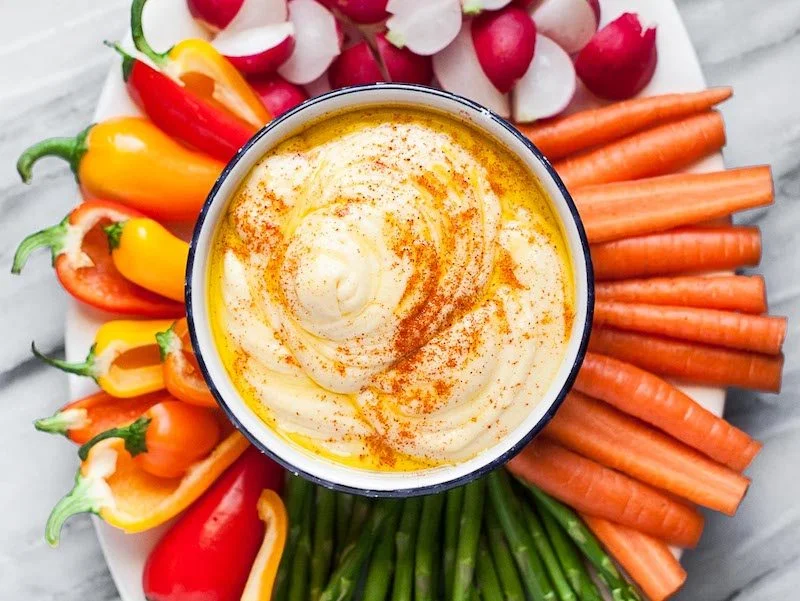 Las Vegas, NV 89103
702.341.5555
www.jerusalemgrillvegas.com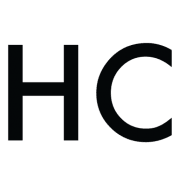 MLiss A Hinshaw
M'Liss is a freelance travel writer with a niche for food which together makes the world her place to explore fabulous sites and tasty foods. After retiring from public safety work in San Diego, she picked up the pen and pad and with a camera around her neck started searching for delicious desserts, occasional protein to balance the sugars and all served in scenic locations. Here's to your food adventure...