These garlic cheddar biscuits are not only delicious, they are SO easy to make.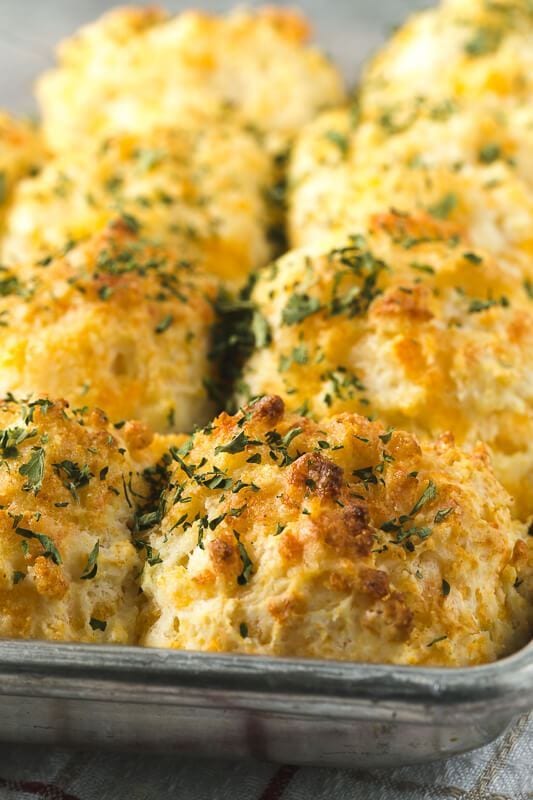 All right, I don't care if you hate Red Lobster and think that their food is the worst ever (my family loves Red Lobster and I grew up eating there on a regular basis, and still do from time to time when my family goes out) everyone loves their Cheddar Bay Biscuits (if you don't you don't have to tell me I'm wrong. Just be content in knowing it.).
I remember when they first introduced them. It was like some sort of epiphany, a little gift from Heaven in the shape of a cheesy, garlicky piece of soft bready goodness. If Red Lobster ever decided to discontinue the Cheddar Bay Biscuits, they'd have to just go ahead and close their doors, because even their most devoted fans would commit mutiny. Or so I hypothesize. But I digress…..
Now, I am sure that many of you have attempted to make these garlic cheddar biscuits at home. For many years, I did too, with my trusty Bisquick biscuit recipe (from the back of the box). I was disappointed every time (sorry, Bisquick. It's true). There was just something missing! A few years ago, however, I found the book Top Secret Restaurant Recipes 2 by Todd Wilbur, and everything changed. There was a recipe in the book for Cheddar Bay biscuits, and it was awesome.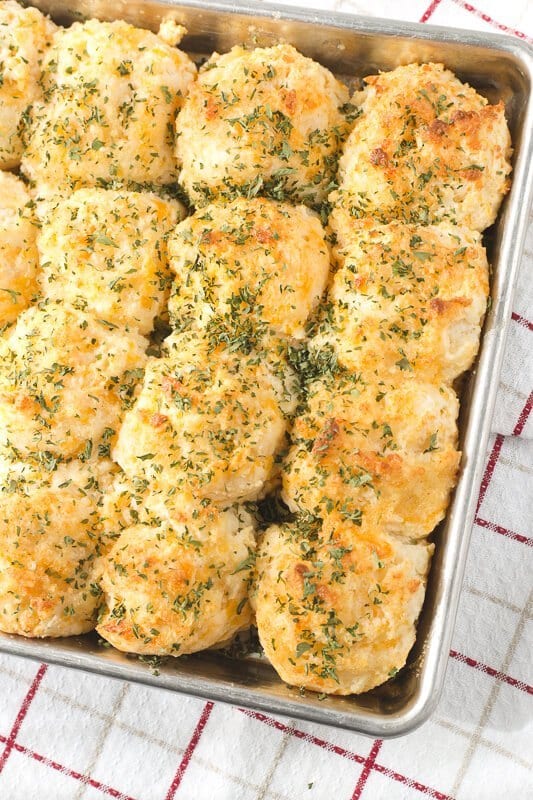 The thing is… Todd's recipe for garlic cheddar biscuits calls for Bisquick. You guys know me. There's no Bisquick in this house. Biscuits must be made from scratch, whether they're plain buttermilk biscuits or garlic cheddar biscuits. Now, I know that they sell Cheddar Bay biscuit mix in the stores these days, but these garlic cheddar biscuits are simple, with just a few ingredients (use self-rising flour to make the ingredient list even shorter).

Cheddar-Garlic Biscuits
Recipe Type:
Bread, Biscuits
Ingredients
2 cups all-purpose flour
4 teaspoons baking powder
1 teaspoon salt
½ teaspoon baking soda
1 tablespoon garlic powder, divided
6 tablespoons cold unsalted butter, cut into cubes
4 ounces (1 cup) cheddar cheese
1 cup buttermilk (can sub milk, cream, or half and half if you don't have buttermilk)
4 tablespoons unsalted butter, melted
2 teaspoons dried parsley
Instructions
Preheat the oven to 450 degrees. In a large bowl, stir together the flour, baking powder, salt, baking soda, and 1½ teaspoons of garlic powder. Use a pastry blender or your fingertips to work the butter into the flour mixture until it resembles coarse crumbs.
Stir the cheddar into the mixture than stir in the buttermilk (start with ¾ cup of the buttermilk and then gradually add more until it all comes together).
Scoop ¼-cup size scoops of the dough onto a baking sheet with the edges of each biscuit barely touching. Bake until golden, 12-15 minutes.
In a small bowl, stir together the melted butter and remaining garlic powder. Brush the tops of the biscuits liberally