Sara Clevering serves a lovely autumn dessert based on Italian prune plums.
By Sara Clevering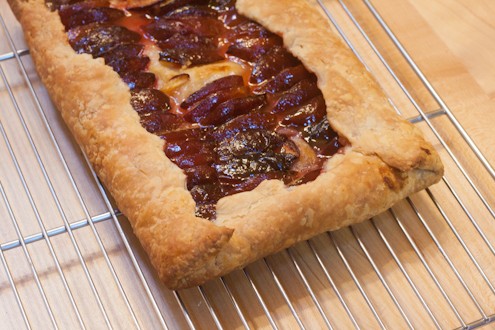 Puff pastry is one of the miracles of butter. The dough goes from razor thin to blistered, flaky, and, well, gloriously puffed in the oven, thanks to the pockets of butter that release steam to create that crisp, shattering architecture.  And baking with puff pastry lets me pretend, at least a little, that I'm an expert patissiere.
But without too much work, please. True puff pastry does take some effort, more technique and even more waiting time.  Luckily, the shortcut "quick puff" method–which is very easy and very fast–yields excellent results.  (Maybe it's cheating to use a food processor, but I won't tell if you won't).  Many variations of quick puff are out there; I use Nick Malgieri's version (described here) and always make extra for the freezer.  You can find raw puff pastry in the freezer case, and while some brands are very good, quality can very.  That's the best part about making your own puff though (besides being much more economical):  you know your pastry is made with pure butter, rather than trans-fat or its only slightly less undesirable cousins.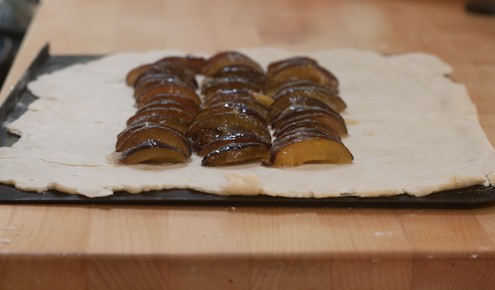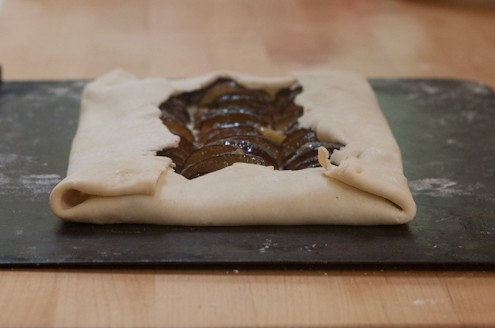 Here's a lovely fall dessert, made with Italian prune plums (though you could use any plums, or indeed any fruit).  Prune plums are oblong rather than round, and almost a blackish purple.  While they don't taste much different than other plums raw, somehow through the alchemy of heat they become jam like and rich with spicy aromatics–perfect for cooling nights. Toss them with a bit of lemon zest and sugar and arrange prettily across your pastry dough, and fold the edges over.  You needn't be too fussy though. Because it's a galette, shaggy edges are to be desired rather than shunned, as they lend a rustic look to your final masterpiece.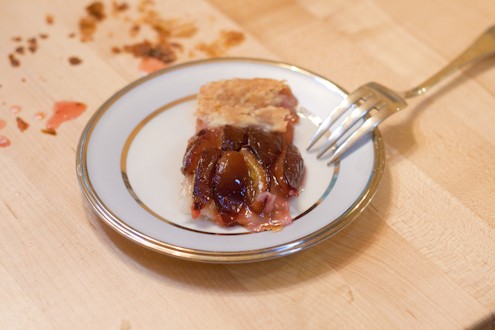 Italian Prune Plum Galette
Ingredients
¾ to 1 pound (350-450g) Italian Prune Plums
5 tablespoons sugar
zest of one lemon
10 ounces puff pastry (about 285 grams), defrosted overnight in the fridge
Instructions
Roll out puff pastry dough into a rectangle roughly 14 by 12 inches (35 x 30cm, or about the size of a cookie sheet). Gently lift onto a cookie sheet, and refridgerate while preparing the fruit. (Puff pastry, like pie dough, needs to be kept cold).
Slice the plums in half lengthwise, then slice each piece in half again. Toss gently (using your hands) with the lemon zest and the sugar in a bowl.
Remove the pastry dough from the refridgerator, and arrange the fruit slices down the center, leaving about two inches margin at each edge. Fold the edges towards the center, partially covering some of the fruit.
There will be some "syrup" left in your bowl, scrape out as much as you can and drizzle over the plums.
Bake for about 35-40 minutes at 425F (220C). (Reduce to 400F/200C if the pastry browns too quickly).
Notes
Firm fruit retains its shape best (and thus emerges more beautifully from the oven). This is more of a method than a recipe: if you don't have Italian Prune Plums, use any other plums you have available. Or, in fact, any fruit you prefer!