Green Lentil Crepes – Pesarattu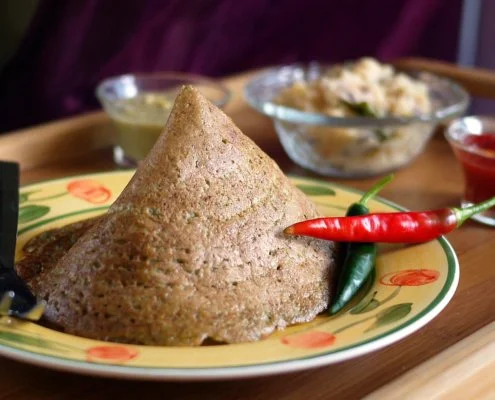 Sonia Mangla features her favorite South Indian Pesarattu lentil crepes.
By Sonia Mangla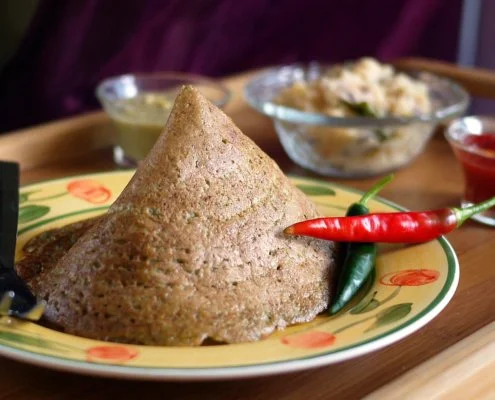 I am a big fan for South Indian food and always dream myself feasting on a Big Masala Dosa with its various accompaniments. It has always been more dear to me, even more than north Indian staple food (whole wheat chapatis). Pesarattu scores over conventional masala dosa for me for two reasons. One, it is made up of whole green lentils (very high in protein and healthy lentils). Secondly, it doesn't require fermentation as it is ready to make crepes just after couple of hours of soaking and grinding, so no long wait time for dosa to come in your plater, perhaps, thats the best point about these quick and green crepes.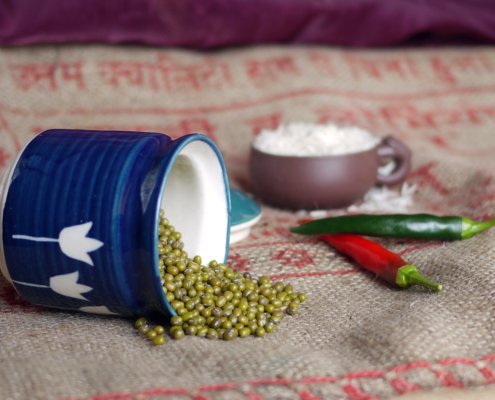 Green Lentil crepes from India - Pesarattu
Sonia Mangla features her favorite South Indian Pesarattu lentil crepes.
Recipe Type:
Breakfast, Main course, Snack
Ingredients
Ingredients:
2 cups skin-on, whole Green lentils (sabut moong dal)
1 cup White Rice
1 green chile, optional
2 tsp coriander leaves
1 tsp grated ginger
1 tsp cumin seeds
Season with salt to taste
Oil/Ghee
For Upma:
1 Cup Semolina (lightly roasted)
Cumin seeds/rai: ½ tsp
Onion: 1, finely chopped
Tomato: 1, finely chopped
Nuts : handful
Season with salt/paprika to taste
Coriander to garnish
Instructions
Method to make Upma:
Lightly roast the semolina in a non stick pan and take it out.
Add ghee in the same pan and splutter cumin and rai.
Add the finely chopped onions and tomatoes and stir fry for 5 minutes.
Add 3 cups of water (triple the quantity of semolina) and bring it to a boil.
Season with salt and paprika to taste.
When the water starts boiling, gradually add roasted semolina and keep stirring.
Garnish with nuts and chopped coriander.
Method to make Pesarattu:
Wash and soak the lentils and rice in a bowl with warm water.
Let it soak for 4-6 hours or preferably overnight (this will make the grains soften to grind)
Drain and reserve the water to add gradually to make a fine paste.
Now pulse green lentils, rice, chile, coriander and ginger in a blender or food processor to make a fine and flowing yet thick paste. (add water slowly).
Stir the cumin seed and salt into the paste.
Preheat a non-stick skillet over medium-low heat.
Making your Crepes:
Drizzle some ghee on the skillet and check if its ready.
Pour a ladle full of batter in the center and swiftly move it outside in clockwise direction.
Drizzle some oil/ghee on the sides and let it cook for couple of minutes.
Now flip it on other side and add a filling of upma in the center.
Close it in a half way moon style and enjoy with chutney and sambhar.
Sonia Mangla
Sonia Mangla is a passionate Food Blogger & Photographer. She creates Fusion of Indian flavors and loves cooking for her guests. Her work is featured on some popular sites like FoodGawker,Tastespotting, Tasteologie & Foodbuzz.