Italian Canederli Dumplings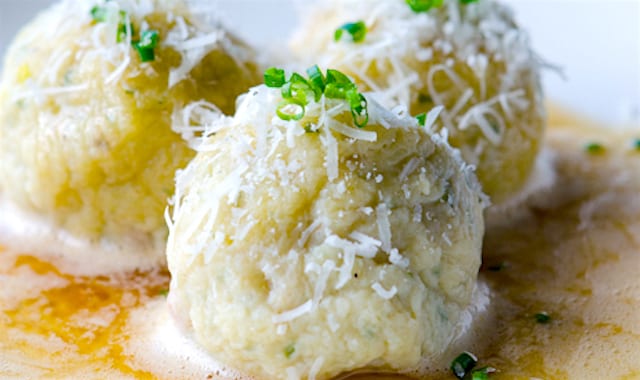 Italian dumplings, or canederli, are a delicious way to use up stale bread. Learn how to make them and serve in a brown butter sauce or soup broth.
By Kathy Bechtel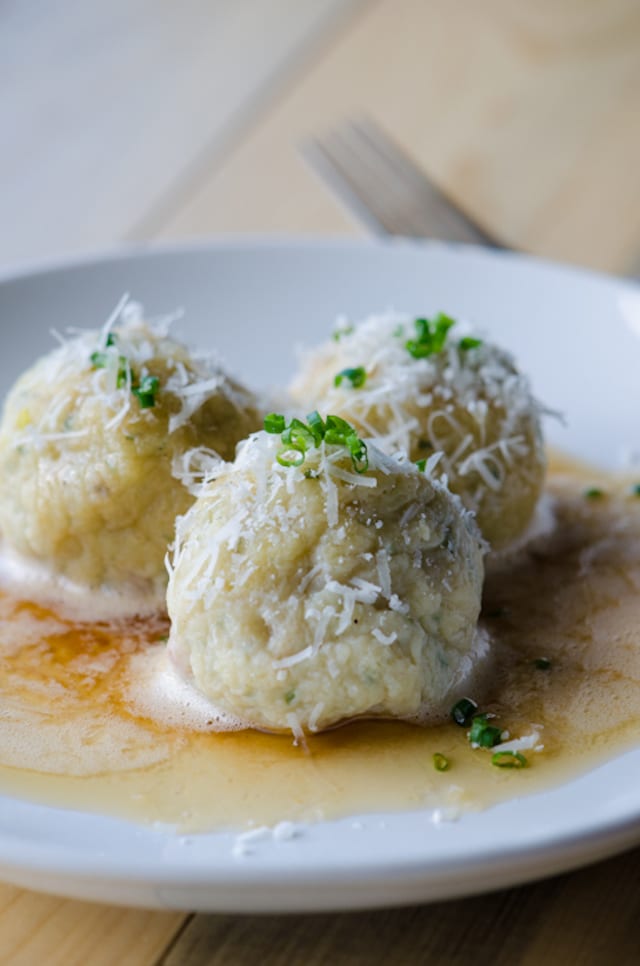 If I had to pick one dish to represent the regional cuisine of Trentino-Alto Adige or Sudtirol, canederli would be it. With it's majestic terrain of mountains and river valleys, fascinating history as it has been caught between the Mediterranean influences to the south and Germanic peoples to the north, and over 300 days of sunshine annually, it is the perfect area to explore on a cycling tour or hiking adventure.
Canederli dumplings, or knödel in German, are the signature dish of Tyrol. These are large dumplings made with stale bread, milk, flour and egg, and flavored with a variety of different ingredients. They are a quintessential example of the 'cucina povera' of Italy, creating a dish out of your leftover stale bread and flavoring it with whatever you had on hand. They can be savory, and served as a first course (Canederli in Brodo or con Burro) or as a side dish to accompany meats, like a traditional goulash. You will also see sweet versions, often stuffed with fruits or creams and served for dessert.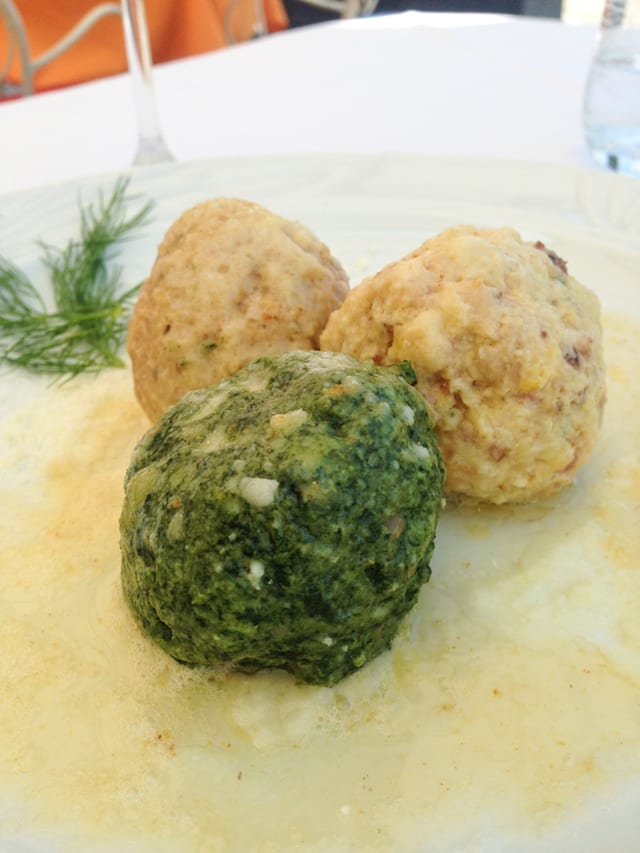 In each valley they are cooked differently: in Val Passiria and Burgaviato we find varieties made with buckwheat, in the Puster Valley there are Canederli di Magro, or 'skinny' dumplings made without meat. In Val Venosta they might be steamed rather than poached. Different flavoring options abound, from speck, mushrooms, cheese, spinach, to nettles, turnips and sausage. The most typical version is the one I present today, Canederli di Speck, speck being the smoked prosciutto produced here in Trentino-Alto Adige. But gourmet versions of the humble canederli abound, from beet canederli (recipe here) to canederli with fresh porcini to ones stuffed with malga or farm cheeses.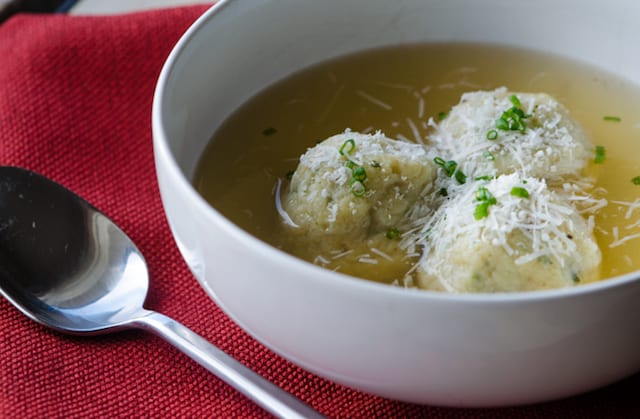 I researched several recipes for canderli, and they all varied greatly as to the amount of flour used, from a couple of tablespoons to a cup or more. One recipe I translated from Italian recommended: "the bread must be perfectly dry and hard, several days old. The optimum consistency of the dough for the dumplings depends on various factors such as the size of the eggs, the type of bread, etc. So do not worry about the doses, but vary according to need." Too much flour and they will be dense and heavy; too little, they will break apart during poaching (testing one is recommended) and they will not hold their rounded shape. So add the flour gradually, a bit at a time, and don't feel you need to use all of it.
I provide two very typical ways of serving the canederli here – Canederli in Brodo are served in a rich beef or chicken broth, and Canederli al Burro Fuso, served in a browned butter sauce.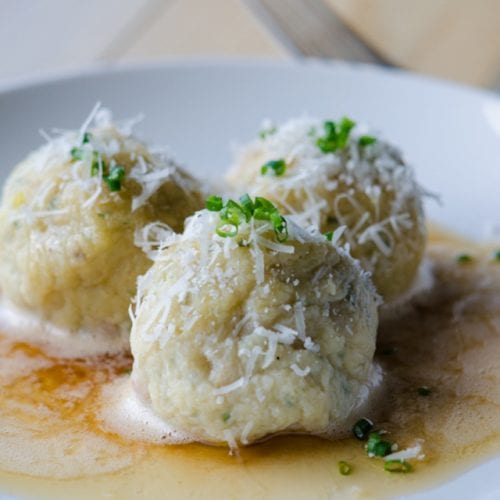 Italian Canederli Dumplings
Kathy Bechtel
Italian dumplings, or canederli, are a delicious way to use up stale bread. Learn how to make them and serve in a brown butter sauce or soup broth.
Ingredients
8

ounces

stale white bread

cut into 1/4 inch dice

1 1/2

cups

milk

1

tablespoon

butter

1/2

onion

minced

1/2

leek

minced and rinsed well

2

tablespoons

fresh Italian parsley

minced

4

ounces

speck

diced

2

eggs

beaten

1/4

cup

to 1 cup flour

plus more for dusting

Kosher salt and freshly ground pepper

8

cups

good beef or chicken stock
Instructions
Place the bread in a large bowl and add the milk. Stir to combine, and season with salt and pepper. Allow to rest for an hour, stirring occasionally to make sure the bread is uniformly moist.

Meanwhile, melt the butter in a saute pan over medium heat. Add the onion and leek and cook until translucent and soft, about 4 minutes. Allow to cool.

After the bread mixture has rested, add the onion-leek mixture, the parsley, speck, and the eggs and thoroughly mix the ingredients with your hands, breaking up any larger pieces of bread and making sure the speck, parsley and onions are evenly distributed.

Then begin to add the flour, 1/4 cup at a time, stirring to combine everything. The final amount of flour will depend on how dry the bread is, the type of bread, the size of the eggs. It will begin as more of a batter, sticking to the sides of the bowl more than itself. It will stiffen as you add more flour, beginning to clump together in a large ball. In the end, the mixture should be uniformly moist, and still a little sticky. If it is very sticky, add a bit more flour.

Using your hands coated with flour, form the canederli by pressing the mixture into balls, about the size of a clementine. Roll each ball lightly in flour, shake off the excess and place on a sheet pan, leaving room between each so they do not stick. If they do not hold their rounded shape fairly well, and instead flatten immediately, you probably need a bit more flour.

If you have not made these before and are unsure of the consistency, you can test one at this point before forming all the dumplings. Poach the first one in a pan of boiling water for 10-12 minutes. If it does not hold together, a bit more flour might be required. This is not an exact science – make them how you like them!

When ready to serve, bring the broth or water to a simmer in a large pot. Place the canederli into the simmering liquid and poach for 12 minutes or so. They will sink to the bottom at first; stir them occasionally so they don't stick to the bottom. Eventually they will float to the top.

For Canederli in Brodo: Spoon the canederli and broth into bowls, top with grated grana cheese and minced chives, and serve immediately. Note that the broth will be cloudy from the flour that coats the canederli. If you prefer a nice clear broth, poach them in broth or water which you then discard, and use fresh hot broth to serve.

For Canederli in Burro: Remove the canderli from the poaching liquid and keep warm. Melt 1/4 cup butter in a saute pan until brown and nutty. Place 3 canederli onto each plate, pour the browned butter over them, then sprinkle with some minced chives, grated grana cheese, and freshly ground black pepper. Or add some chopped sage when browning the butter.
Kathy Bechtel
Kathy Bechtel's obsession with food and cooking began as a teenager. After years following a traditional career path as a telecommunications engineer, she left to attend culinary school and wine training, and is now combining her passions for food and wine, the outdoors, and travel as owner and Culinary Tour Director of Italiaoutdoors. In this role, Kathy leads small bicycle, skiing and walking tours that explore the authentic regional cuisines, local products and undiscovered wines of Northeastern Italy.