Istarska Maneštra: Minestrone with a Croatian Twist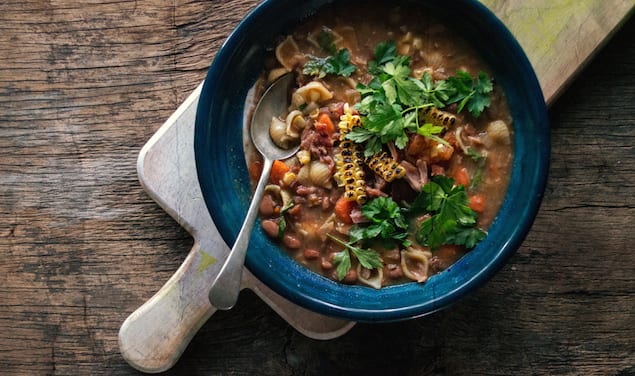 Italian minestrone take on Croatian flavors and flair, including a big smoky hug from the glorious addition of pork ribs.
By John Bek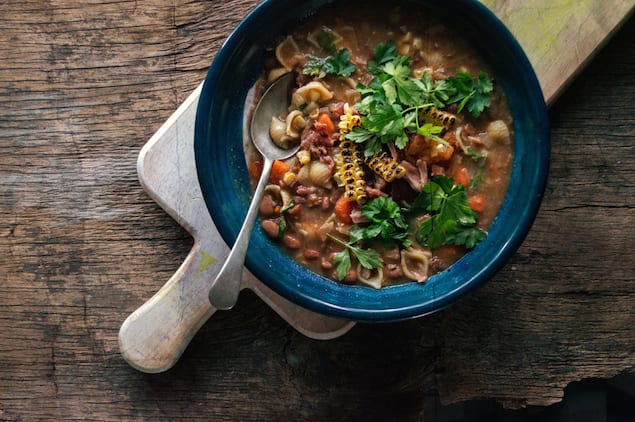 Good old minestrone would have to be one of the most common soups we've come across. An all-in-one meal in a bowl, brimming with goodness and packed with flavour. So trust the Croatians to adopt the idea and put their own spin on it. I guess Italy and Croatia are next door neighbours with exceptional taste!
Traditional Italian minestrone is all about vegetables and beans; probably born in a kitchen that used whatever was on hand. Clearly this wasn't enough for those meat-loving Croatians that live on the Istrian peninsula, so in went some šunka. That would be ham.
What we've got here is a soup that's a glorified version of grah, one of my all-time favourite soups. Not only do you have a medley vegetables and hearty beans, but you get a smoky hug from those glorious pork ribs. Now this is my kind of minestrone!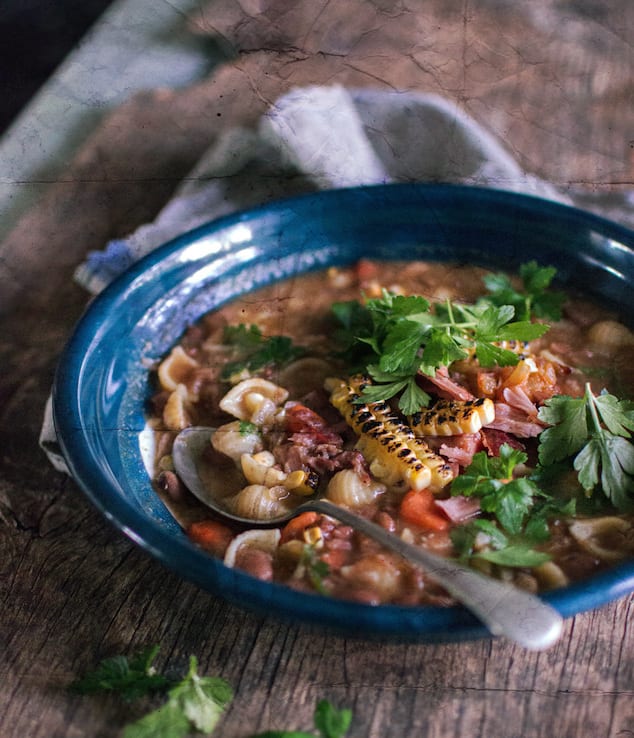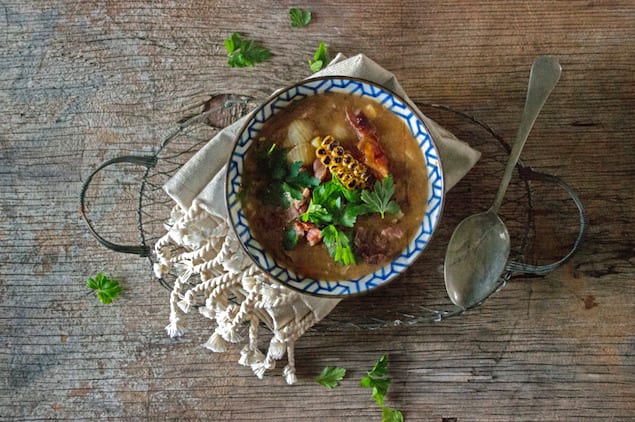 Istarska Maneštra: Minestrone with a Croatian Twist
Italian minestrone take on Croatian flavors and flair, including a big smoky hug from the glorious addition of pork ribs.
Ingredients
230 g (8 ounces) romano beans, soaked overnight
500 g (1.1 pound) smoked pork ribs
150 g (5 ounces) carrot, diced
90 g (3 ounces) turnip, diced
40 g (1.4 ounces) celery, diced
1 corn cob, charred & kernels sliced off
1 large bay leaf
1 cup pasta shells
¼ cup virgin olive oil
1 large onion, finely chopped
1 tomato, chopped into 1 cm dice (seeds & all)
½ tsp paprika powder
Salt & freshly milled black pepper, to taste
2 tbsp vinegar
Parsley leaves, to garnish
Instructions
Place the soaked & drained beans with the ribs, vegetables (except onion & tomato) and bay leaf into a large saucepan. Cover with water and put over medium-high heat and allow to simmer gently for at least two hours, stirring occasionally.
When the soup is near its 2-hour simmering time, cook the pasta shells in a separate pot of boiling water.
Remove the ribs from the soup and, when cool enough to handle, pick off any meat and add it to the soup.
While you cook the pasta, heat the ¼ cup olive oil in a medium skillet over medium heat, and sauté the onion until golden brown. Add the paprika and stir for 30 seconds before adding the diced tomato. Sauté for a further 1 minute and then add the tomato mixture to the soup along with the cooked pasta.
Check the soup for seasoning and stir through the vinegar. Garnish with parsley leaves and erve with loads of crusty bread.
John Bek
John Bek is a trained chef that decided to throw in his professional apron and move into retail management. He's the guy behind heneedsfood.com - a platform that showcases recipes that cover the likes of everyday cooking, use of native Australian ingredients, as well as Croatian creations that come from his heritage. John also writes about where he's travelled around the world as well as any farmers markets he's visited.