A fun and flavorful way to begin the morning with a delicious plate of hot scrambled eggs served on fresh flatbread or toast.
By Nik Sharma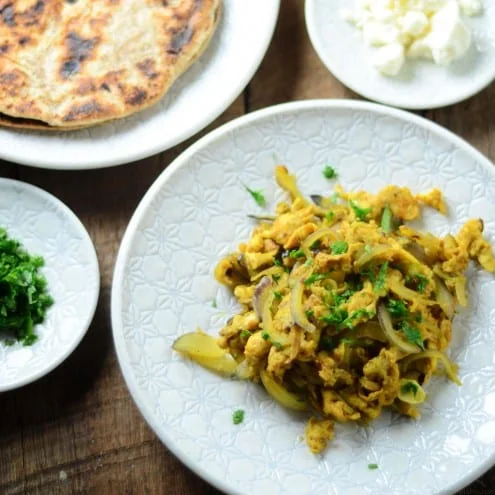 On occasion when I am in the mood for a quick and easy meal for lunch or dinner, I will prepare a batch of these scrambled eggs and polish them off with a little toast. For a lighter fare, I frequently exclude the yolks and only use the egg whites. The turmeric will give the egg whites a deep yellow color making up for the yolks' absence. You can also use tofu as an egg substitute, just be sure to use an extra-firm to firm grade of tofu that has been drained of its packaging water.
There are several complex notes and flavors in this simple dish. Ghee is a common dairy based fat that is a staple of Indian cooking. It is made by heating cream collected from milk till the fat and solids separate. The fat is collected and cooled and used as ghee. Since it is a source of saturated fat, I rarely use it while cooking and if I do I tend to cut back quite bit and just add a tiny amount to the dish to impart its characteristic nutty flavor. Of course, there are some other wonderful spices and herbs in this recipe that lend these eggs their bold flavor. The freshly chopped chilies and cilantro leaves along with the dash of turmeric give the eggs a bright color and flavor. I recommend serving the scrambled eggs hot with a side of fresh feta cheese.
A fun and flavorful way to begin the morning with a delicious plate of hot Indian scrambled eggs served on fresh flatbread or toast.
Ingredients
6 large eggs
1 teaspoon ghee or butter
1 teaspoon olive oil
1 medium red onion, peeled and finely sliced
1 clove garlic, peeled and finely sliced
1 tablespoon ginger root, peeled and cut into thin 1inch strip
¾ teaspoon turmeric
½ teaspoon garam masala
½ teaspoon chili flakes or chili powder
1 teaspoon salt
2 green thai chili peppers, thinly sliced
1 tablespoon freshly chopped cilantro
Instructions
Carefully crack the eggs into a large mixing bowl and whisk with a fork till they are uniformly combined. Keep the eggs aside.
Heat a large cast-iron or non-stick skillet on a medium flame. Melt the ghee with the olive oil in the skillet. Add the onion and sauté for about 2 minutes till they are soft.
Add the garlic and ginger and cook for another 3 minutes. Stir constantly to prevent the garlic and ginger from burning.
Add the turmeric, garam masala, chili flakes, and salt to the pan. Cook for another minute with constant stirring.
Reduce the flame and pour the whisked eggs into the hot skillet. The eggs will begin to cook immediately, gently stir the eggs as you would for regular scrambled eggs. Scrape the eggs from the bottom and sides of the pan as the eggs begin to cook and get creamy. As soon as the eggs are creamy, turn the flame off.
Toss in the chopped thai chili peppers and garnish with the chopped cilantro leaves. Serve hot with paratha, roti, or bread and a side of fresh feta cheese.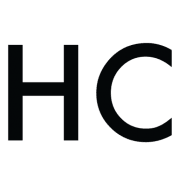 Nik Sharma
Nik Sharma is the cook, author and photographer behind "A Brown Table" and currently resides in Washington D.C. He is a self-taught cook that is constantly trying to infuse "exotic" spices and ingredients by learning different cooking techniques in day-to-day meals with the motto of keeping all cooking methods fun, simple and useful.