Black eyed peas are an excellent source of calcium, and rate high in terms of nutritious value. They also blend well with Indian spices.
By Suchitra Vaidyaram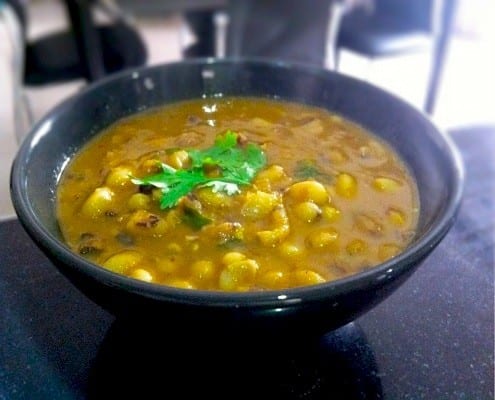 Once, my friend admitted that her cooking choices depended on how easy it is to cook and clean up the kitchen after cooking. That set my mind thinking. I realised that sub-consciously, even I tend to pick up things that are easier to make than its nutritious value. ah… I know, that doesn't get me any brownie points. Of late, I have tried to make a sincere attempt at picking groceries with nutrition in mind. My latest venture in this attempt is black-eyed beans. An excellent source of calcium, these peas rate high in terms of nutritious value. I also realised that it is comparatively easier to cook and they blend well with Indian spices. Ain't that a bonus?
Indian Style Black Eyed Peas Recipe
The not so popular black-eyed beans get jazzed up with Indian spices!
Author:
Suchitra Vaidyaram
Ingredients
1 ½ cups black eye beans (soaked overnight)
½-tablespoon coriander powder
½-tablespoon cumin powder
½-tablespoon turmeric powder
¾-tablespoon garam masala
One chopped onion (big onion)
3 big cloves garlic (crushed and chopped)
1 teaspoon grated ginger
2 medium sized tomates (chopped)
½-teaspoon cumin seeds
Dry red chili (2 pieces) -
Chopped coriander for garnishing
1 spoon butter
Instructions
Pressure-cook the black-eyed beans till they are soft and tender.
In a wok add some oil and once it gets hot put in the cumin seeds and dry red chilies (break them into pieces).
As the cumin seeds start sputtering, add the onions and fry them till they are translucent. Add the garlic and ginger. Keep stirring for two minutes.
Add chopped tomatoes and mash them a bit so that it becomes a good thick paste.
Now comes the spices- put the turmeric powder, coriander powder, cumin powder and garam masala.
Cook for around 5 minutes till the oil separates from the mixture.
Add the boiled black eye beans with 1 cup of water and continue to cook till the beans blend well with the spices (which should take just around 5 minutes).
Add salt, butter and cook for one minute.
Before serving add chopped corriander and enjoy it hot with your rotis!