In a vegan desert of Miami, Anthea Ponsetti and Andrew McLees of Om Nom Nom are changing the rules with cookies that are vegan, 100% natural and use only environmentally friendly packaging.
By Mandy Baca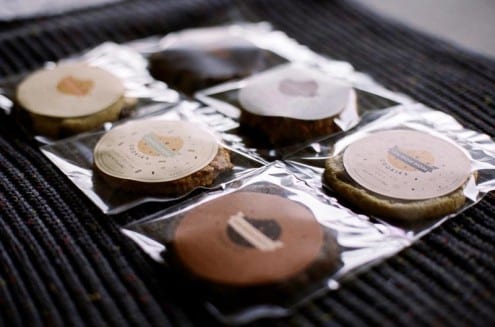 "Me eat cookie! Om nom nom nom." A quote that brings delicious nostalgia.
For Anthea Ponsetti and Andrew McLees, it's a way of life. In a vegan desert of Miami, they are changing the rules with cookies that are vegan, 100% natural and use only environmentally friendly packaging. Through long hours of research and development, the duo have tried hundreds of cookies and hundreds of test recipes to bring customers the very best cookies without sacrificing flavor or quality. At $2 – $3 a cookie, it's not a bad deal for wholesome sweet goodness.
A lifelong baker and chef, cookies are Anthea's Achilles' Heel. As the "Head Cookie" of Om Nom Nom, she is a classically trained chef that has worked in the professional setting for over a decade. Om Nom Nom was born on a couch eating cookies, naturally, and a push from her sister. A self-proclaimed sweets addict, she states that she eats at least one cookie a day. Her favorite flavor? Orange Zested Chocolate Chip, the one that started it all. Daughter to an English mother and Cuban father, it is the perfecting melting of the two. Think English Breakfast and Florida oranges in a cookie.
What other flavors are available? Chocolate Chip, Chocolate Snickerdoodle, Spicy Mexican Snickerdoodle, Cranberry Walnut Oatmeal, Ultimate Peanut Butter. Here's a delicious tip from Andrew, Marketing Director: Dip the Chocolate Snickerdoodle in coffee.
As fervent cheerleaders for Miami, Anthea and Andrew have big plans for Om Nom Nom. They hope to set themselves apart in the cookie world, by not only providing a great food product, but by exposing Miami's incredible music and art landscape. As a lifestyle company, they plan to feature rotating local art on their packaging and on their soon to be launched website. What does the future hold? They are currently testing a 100% gluten-free cookie.
Here's a full list of restaurants and shops that carry Om Nom Nom: Tinta y Cafe, The Cafe at Books & Books Bal Harbor Juice Bar, Panther Coffee, The Last Carrot, Here Comes the Sun, The Newsstand at Books & Books, The Bookstore in the Grove, Bagel Bar East, Green Gables Cafe, Oneburger, Iron Side Cafe, Le Pizzeria di Lemoni, Angelina's Coffee & Yogurt, La Baguette, Pasion del Cielo.
See Also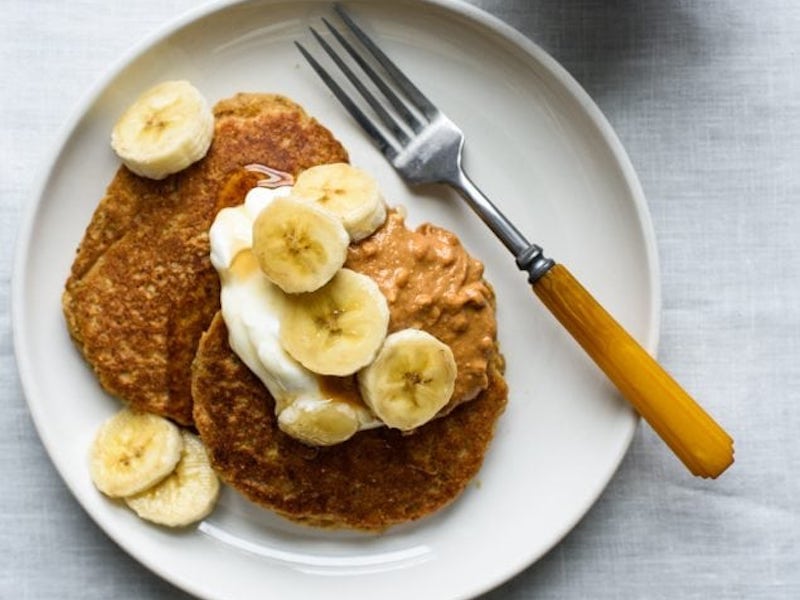 And if you ever find yourself in Miami, check out Anthea and Andrew's top city picks:
– Panther Coffee (Best Coffee Shop)
– The Corner (Best Bar)
– Eating House (Best New Restaurant/Pop-Up)
– Guru's Indian (Best Vegetarian Options)
– Forno 52 (Best Pizza)
– Michael's Genuine Food & Drink (Best Dessert)
– Lost & Found Saloon (Best Late Night Bites)
– Museum of Contemporary Art North Miami (Best Art Institution)
– Tower Theater (Best Cinema)
– Yesterday and Today Records (Best Record Store)
Want to try a piece of the goodness? Check them out on Facebook or Twitter.
Photo Credit: wiissa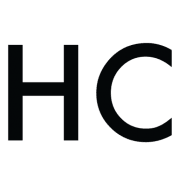 Mandy Baca
As a food obsessed Miami native, Mandy found her true passion for writing while in Hospitality School; uninspired by the school's corporate sensibilities, she dreamt of a more creative route where food and art merged. She holds a masters degree in Italian Gastronomy & Tourism at the University of Gastronomic Sciences and works as the cheesemonger at Kork Wine & Cheese. Most days she can be found writing as she contributes to a variety of Miami publications. As a young writer, she hopes that her unique voice will gain an avid following and is on a personal mission to advance the interest in food culture nationally.