Chocolate Peanut Butter Souffle Recipe
A deliciously simple chocolate souffle with the added charm of peanut butter.
By Amrita Rawat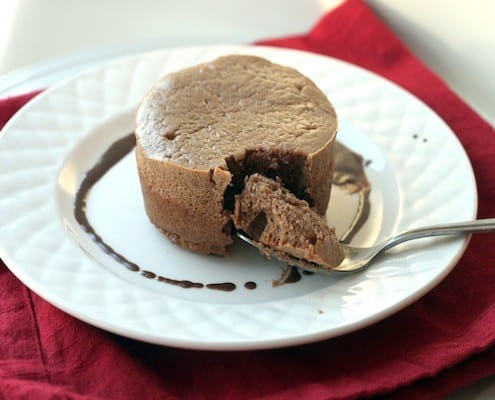 I had my first Reese's peanut butter cup when I moved to the U.S. at the tender age of nine, and I've always thought of them as such a classic American treat. Growing up in India, the options for peanut butter and chocolate together were a bit limited – and judging by the super-sized bags of Reese's my cousins request each year, that hasn't changed.
Although I couldn't (and still can't) get into the whole peanut butter and jelly combo, I do love peanut butter smeared on toast with apples and bananas. I love it in moose tracks ice cream, mixed with Nutella, and of course, classically combined with milk chocolate.
I wanted to make a more unique chocolate-peanut butter dessert than what's been done already, and I wondered what would happen if I simply replaced the butter in a recipe withpeanut butter. Turns out, it's magical.
I chose to make a soufflé since I'd only ever made a savory breakfast soufflé before. The results were light and airy (almost melt-in-your-mouth) with a strong hint of peanut butter. The chocolate was more of an undertone, even though there were six whole ounces in there! We loved this drizzled with some simple chocolate ganache for a richer flavor. For photography purposes, I went easy on the sauce, but I assure you: Off-camera, I slathered it up!
I also didn't let my soufflés rise too much, because I wanted the inside to remain slightly soft and gooey. Feel free to bake 3 minutes longer for more cooked insides.
Chocolate Peanut Butter Souffle Recipe
A deliciously simple chocolate souffle with the added charm of peanut butter.
Ingredients
3 Tbsp. creamy peanut butter
3 Tbsp. all-purpose flour
1 cup milk
10 oz. milk chocolate chips (or dark, if you prefer), divided
4 eggs, separated
¼ cup granulated sugar
4 oz. heavy whipping cream
Instructions
Preheat the oven to 375 degrees.
Grease the ramekins with butter or nonstick spray.
Melt the peanut butter over medium heat in a saucepan. Once melted, add the flour, stirring till it comes together to a low boil.
Stir in the milk until the mixture is combined and thickened slightly.
Remove from heat and add in 6 ounces of chocolate chips.
Let the mixture sit for 1 minute and then stir with a spatula until well combined.
Beat the egg whites and the sugar in a clean bowl until stiff, glossy peaks form.
Stir the 4 egg yolks into the chocolate mixture.
Gently fold the egg whites into the chocolate mixture in two portions until just combined.
Pour evenly into the ramekins and place the ramekins on the baking sheet.
Bake for 12 to 15 minutes or until the edges are crisp and risen (15 to 20 minutes for a larger ramekin or 1 large dish). Bake for a few minutes longer if you like the insides more fully cooked.
Serve warm or at room temperature, with chocolate ganache and/or whipped cream.
To make the ganache: Bring the cream to a boil in a saucepan and pour over 4 ounces of chocolate chips in a microwave-safe bowl.
Let sit for about 1 minute and then stir with a spatula until combined.
Let cool in the fridge for 30 minutes to 1 hour before using.
Amrita Song
Amrita Rawat is the author of the blog Chai and Dumplings. Born in India and a lifelong resident of Atlanta, she recently moved to Saint Louis. Her love for food stems in part from its ability to bring cultures together and in part from how darn good it feels to eat a delicious meal. She loves traveling and has eaten her way through cities like Hong Kong, Paris, Budapest, Mumbai, and Shangri-la. Amrita is also a contributor to Sauce Magazine in St Louis.