This winter salad serves as a large, healthy main dish filled with in-season vegetables and seeds.
By Emily Holbrook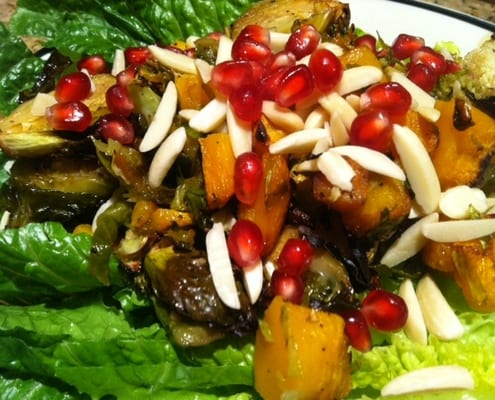 When my friend cooked dinner for me recently, I was amazed at the simplicity of the ingredients, yet the complex taste of the dish. I didn't have to travel to a high-end Manhattan restaurant to find "one of the best salads I've ever eaten," as I proclaimed. Nope, it was right there in a Brooklyn apartment kitchen where I watched simple and in-season come together for a filling, healthy supersalad.
By combining the earthiness of broccoli, cauliflower, butternut squash and Brussels sprouts with the tanginess of pomegranate seeds and balsamic, this dish incorporates the right ingredients at the right time and packs a surprising flavor. This sassy salad serves two as a main dish but can also serve four as a side dish. 

This winter salad serves as a large, healthy main dish filled with in-season vegetables and seeds.
Ingredients
1 head romaine
1 small bunch Brussels sprouts (about 15 bulbs)
2 cups broccoli florets
2 cups cauliflower florets
2 cups cubed butternut squash
3 handfuls shaved Brussels sprouts
1 cup slivered almonds
Olive oil
Balsamic vinegar
Salt and pepper
Instructions
Preheat oven to 350
Combine Brussels sprouts, broccoli and cauliflower in baking dish and toss with olive oil, salt and pepper.
In separate baking dish combine squash and Brussels sprouts shavings and toss a light coating of olive oil, salt and pepper.
Place both dishes in oven on middle rack and roast for 30 to 40 minutes or until lightly browned.
Broil on high for 5 to 7 minutes then allow to cool for 10 minutes.
Slice romaine in half lengthwise, one half to each plate, arranging leaves around ¾ of the plate.
Top romaine leaves with veggies, pomegranate seeds and slivered almonds.
Drizzle with olive oil and balsamic vinegar.
Emily Holbrook
Emily Holbrook is a business publication editor by day and caterer, private chef and food writer by night, weekend and lunch breaks. She dreams of ginger, pork shoulder, raw salmon and rhubarb, in no particular order. She is the creator of the food blog Brooklyn Eats and contributor to Brooklyn Exposed.