Humu's, as the Maui locals call the restaurant Humuhumunukunukuapua'a is famous for fresh fish.
This dish is one of  Chef Lofaro's personal favorites.
By Michelle M. Winner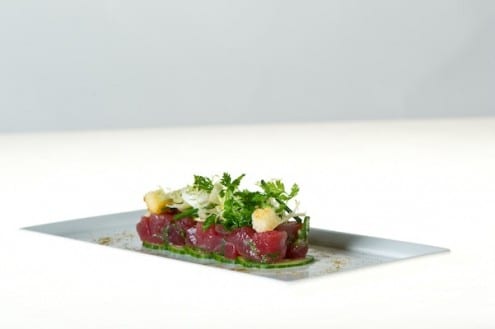 More of the freshest fish from Chef Michael Lofaro at Humuhumunukunukuapua'a
Author:
Chef Michael Lofaro
Ingredients
½ pound sashimi grade Ahi, small dice
1 green onion cleaned and sliced thinly
2 shiso leaf chiffonade
salt and pepper
ground cumin to taste
1 ounce mixed herbs (chervyl, chives, mint, parsley, thai basil)
2 ounce Brioche cut into ½ inch dice and toasted
For the Vinaigrette:
juice of 3 limes
3 Tablespoons ginger juice
1 teaspoon minced galangal
1 teaspoon minced shallot
1 ounce canola oil
1 ounce extra-virgin olive oil
Instructions
For the Vinaigrette:
Mix all ingredients, season with salt and pepper and allow to sit for an hour in the chill.
For the Ahi:
Combine Ahi, green onion, shiso, salt and pepper and cumin.
Add vinaigrette to taste and adjust seasoning.
Mold onto chilled plates, and toss herbs and brioche with leftover vinaigrette.
Top ahi and serve.
Michelle M. Winner
Michelle was born with a fork in her hand. As a culinary travel writer and confirmed foodophile she delights in the world-wide discovery of new flavor profiles, spices, salts and herbs. Based in one of the world's foodie meccas; Portland, Oregon, not far from "Pinot Noir Heaven" Michelle shares culinary travel and chef's recipes. Her photography has appeared in Saveur Magazine and she has contributed culinary travel articles to Forbes online, WSJ online, Business Insider, Condé Nast Digital Media, Islands magazine and many others. A confirmed globetrotter, she still keeps her bags packed and fork in hand (well . . . except through airport security.)