Partner post: Discover the European grape, Garnacha/Grenache.
Creating a European tapas spread revolving around Garnacha/Grenache wines: a delicacy from the old world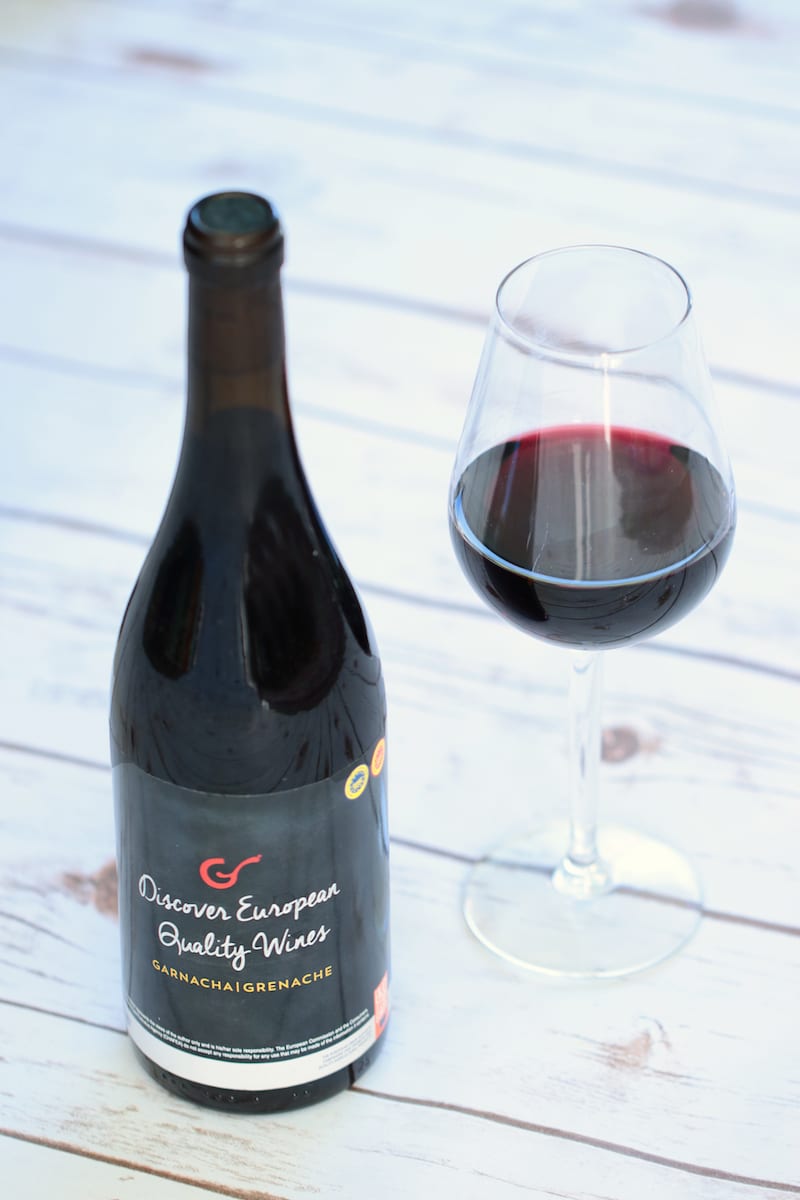 Garnacha, Grenache. Tapas or amuse-bouche. Whatever you call it, wines made from Garnacha grapes are perfect to enjoy with a spread of small bites that are meant to be shared with good company. Here's how to create the perfect Mediterranean spread of tapas and pair them with quality Grenache wines from Europe.
First things first, let's talk about serving sizes. If your tapas and wine spread is meant to act as a dinner made up of many small bites, we recommend about three tapas per person. That means, if you are hosting a group of three, plan on having nine different appetizers from which guests can have at least two servings. If you are just hosting a tapas and wine happy hour, you can scale that down to two dishes per person, or a total of six different tapas options for your party of three.
When it comes to wine and tapas, sometimes mixing and matching is fun. Plan to have a red and a white and maybe a rosé, but three options is not necessary That being said, if you really want to showcase the best of the region, add in a sparkling wine, a sweet wine, and even a fortified wine! There is so much to discover and you will not be disappointed with variety. We like to start with half pours of wine when we are enjoying a spread of different foods. For a longer dinner party that will go later into the evening, account for three glasses of wine per person. If you are serving a quick appetizer event, think one or two glasses per guest and start with smaller pours.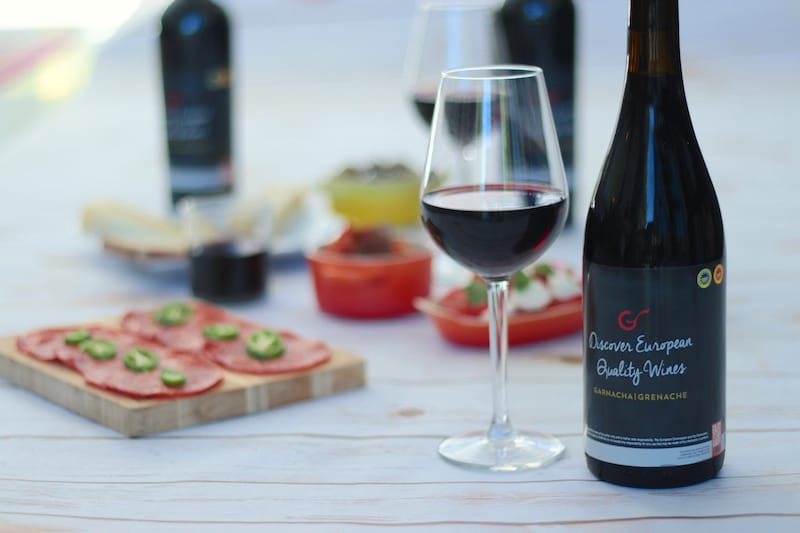 If you're thinking about serving a large spread and dividing it up between courses, we suggest starting with lighter or sparkling wines and moving into heavier reds, and of course ending with fortified wines and dessert wines. For the food, start the palate off with cold, acidic bites and move into the heavier, warmer carb dishes and finish with any braised meats.
For this guide, we really wanted the wines to shine, so follow along as we take you on an edible and sip-able journey with one of the oldest grapes in the world.
Dry White Wines, Sparkling White Wines, and Starters
From mineral to floral and fruity, the range of Garnacha white and sparkling wines is vast and we love that. There really is a bottle to go with each type of food.
A traditional tapas dish, spicy saffron shrimp (or prawns), is so good with a glass of cool white wine. The Grenache grape is the perfect thing to compliment the seafood and tone down any spiciness of the dish. The minerality of white Garnacha wines is also perfect with a fresh greens and fig salad, salty nuts, Spanish olives, bean spreads or dishes and creamy cheeses. To keep on the Mediterranean theme, search out a cow's milk Mahón cheese that hails from northern Spain. It's a great match for Grenache cava.
Fruity Rosés and Fresh or Salty Foods
There's something about a Grenache rosé that blows all others out of the water. It's not bland, meek or boring. These rosés are bursting with fresh fruit aromas that continue to linger on the tongue.
We love to pair these wines with pan con tomate. This well-loved tapas is just bread rubbed with fresh tomato, olive oil and salt. It's simple and refreshing and becomes even more vibrant when enjoyed with a Garnacha rosé. We also love these cleansing bottles with charcuterie tapas. Nibble on the dry-cured Spanish jamón while you sip and you won't be able to stop the circle of salty meat and cool, fruit-forward wine.
Light-Bodied Reds and (Pretty Much) Anything
The range from whites to fortified wines from the Grenache grape is truly spectacular. We especially love the different reds that can be quite light-bodied, to something bigger and bold on the palate. When it comes to a spread of different foods, these light-bodied Grenache red wines are our go-to. They are so food friendly and won't overpower a dish. If you're only choosing a few bites and one wine for an evening, we highly suggest you choose one of these lighter-bodied reds.
If you're creating an apero board, this wine will play so effortlessly with everything on the spread. From fresh veggies to roasted eggplant, or a red pepper hummus, the fruit-forward red wine with an approachable palate is the perfect match. These wines are also ideal with seafood dishes that have been tossed in a fresh tomato sauce. We also love pairing these lighter reds with a traditional Spanish tortilla egg dish layered with caramelized onions and sweet peppers.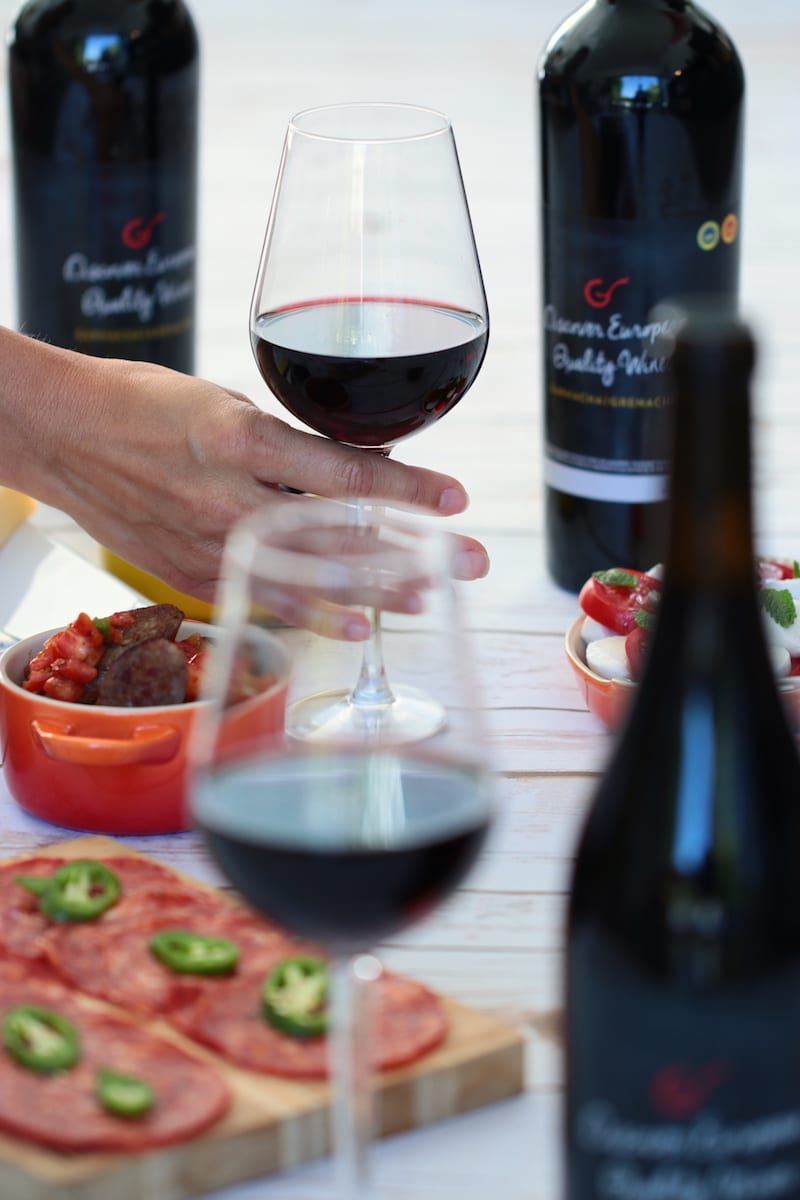 Full-Bodied Reds and Rich Meats
While these Garnacha wines are bolder, they are so perfectly well-balanced that we don't tire of their full body like with other big red wines. Their aromas are rich and each sip feels round and full on the tongue.
Enjoy these bigger wines with a grilled steak or lamb bite. Let the richness of the meat mingle with the rich red wine in a playful and delicious way. Patatas Bravas are a tapas favorite for us. With a spiced tomato sauce and maybe even some chorizo too, it's a comforting dish that deserves a warm and fruity red wine to go with it. These wines are fast friends with harder cheeses, like manchego.
Fortified Wines, Sparkling Wines, and Fruit
Want to finish with something sweet or sparkling? Try a Grenache fortified or natural sweet wine (Vin Doux Naturel, VDN) from the Roussillon region or even a sparkling Garnacha cava, it's the perfect finish to the spread. We like to enjoy one of the sweet wines with roasted pears or fresh figs with vanilla ice cream. Simple and so beautiful!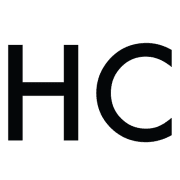 Honest Cooking
The Honest Cooking editorial team handpicks inspiring culinary stories to share with you that we think are beautiful. We strive to create an inspiring place for culinary exploration, salivating recipes, interesting personalities and stories.