It's hard to get homemade hot sauce quite as fiery as a store-bought bottle but what you sacrifice in heat, you more than make up for with rich, complex flavors.
By Dawn Myers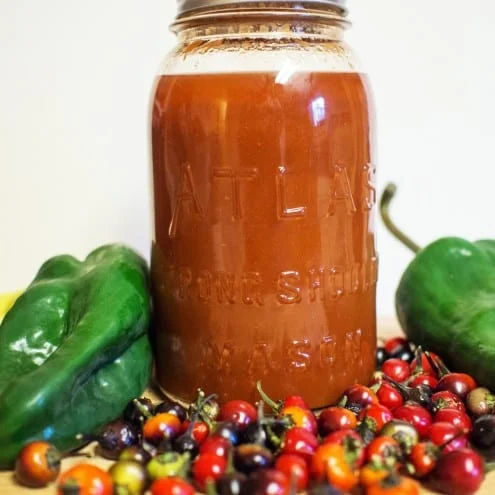 Homemade Hot Sauce
It's hard to get homemade hot sauce quite as fiery as a store-bought bottle but what you sacrifice in heat, you more than make up for with rich, complex flavors.
Ingredients
3-4 pounds of various hot peppers (stemmed)
1.5 liters of white vinegar (5% acidity)
1½ teaspoons of kosher salt
1 teaspoon granulated garlic
1 teaspoon onion powder
¼ teaspoon thyme
4 ounces tomato paste
1 tablespoon sugar
1 bay leaf
Instructions
Roughly chop up peppers. Place peppers, vinegar, salt, and spices in a non-reactive sauce pan. Our 4 Quart stainless steel sauce pan was big enough. Simmer for 2 hours in a well ventilated area.
Remove peppers from vinegar and place in a food processor. Strain vinegar and set aside. Process the peppers until smooth, then press through a fine sieve.
Return processed pepper pulp to the sauce pan and add ½ of the vinegar mix, tomato paste, sugar and bay leaf. Adjust coloring and salt if desired. Simmer over low heat for an hour. Pour into sterilized jar or bottle and secure with an airtight lid. Let age at least two weeks before using. Maybe stored up to 6 months in the refrigerator.
Dawn Myers
Wife, mother of 2 lovely children, MBA, lawyer, bureaucrat. I adore reading old cookbooks and am endlessly inspired by their simplicity, economy, and true connection with the food being prepared. My blog explores "historic" recipes and more modern recipes that embody the same ideals.