This potato salad's contrasting flavors, from sharp mustard to sweet honey, make it stand out from the pack of this picnic staple.
By Jess Lacey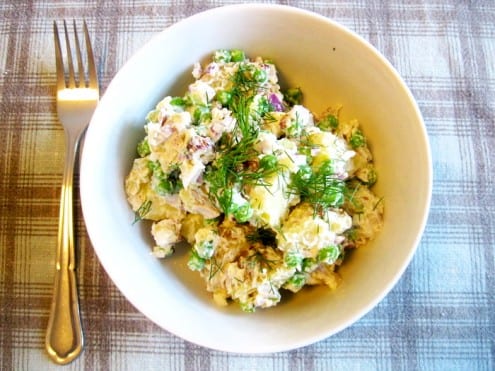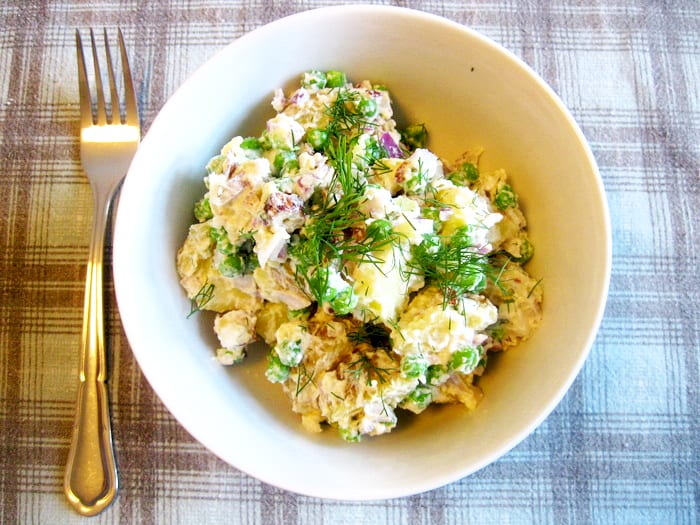 Summer Potato Salad
This potato salad's contrasting flavors, from sharp mustard to sweet honey, make it stand out from the pack of this picnic staple.
Ingredients
500g potatoes
200g peas, either freshly shelled or frozen
½ red onion, chopped
60g feta, crumbled
60g hazelnuts, roughly chopped
2 tablespoons chopped fresh dill
50g low fat creme fraiche
2 teaspoons dijon mustard
1-2 teaspoons of honey, to taste
Juice of ½ lemon
Instructions
Boil the potatoes in salted water for approximately 20-25 minutes until soft.
If they are big, or of lots of different sizes, cut them into roughly even pieces to ensure they cook at the same time, but watch them carefully as this raises the chances of them being overcooked and mushy.
Remove them from the water when cooked and drain.
Add the peas to the water if using frozen ones and cook as per package instructions (usually 1-2 minutes).
When cooled but still a little warm, chop the potatoes into bite size chunks.
Mix the creme fraiche, mustard and honey together to make a dressing.
Put the potatoes and peas in a large bowl.
Toss with the dressing and add the remaining ingredients.
Squeeze the lemon juice over, check seasoning and serve.