If you have leftover steak from your last barbecue, this steak sandwich with caramelized onions and a creamy horseradish sauce is the perfect way to enjoy the beef.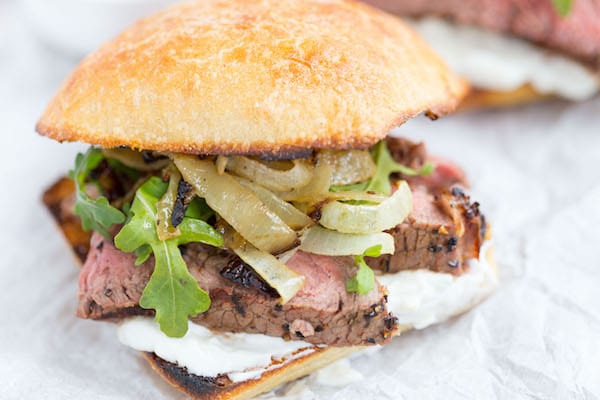 While we are more burgers and brats type of people when it comes to grilling (and give me ALL the sides!), we do like to grill steaks a few times every summer. Paired with some grilled onions and mushrooms, an ear or two of corn on the cob, and an ice cold beer and I am one happy lady.
Since I tend to overdo it on the sides, I pretty much always have leftover steak. I'm definitely not one to waste a good piece of meat but leftover steak on its own just doesn't have quite the appeal as the juicy, pink in the middle steak that comes straight off the grill.
Enter: the steak sandwich. Leftover steak is ideal for a steak sandwich because the key to a good steak sandwich is getting super thin slices of steak. When you cut the steak cold, it's a lot easier to get thinner slices than when it's hot. Another pro tip? Cutting against the grain. Obviously.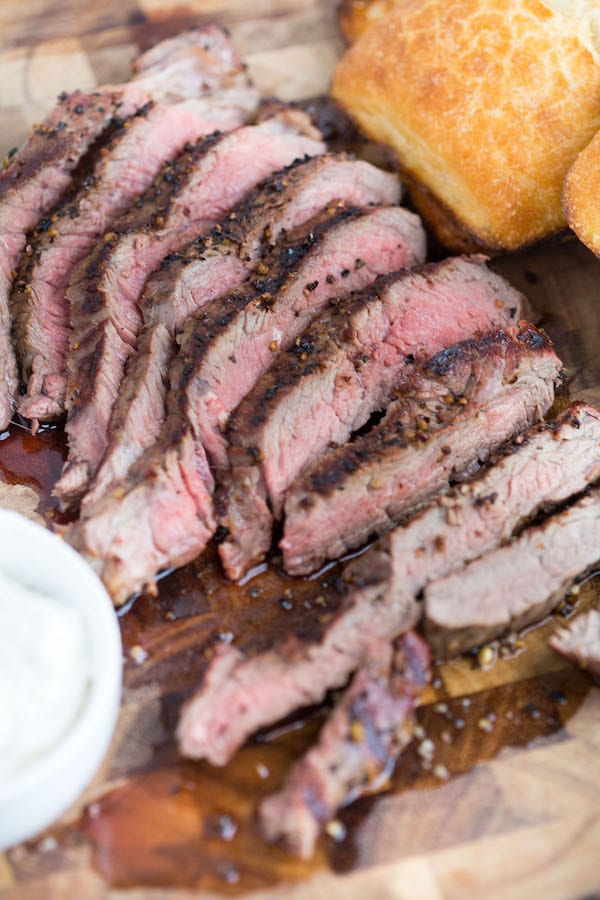 That said, these Grilled Steak and Onion Sandwiches with Creamy Horseradish Sauce are still 100% delicious with freshly grilled steak.
The star in these sandwiches is definitely the creamy horseradish sauce. I used to be one of those people who "didn't like horseradish" but really – I just didn't know what I was talking about. I also used to dip my steak in ketchup.
Anyways, this creamy horseradish dip is pretty much your steak's new best friend. It's SO good and SO easy. The base of the sauce is plain yogurt, but you can use sour cream if you please. To the yogurt I added a spoonful of mayo, some garlic, fresh horseradish, and some salt and pepper and holy smokes was it good!
A generous smear of the horseradish sauce on a lightly toasted bun, topped with that thinly sliced steak and grilled onions and you have yourself one delicious spring/summer dinner!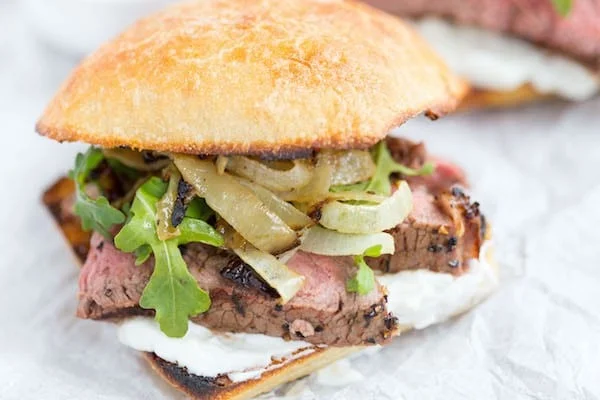 Taylor Kadlec
Ingredients
For the creamy horseradish sauce:
½

cup

plain yogurt

2

tablespoons

mayonnaise

1

tablespoon

horseradish

2

cloves

garlic

minced

¼

teaspoon

salt

¼

teaspoon

pepper
For the steak sandwiches:
2

12-16 ounce sirloin steaks

Your favorite steak seasoning

3

tablespoons

olive oil

2

yellow onions

thinly sliced

4

ciabatta buns

Butter

for the buns

Arugula

for topping
Instructions
For the horseradish sauce:
Make the horseradish sauce by combining all sauce ingredients and stirring well to combine. Cover and let sit in refrigerator until ready to use.
For the steak sandwiches:
Preheat grill over medium-high heat.

Season steak with steak seasoning.

Lightly brush with 1 tablespoon of olive oil. Let sit at room temperature for 20 minutes.

Meanwhile, toss onions with additional 2 tablespoons olive oil and season them with salt and pepper.

Place onions in a grilling pan or wrap in foil.

Place on grill and cook until onions are softened and beginning to caramelize, about 25 minutes.

Once steak has sat at room temperature for 20 minutes, place on grill.

Cook for 4-5 minutes, until steak is golden and has grill marks and then flip. For medium-rare, cook until 140 degrees F or another 3-4 minutes, for medium cook until 150-155 degrees F or another 5-6 minutes, and for medium-well cook until 160-165 degrees F or another 6-7 minutes. This always depends on the thickness of your steak. To be sure, use a meat thermometer.

Let your steak rest for 3 minutes before slicing.

While steak is resting, butter the buns.

Place bun halves on grill, butter side down, and lightly grill for 1-2 minutes. Keep a close eye on them as they will burn easily.

Once steak has rested, cut it as thinly as possible.

Place approximately 2 tablespoons of spread on the bottom half of each bun.

Top with steak and onions.

Top with arugula and finally the top half of the bun.

Serve and enjoy!
Taylor Kadlec
Taylor Kadlec is a lover of all things food including baking, cooking, and of course, eating. She is a self-taught baker and cook, and she shares her kitchen adventures on her blog Greens & Chocolate, where healthy cooking meets sinful indulgence.