Once you've mastered the technique, try playing with the flavors by adding different spices such as cinnamon or cardamom.
By Shannon Lim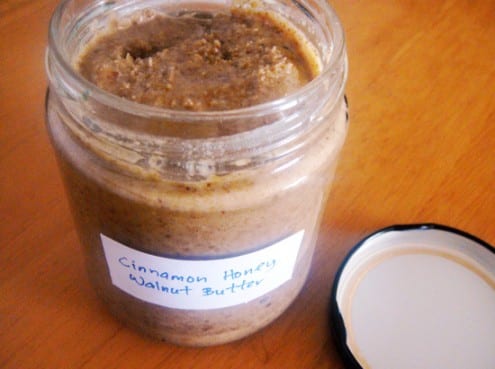 Honey-Roasted Walnut Butter
Once you've mastered the technique, try playing with the flavors by adding different spices such as cinnamon or cardamom.
Ingredients
2 cups walnuts
¼ teaspoon salt
2 tablespoon honey
1 teaspoon cinnamon
Instructions
Soak walnuts with water in a large bowl and leave them overnight. This will remove some of the bitterness in the walnuts.
Drain the water from the walnuts and let it dry for 10minutes.
Preheat the oven to 350°.
Add in 2 tablespoon honey and mix well until all walnuts is coated. Spread the walnuts out in a single layer on the baking tray. Toast the walnuts in oven about 15 minutes, be careful don't let walnuts turn dark.
Take the walnut butter out of the oven and allow them to cool entirely.
Put the toasted walnuts in the food processor. Run the processor until they become small chunks. If you like chunky nuts in your butter, put aside 1-2 tablespoon of the chunky nuts.
Add salt and cinnamon and pulse until it start to turn sticky. Taste the walnut paste to see if you want more salt, honey, or cinnamon.
Voila.. You have walnut butter. Put the walnut butter into a small jar and can last 2 weeks.
Shannon Lim-de Rooy
Shannon's kitchen is her playground and creative outlet, where she loves to experiment with recipes. As a Malaysian, her food influences are mainly Malay, Chinese and Indian cuisine but her curiousity in other culture lead to cross cultural cooking. On her blog JustAsDelish.com, she pursue her mission in creating healthy and delish food.