Ruby Moukli with an homage to the Shake 'n Bake of the 1970's – meet the chicken version.
By Ruby Moukli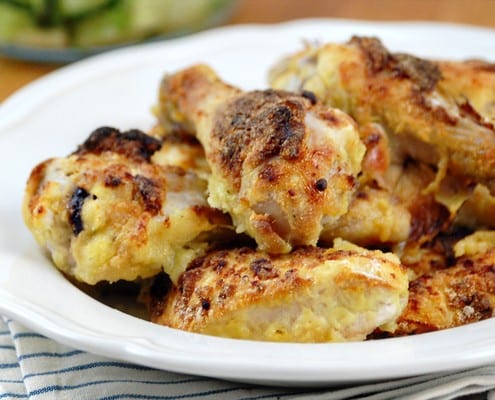 Anyone who grew up in 1970s America has heard of Shake 'n Bake. For the rest of you, this is a packet of breading and spices that you use to coat chicken before baking it. The idea is to approximate the fried chicken experience but without the grease. The novelty of it was obviously the 'shake' part – you put everything in a bag and go nuts. Fun for children and grown-ups alike!
I often do a Middle Eastern spin on this, but sometimes hanker for a good old-fashioned, American-style chicken dinner. Baked chicken with mashed potatoes and greens. Ears of sweet corn on the side. Simple but good home cooking.
You might think this retrospective is born of nostalgia, but if it is then I'm nostalgic for an American childhood I never had. Meals in our house were usually my dad's Middle Eastern cooking, and sometimes my mom's English favourites. So these quintessentially American meals held a sort of fascination for me. I suppose the grass is always greener – my friends used to come over sniffing around for a taste of my dad's cooking. Actually, they still do.
So back to the Shake 'n Bake. I haven't seen it in the shops here and anyway, it's cheaper, healthier and very easy to make your own so why bother with store-bought? I found this recipe online a couple of years ago and changed it up a bit. It's wonderful. I make loads of the coating mix, throw it in an airtight container and it keeps for ages.
See Also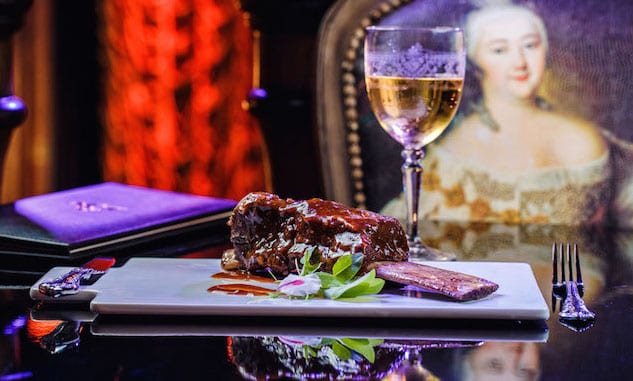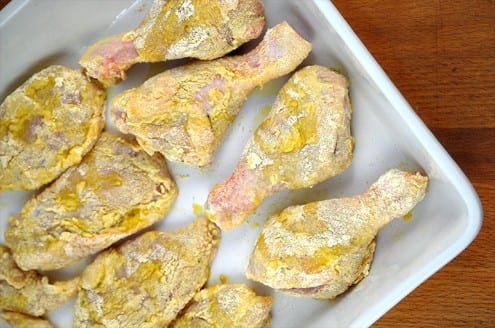 Print
Homemade 'Shake 'n Bake' Chicken
Author:

Ruby Moukli, adapted from Karen Wingate

Yield:

4

-6

1

x
3/4 cup

(

90 g

) cornmeal

1/4 cup

(

30 g

) wholemeal flour

1 tsp

salt

1 tsp

dried parsley

1/2 tsp

ground pepper

1/4 tsp

onion powder

1/4 tsp

garlic powder

1/4 tsp

cumin

12

pieces of chicken (mix of drumsticks, thighs and breasts)

1 cup

(

250

ml) low-fat yogurt
About

2 Tbsp

olive or vegetable oil (or melted butter)
Instructions
Preheat oven to 400F/200C/Gas 6
Mix the first 8 ingredients (the coating mix) together and set aside.
One piece at a time, dunk the chicken in the yogurt, then roll it in the coating mix.
Place on a lightly-greased baking tray and drizzle with oil (or butter).
Bake for 45 minutes, or until juices run clear when pierced.
Notes
1. I advise doubling or even trebling the recipe for the coating mix and storing it for future use. If you do this, pour out 1 cup of mix to make the chicken. Of that 1 cup, throw away any that is leftover afterwards, as it will have come into contact with raw chicken.
2. If making extra to store, keep the spices simple and then you can customize it when you go to use it. You may choose to add chili powder one day and curry spices another.
3. The yogurt helps keep the chicken tender and moist and also holds the coating nicely, but you can also use plain milk or buttermilk.
4. I know I haven't included the actual 'shake' part of the whole experience. That's because I think it's a waste of a plastic bag (unless you want to wash it out REALLY well after you're done) and is really not necessary. But if you have some aggression to get rid of, by all means, chuck the chicken and coating into a large ziploc bag and let loose!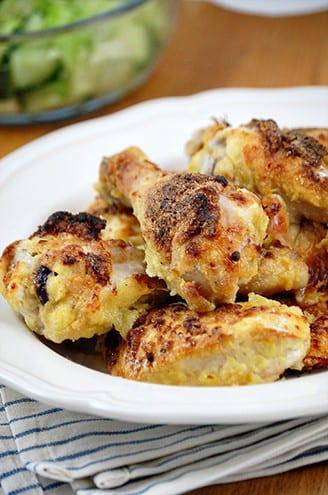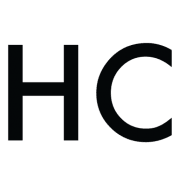 Ruby Rasa
Curious about her British mother's seemingly bizarre love of cheese & onion sandwiches, Ruby moved to England and discovered an island full of people eating them. She now lives among them, works as a freelance writer and photographer and yes, occasionally enjoys a good cheese & onion.