Homemade Cinnamon Toast Crunch Cereal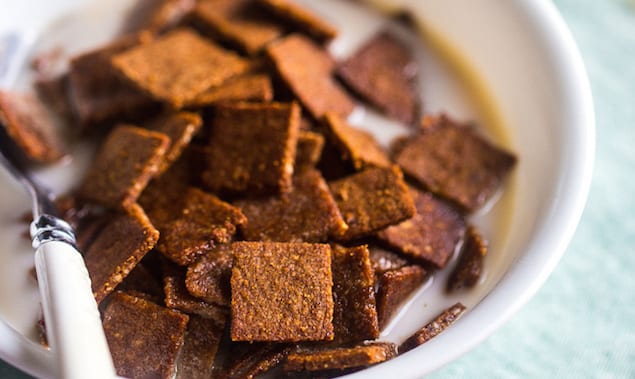 Feel like a kid again with this homemade cinnamon toast crunch cereal, made without funky ingredients. The recipe calls for almond and coconut flours so your gluten-free breakfast eaters can dig in too.
By Taylor Kiser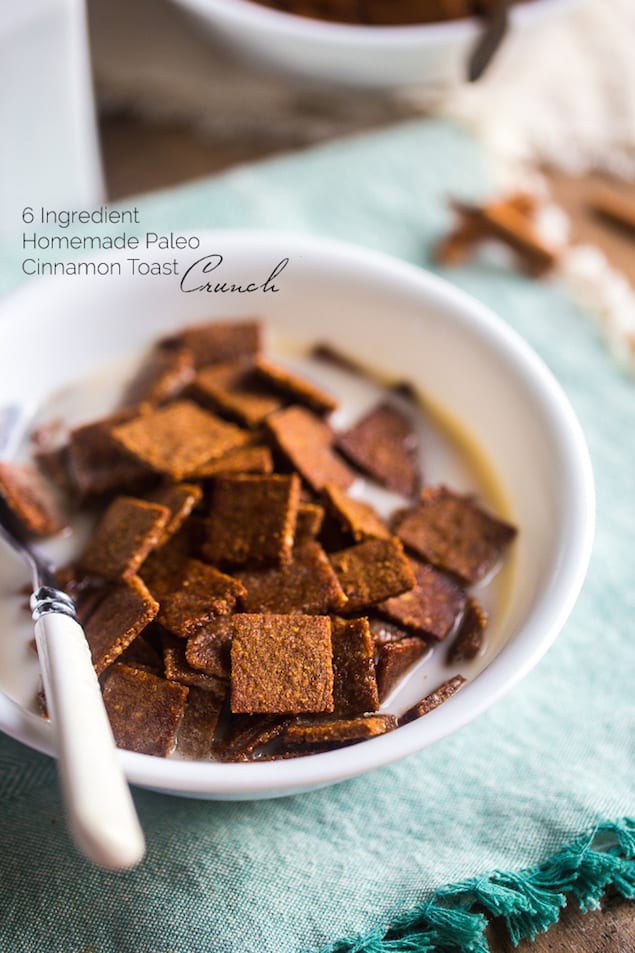 We made our own CINNAMON TOAST CRUNCH. You know, those crunchety-crispy little squares that explore in your mouth with spicy-sweet cinnamon deliciousness. The squares that pretty much are dessert but, WHO CARES, because they're in a cereal box. Which means that they are 110% LEGIT to eat for breakfast.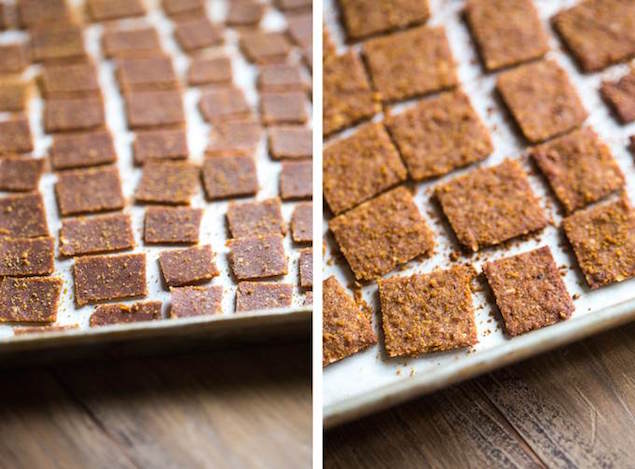 our homemade Cinnamon Toast crunch is paleo. It's full of natural coconut sugar sweetness, super tasty nut flours and melty, rich coconut oil, and not much else. Well, except CINNAMON. I feel like you should have maybe guessed that though.

Homemade Cinnamon Toast Crunch Cereal
Feel like a kid again with homemade cinnamon toast crunch cereal, made without funky ingredients. The recipe calls for almond and coconut flours so your gluten-free breakfast eaters can dig in too.
Recipe Type:
Breakfast, Cereal
Cuisine:
American, Gluten-free, Paleo
Serves:
3 cups of cereal, or about 6 servings
Ingredients
1 Cup Almond flour (105g)
¼ Cup Coconut flour (25g)
¾ Cup + 2 tsp Coconut sugar, divided
¼ tsp Salt
1½ Tbsp Cinnamon
1 Large egg white
2 Tbsp Coconut oil, melted (but measured at room temperature, then heated)
Instructions
Preheat your oven to 450 degrees and line two baking sheets with parchment paper. Set aside.
In a large bowl, stir together the almond flour, coconut flour, ¾ cup Coconut sugar, salt and cinnamon until well mixed.
Add in the egg white and melted coconut oil. Using your hands, press the mixture together until it begins to moisten and you can pack it into a ball.
Place half the dough between two large pieces of parchment paper and roll out until VERY thin, about 1/16 inch thick.
Cut the dough into ¾ inch squares and gently transfer to the prepared sheets. * Repeat with remaining dough **
Sprinkle the remaining 2 tsp of Coconut sugar over the squares and bake until they just turn golden brown, about 3-4 minutes. They burn very quickly so watch them closely in that last minute. Mine were perfect at 3.5 minutes. They will not be crunchy when they come out of the oven.
Let the squares cool on the pan completely and then DEVOUR.
Notes
* It's a little tedious to transfer every square to the paper, so I gently slide my knife under about 3 squares at a time, and then flipped them onto the pan and separated them a little bit.
** You could probably do all the dough at once, I just find it more manageable in 2 smaller chunks.
Cereal is best stored in an air tight container in the refrigerator to maintain optimal crunchiness!
Taylor Kiser
Taylor is the blogger, recipe developer, photographer and general mess maker behind the blog "Food Faith Fitness." She is a Christian who is constantly trying to learn how to keep Christ at the center of her daily life. Taylor is also a health and fitness enthusiast who loves creating delicious recipes, with a healthy spin. However, Taylor also believes that moderation is key, so sometimes it's ok to just go and eat a cookie!