Ever dreamed of leaving the hustle and bustle of your insane city-life and buying an abandoned villa to convert it into your very own restaurant? Husband and wife duo, Ivan and Sabina did just that and have opened Villa Pizzini – a gorgeous Villa with a fabulous restaurant run by Sabina overlooking beautiful Italian Lakes Orta and Maggiore.
With a passion for making home-made pasta and wanting to only provide the best produce to her guests (Ivan and Sabina grow saffron and produce their own olive oil…among other things made by hand and from scratch in their restaurant!), Sabina has kindly shared her recipe with both Honest Cooking and
Chefs Collective
Tapulone is a very particular dish, made with Donkey – yes, donkey – but I imagine it can be replaced with beef or any other meat you love in your Ravioli
For more information visit the
official tourism
– very helpful on local finds and eats!
Images by Anne Bergeron and Villa Pizzini
For the dough:
1kg of stone ground flour
10 free range eggs
For the filling:
1kg of Donkey mince
1 Onion
1 clove of garlic
1 glass of Red wine from northern Piedmont
Extra virgin olive oil
Lard
Salt and pepper
250g of Savoy cabbage
100g of cooked white rice
The dough is made by mixing all the ingredients together and working the mix alot until smooth, then is left in the fridge, wrapped in cling film for at least 20 minutes before using it.
The filling:
Make soffritto with e.v. olive oil and white onion, put the minced meat with the soffritto and also add the savoy cabbage. Cook for 10 minutes then add the red wine and leave to simmer for 40 minutes or until the liquid is almost completely evaporated.
In a different pan boil the rice and once cooked add to the ragout.
Mix well, add salt and pepper and let cool down.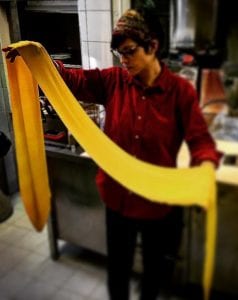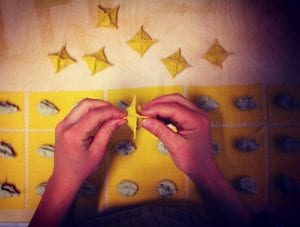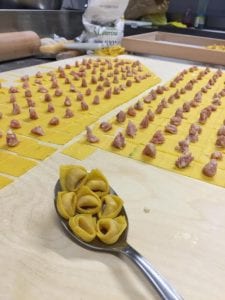 Michelle Tchea
Michelle Tchea is a 4-time bestselling author. Her books include, Building a Perfect Meal, My Little SoHo Kitchen, Signature Dishes (Australia's Best) and Chefs Collective. Her work can be found in other leading luxury travel and food magazines including Travel+Leisure Asia, SMILE, NUVO Magazine and The Telegraph