Sponsored Post: You've probably had Prosecco before, but it's time to step it up and take your Prosecco experience to the next level. Pop a bottle of Prosecco Superiore DOCG from the region of Conegliano Valdobbiadene. This exceptional, highly-acclaimed, elegant Italian sparkling wine is ready to impress this coming holiday season or on any usual weeknight.
Entertaining during the holiday season can be a blast or it can seem daunting. Check out these holiday entertaining tips complete with appetizer recipes that pair with the ever-festive Prosecco Superiore wine for a stress-free, yet elegant, holiday gathering.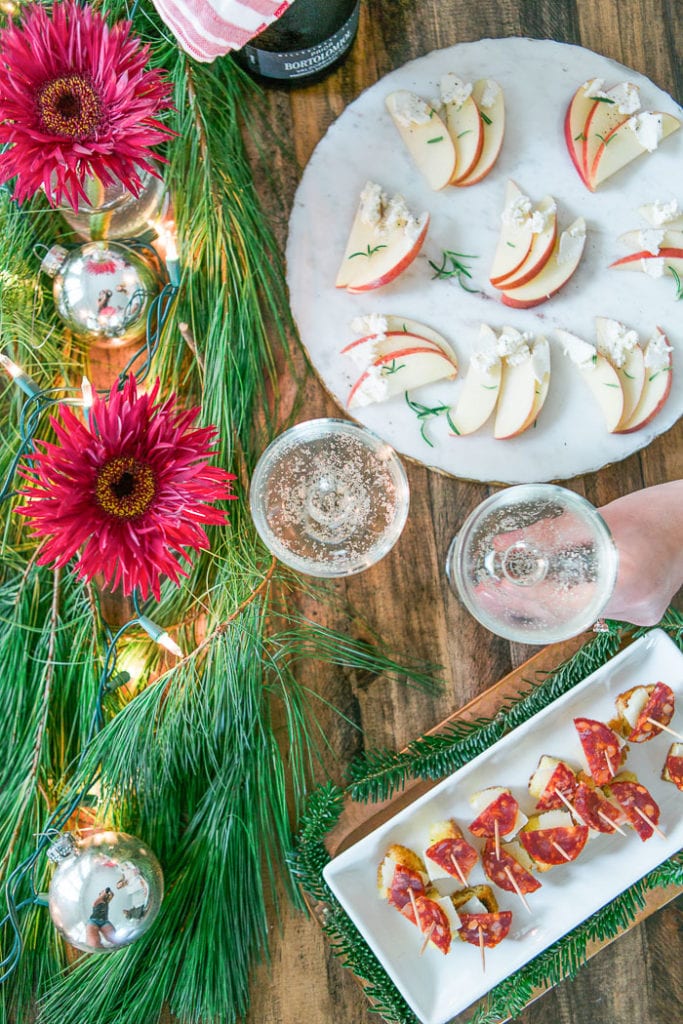 I love bubbles as an easy drink to serve when having guests over! It feels so elegant and it's a lovely way to greet guests. Prosecco Superiore D.O.C.G. takes the guess work out of choosing a delicious drink. The process used to make Prosecco D.O.C.G. has almost no added sugars thus leaving the drink crisp and not too sweet. This Italian vintage is an excellent value (with many under $20 a bottle) so stock up!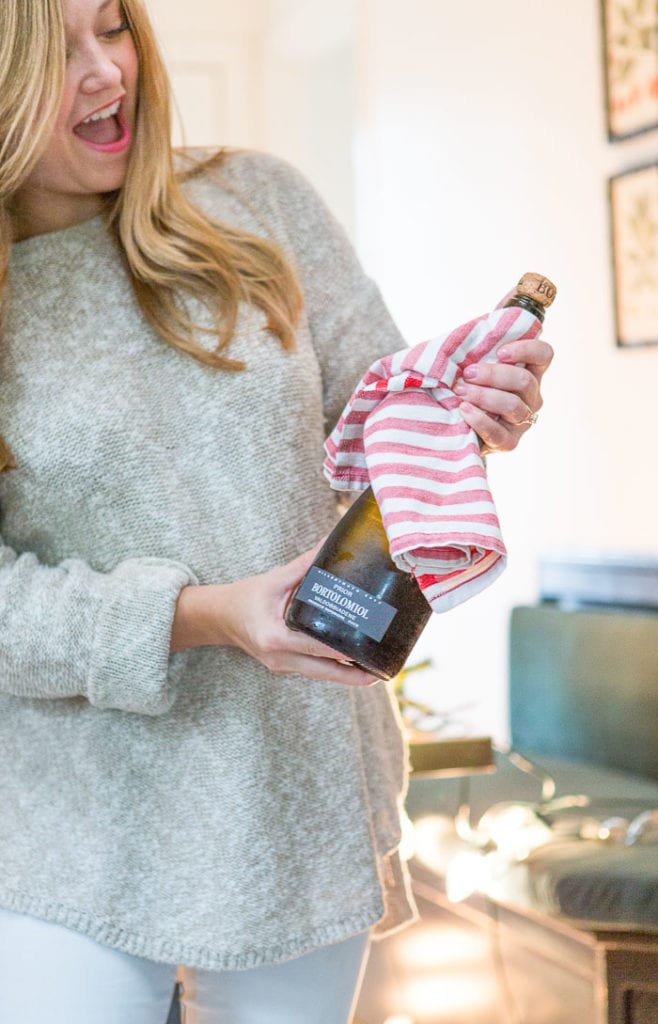 When entertaining, I always a few tricks up my sleeve to make sure things go smoothly! Number one is always wear a smile! The rest are below!
Holiday Entertaining Tips
Pop a bottle of Prosecco Superiore D.O.C.G! It's crisp and not too sweet not to mention it comes from a small region in Italy and the winery is still family-run. You'll impress your guests with your drink of choice!
Put together some quick passed bites! I always want to have something for guests to drink and eat right when they arrive. Scroll down for two easy appetizers you can put together in no time!
Grab some lights and garland to decorate! You don't have to go all out to give your place a holiday-vibe. A few strings of twinkle lights and some fresh garland will add a holiday glow to any space.
Relax and enjoy! Your guests will always pick up on your vibe so be sure to greet each person as they arrive and share the holiday cheer!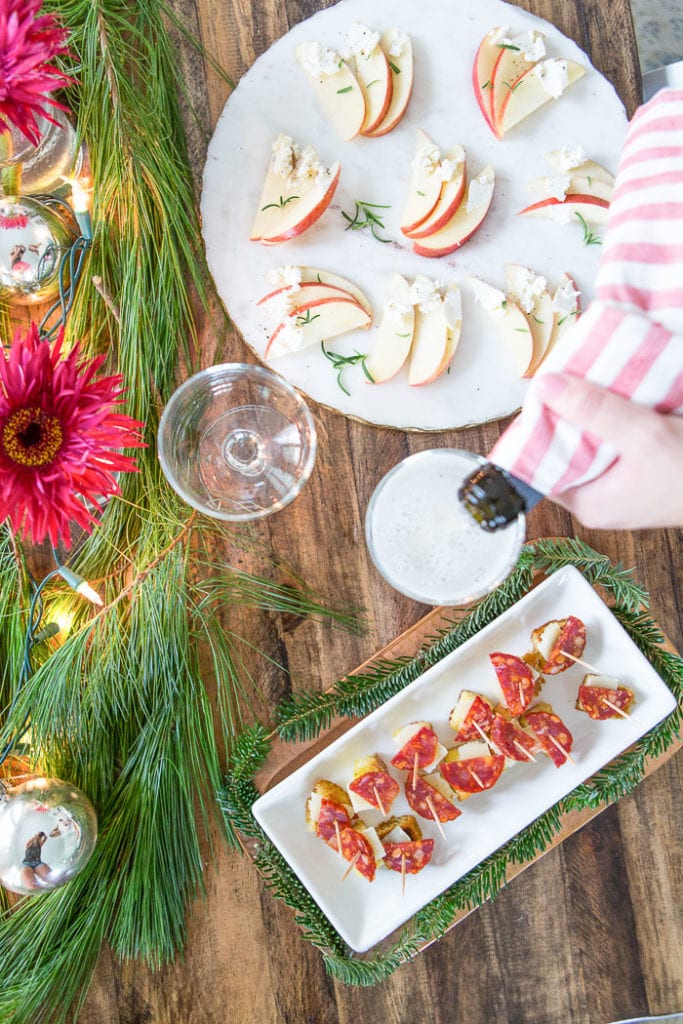 Easy Holiday Appetizers
Sliced Apples with Goat Cheese
This simple recipe is a no brainer! I slice Gala apples thinly and top with Purple Haze Goat Cheese from Cypress Grove. The lavender and fennel in the Purple Haze make it an unforgettable taste especially when the creamy cheese is spread on the crisp apple. It pairs perfectly with the Prosecco Superiore. It finish it off with a crack of fresh black pepper and rosemary.
Sausage and Parmesan Bites
These sausage and parmesan bites are like a cheese plate on a stick! This makes them super easy to eat and enjoy with a glass of Prosecco Superiore DOCG in hand! First, toss ciabatta bread with olive oil, garlic powder and salt. Toast in the oven for 10 minutes at 450 degrees until the edges of the bread are just starting to crisp and brown. Top with thinly sliced sausage from the deli (I love spicy versions) and a thick cut of salty parmesan.
What are your go-to tips for holiday entertaining?!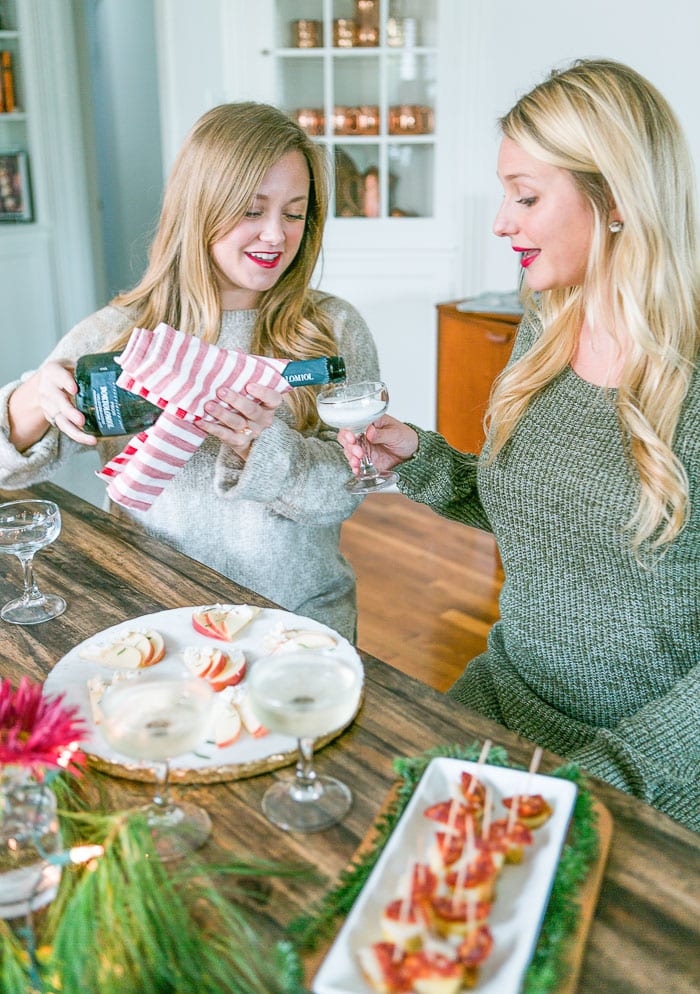 Photos by Taylor Prinsen Photography


natalieparamore
Natalie Paramore blogs about seasonal recipes, travel and lifestyle on her site natalieparamore.com. She enjoys being outdoors, spending time with her dog Mimi, traveling the world and sharing food and wine with loved ones. You can often find her behind the lens getting that perfect shot for Instagram! Instagram, Facebook, Twitter, Pinterest: @natalieparamore Blog: http://natalieparamore.com/