This Decadent Chocolate Tiramisu Trifle is a perfect balance of chocolate mousse and traditional tiramisu. It's surprisingly easy and ideal for a holiday gathering.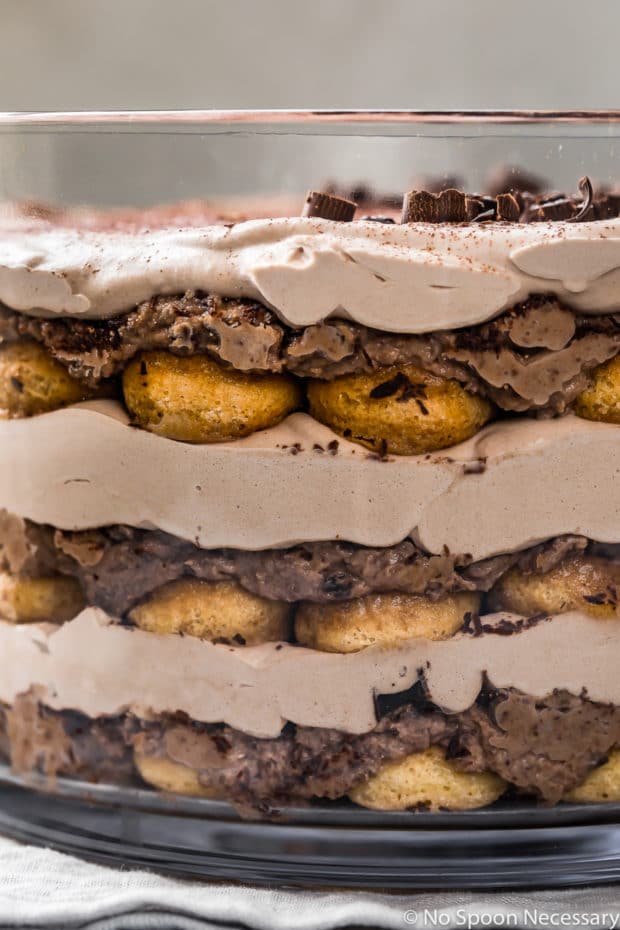 This easy trifle is all about the luscious layers!
Crispy Baileys and coffee soaked lady fingers layered with airy, light sweet chocolate whipped cream; rich, decadent, thick chocolate laced mascarpone and delicate, freshly shaved shards of bittersweet chocolate.
This chocolate tiramisu is a delicate balance of chocolate lovers dessert meets classic tiramisu!
And, in just two words, this tiramisu recipe is sinfully delicious!!!
Crazy easy to make, egg-free, and either boozy or alcohol-free depending on who you are serving, this easy, chocolatey tiramisu NEEDS to make an appearance on your table!
And honestly, while this trifle is perfect for potlucks and parties, it isn't just for entertaining. I mean, Boy would definitely say it serves just one since he ate it all and absolutely refused to share!
A quick note: While this tiramisu does require preparing a few layers, all of the steps are very simple to follow and stress-free to execute!!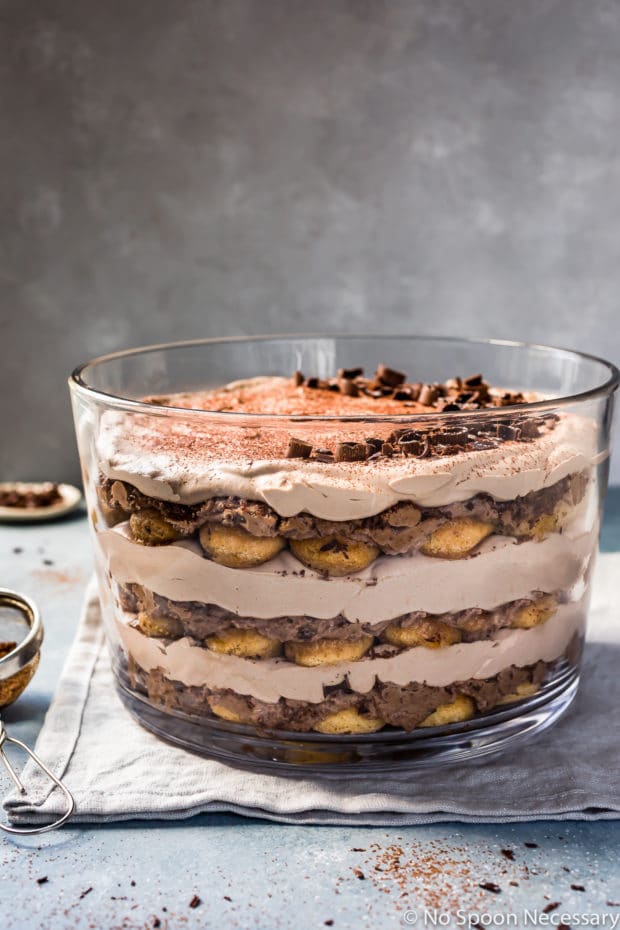 What is tiramisu?
Tiramisu is a sweet, coffee-flavored, layered dessert made with ladyfingers dipped in coffee, mascarpone, sugar and cocoa powder. While authentic tiramisu recipes include eggs, this easy chocolate tiramisu is eggless!
As well, tiramisu can be made with or without the addition of alcohol. This tiramisu trifle recipe is no different and can be prepared with alcohol for a boozy adult treat, or without alcohol if serving children.
How was tiramisu invented? Where does tiramisu originate?
While the exact origin of Tiramisu is a debated subject, most accounts point to the sweet dessert originating during the 1960s in the Veneto region of Italy at the restaurant Le Beccherie.
The assumed creator of Tiramisu is an even sketchier topic. While the owner of Le Beccherie, Roberto Linguanotto, claims to have been the first creator of tiramisu, Carminantonio Iannaccone, a baker who sold the dessert to the restaurant, claims he is the creator.
What does tiramisu mean in english?
Tiramisu, pronounced ti.ra.mi-su, means "cheer me up" or "pick me up" in english.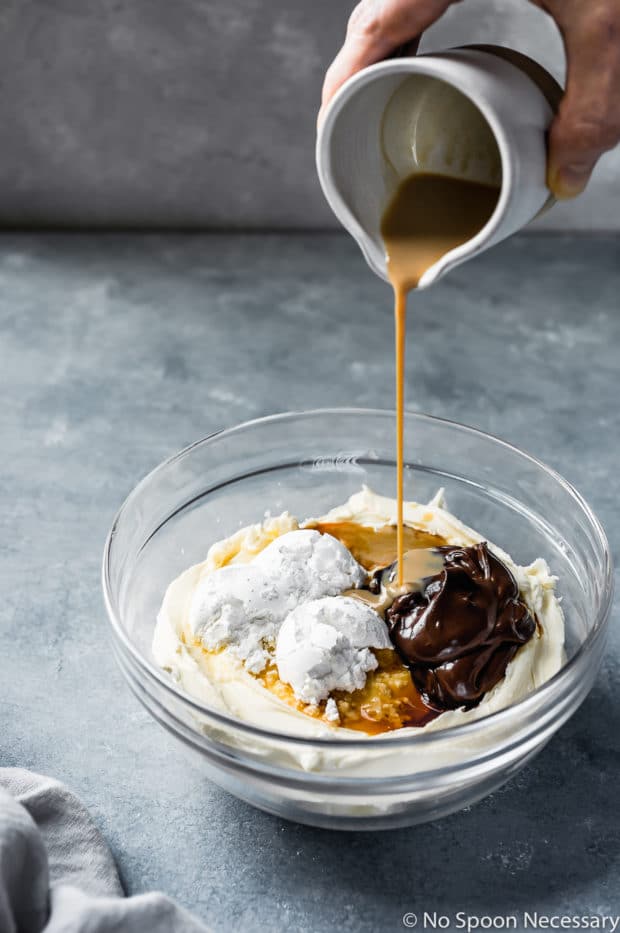 What kind of liquor to use for tiramisu?
While you can make tiramisu without alcohol, if you are looking to make a boozy sweet treat, I highly recommend adding alcohol to your tiramisu!
The most commonly used alcohol in tiramisu are either sweet Marsala or Madeira wine. However, you can use a variety of sweet spirits in tiramisu, from dessert wines, rum, brandy or flavored liquors such as orange or chocolate liquor.
The recipe for this chocolate tiramisu calls for Baileys, but you can substitute Kahlua or Irish Cream if desired, or you can go rouge and use whatever type of dessert wine or liquor your heart desires!
Can tiramisu be made in advance? How long can tiramisu be kept in the refrigerator?
Yes, tiramisu can be made in advance! In fact, this chocolate tiramisu trifle tastes better if allowed to sit in the refrigerator for at least 2 hours to give time for the lady fingers to soften.
This chocolate tiramisu can be made 1-2 days in advance of serving and stored in the refrigerator. The actual trifle will keep for up to 4 days total in the refrigerator before going bad.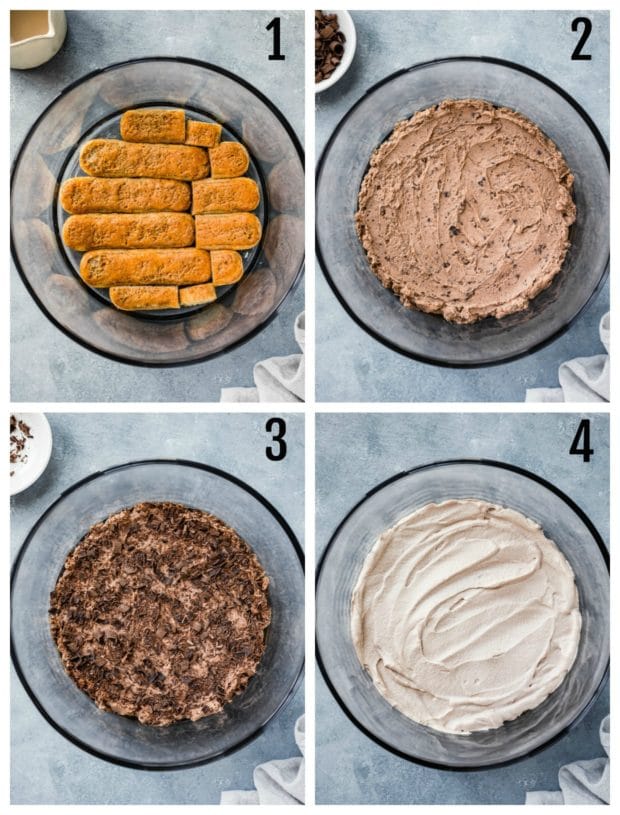 Creamy, chocolatey, easy to make and easily customizable, this Chocolate Tiramisu dessert is perfect for potlucks, entertaining, or simply for serving your family! If you are a fan of the classic Italian Tiramisu, you are going to absolutely love this creamy-dreamy unique chocolate trifle!
Until next week, friends, cheers – to a little coffee pick me up in the form of dessert!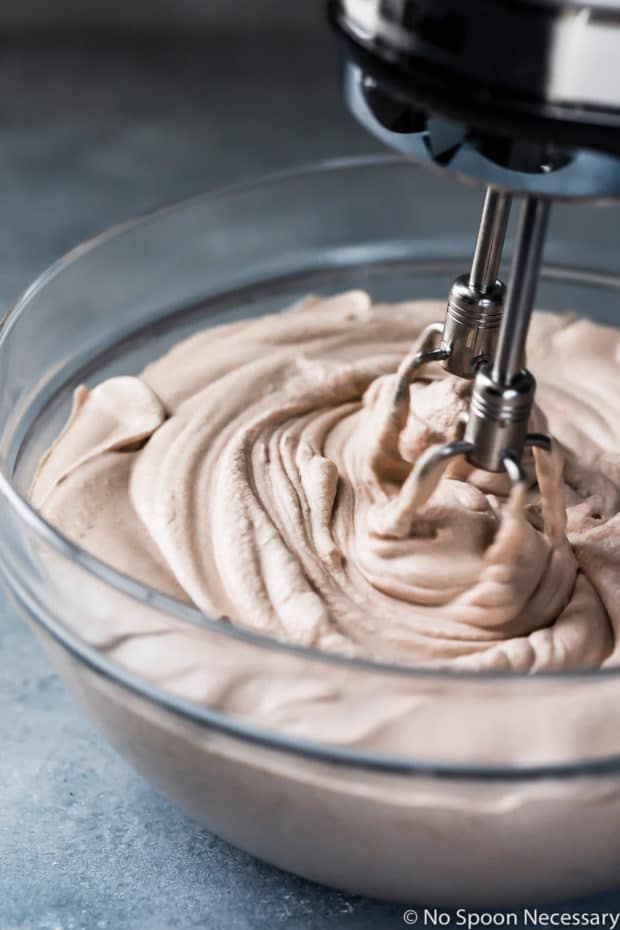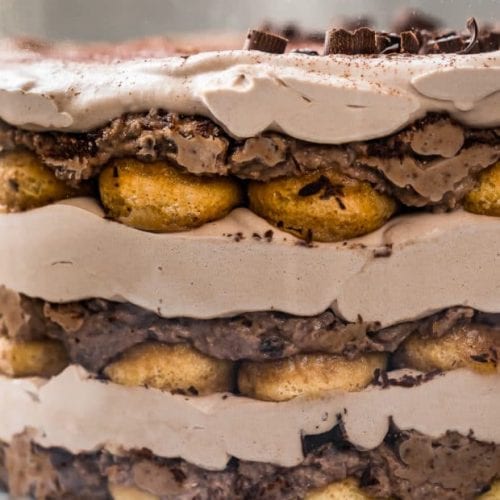 Decadent Chocolate Tiramisu Trifle
Cheyanne Holzworth
Ingredients
2

Cups

Heavy Cream very cold

3

TBS

Cocoa Powder divided + more for dusting top

7

TBS

Confectioner's Sugar divided

16

ounces

Mascarpone slightly softened

5

ounces

Semi-Sweet Chocolate melted

about a heaping ½ cup morsels

5

TBS

Baileys divided

can substitute Kahlua or Irish Cream

1

tsp

Pure Vanilla Extract

1

Cup

Cool Whip thawed if frozen

1 1/4

Strong Brewed Coffee *at room temperature

1

TBS

Granulated Sugar

7

ounces

Ladyfinger Cookie or Savoiardi about 24 cookies

4

ounces

Bittersweet Chocolate at room temperature – shaved or grated; divided

Optional Garnish: Shaved Chocolate

Fresh Strawberries or Raspberries
Instructions
For the chocolate whipped cream: In a metal mixing bowl*, add the heavy cream, 2 tablespoons cocoa powder and ¼ cup confectioner's sugar. Beat with a handheld mixer for 4 minutes, or until medium-stiff peaks form. Set aside in the refrigerator.

For the mascarpone filling: In a large bowl, gently fold the mascarpone with melted chocolate, 3 tablespoons confectioner's sugar, 1 tablespoon Baileys (or coffee if non-alcoholic), and vanilla extract until JUST combined.* Gently fold in the cool whip. Set aside.

For the ladyfingers: In a shallow bowl, whisk together the coffee, granulated sugar, 1 tablespoon of cocoa powder and ¼ cup Baileys. Set aside.

Assemble the trifle: Dip a third of the ladyfingers (about 7-8 depending on the size of your bowl) into the coffee mixture, soaking both sides*. Arrange the soaked lady fingers in a single layer in the bottom of a 3 qt. trifle, or glass bowl, breaking the lady fingers if necessary to fit. Top with a third of the mascarpone mixture and gently spread to smooth. Sprinkle with a third of the shaved chocolate. Top with a third of the chocolate whipped cream and spread to smooth. Repeat layers two more times.

To serve: Refrigerate for at least 2 hours to allow ladyfingers to soften. Dust with cocoa powder and top with chocolate shavings if desired. Enjoy!
Notes
For the best chocolate whipped cream, use a metal mixing bowl and place the bowl and the beaters in the freezer for 15 minutes prior to using. Chocolate whipped cream can be stored, covered, in the refrigerator for up to 3 days.
When whisking the mascarpone, be careful not to over-whisk, or the mixture will curdle.
To make this easy chocolate tiramisu trifle non-alcoholic, nix the Baileys and increase the strong brewed coffee to 1 ¾ cup.
Make sure you dip the ladyfingers into the coffee mixture as you are layering them. Do not dip them in advance!
Tiramisu can will keep in the fridge, and can be made up to 2 days in advance and can be kept for up to 4. Do not garnish until ready to serve.
The nutritional information is a very rough estimate and will vary greatly depending on the products you use.
Cheyanne Holzworth
Hi there! My name is Cheyanne. I am an avid foodie, culinary school graduate, recipe developer and newbie blogger. I find peace and joy being in the kitchen and am obsessed with feeding anyone who has an appetite. I am also a lover of food porn. I picked up a camera one day and fell in love with food photography. Then I got a wack-a-me-me idea to start a food blog and the rest is history. No Spoon Necessary is a place where I share my passion for food and photography with all who care to join me. I also rant, ramble on and share my life a little. In a world filled with so many talented food bloggers, I am simply trying to carve my space in www dot com land, take you all with me on the crazy ride and cook 'n eat some delicious food along the way! So, strap on that apron and work some culinary magic with me. Cheers!