SPONSORED STORY – BROUGHT TO YOU BY CASTELLO ALPS SELECTION
Cheese, meet ice cream. Ice cream, meet beer. Now, go forth, procreate and make delicious little ice cream cheese and stout caramel babies.
By Kathy Gori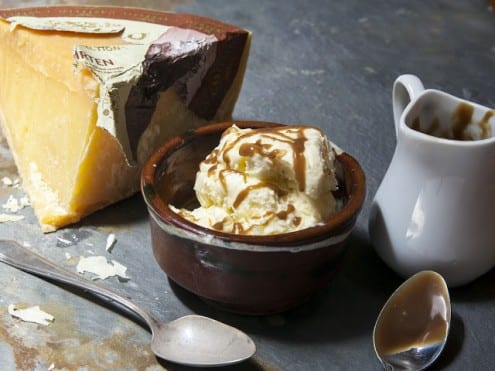 Now, I've had a few go rounds with cheese ice creams. I made a Pecorino Cheese ice cream a few years back… don't ask. It wasn't my proudest moment. When I saw that the Hirten Cheese was very much like a great Pecorino or an aged Gouda, I thought, what the hell, time to try the old cheese ice cream trick again. Those who ignore history are doomed to repeat it, or so the saying goes. I don't think that applies to ice cream though because this time… it worked.
I did some research before I tossed this stuff in the ice cream machine, and it turns out that cheese ice cream is not something that just fell off the foodie fad truck, cheese ice cream is the oldest of old school. In fact this recipe goes back to 1760 and a book called The Compleat Confectioner. The original recipe uses Parmesan, but Hirten worked like it was made for it. Since one of our guests had a nut allergy and couldn't have any of the tart, I decided to make a caramel sauce for the ice cream, a stout caramel sauce, to be exact since every cheese genius said that nothing works with Hirten cheese like a good stout.
Win a Castello Alps Selection cheese tasting for you and your friends – enter below!
Win a Castello Alps Selection Cheese Tasting
Print
Hirten Cheese Ice Cream and Stout Caramel
Cheese, meet ice cream. Ice cream, meet beer. Now, go forth, procreate and make delicious little ice cream cheese and stout caramel babies.
Author:

Kathy Gori

Prep Time:

30 mins

Cook Time:

50 mins

Total Time:

1 hour 20 mins

Yield:

6

1

x
Category:

Dessert

Cuisine:

European
Ice Cream
1 cup

of milk

1 cup

of whipping cream

1/3 cup

sugar

3

large beaten eggs
pinch of salt

3 oz

grated Hirten cheese
Stout Caramel
1

12 oz bottle of stout

2

Tbs unsalted butter

1

and 1/2 cups dark brown sugar

1 cup

of whipping cream

1 tsp

vanilla extract

1/8 tsp

of salt
Instructions
Ice Cream
Whisk together 3 large eggs in a big bowl and set it aside.
Measure and weigh out 3 oz of Hirten cheese
Chop it finely and set aside.
Mix together the milk, cream and sugar until they're nearly at the boil.
Whisk a bit of the eggs into the hot milk, cream and sugar mixture SLOWLY, and a bit at a time.
This is so you don't wind up with Hirten cheese scrambled eggs. Not that there's anything wrong with that, but it doesn't make for a great dessert if ice cream is what you're after.
Now it's time to stir the Hirten cheese into the egg, milk, cream and sugar mixture.
Whisk it until it's smooth. Do not let it boil.
Now, here's the twist. This is the time when most people take their cheese ice cream and pour it through a strainer to get our any crystals. However, when working with a fine cheese like Hirten or an aged Gouda, I find that the little bits of crystal in the cheese are just fine in the ice cream and in fact add to the flavor.
Chill the mixture for a bit in the fridge until it's nice and cold.
Pour it into your ice cream machine and churn for about 25 to 30 minutes or until it's nice and firm.
Put it into the freezer until you're ready to serve.
Now while that's chilling, time to make The Stout Caramel.
Stout Caramel
Start with a good bottle of Stout. I used Old Rasputin.
Pour the Stout into a pan and simmer it on the stove for about 10 minutes.
Stir it every once and a while while it's cooking down.
Add in the butter
And the brown sugar.
Cook everything for about 12 minutes. Don't stir it!
When it reaches 225 degrees on the candy thermometer and turns syrupy, it's done.
Take the pot off the heat.
Add the whipping cream, salt and vanilla . Keep stirring as you do this so nothing curdles.
Put the pan back on the stove.
Turn down the heat to medium and cook for another few minutes until the caramel turns thick and creamy. Look for it to coat the back of a spoon.
Serve it up. Drizzle it over the Hirten cheese ice cream.
There it is. Your cheese course, your after dinner stout and dessert all in one bowl.
This article is part of Castello Moments, a collaboration between Honest Cooking and Arla Foods USA.
Kathy Gori
Kathy Gori has a passion for Indian cooking. She brings 20 years of cooking experience and a natural flair for communicating her culinary adventures to her blog The Colors of Indian Cooking "A Hollywood Screenwriter, A Bollywood Kitchen". Food writer, commercial and cartoon voice actor (Rosemary the telephone Operator in Hong Kong Phooey among others) and screenwriter (Chaos Theory starring Ryan Reynolds) Kathy is also a Clio award-winner. She and her screenwriting-partner husband Alan live with their Siberian Husky Patsy in Sonoma, California.