This recipe was great for a summer BBQ side dish without taking up any room on the grill.
By Kim Hamill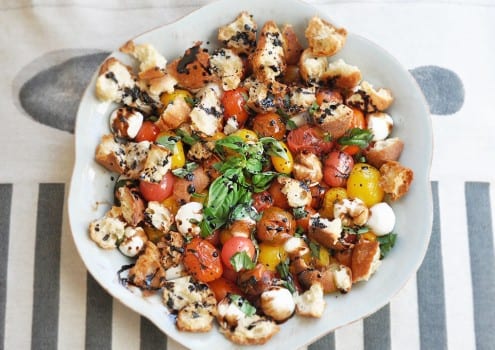 You can buy balsamic glaze (a thickened vinegar) that makes the nice drizzle effect. Alternatively, you can reduce balsamic vinegar in a pan before adding or just add regular balsamic vinegar and it will just be thinner.
Roasted Tomato Caprese Panzanella Salad
This recipe was great for a summer BBQ side dish without taking up any room on the grill.
Ingredients
4 cups grape tomatoes
4 cups cubed multigrain bread
6 tablespoons olive oil
1 teaspoon salt
1 teaspoon pepper
2½ cups fresh mozzarella balls/pearls (I cut a few balls into fours)
15-20 fresh basil leaves
a heavy dose of balsamic glaze
Instructions
Preheat oven to 400 degrees F. On one baking sheet, lay the tomatoes down and drizzle with 1½ tablespoons of olive oil, ½ teaspoon salt and ½ teaspoon pepper. On a separate baking sheet, place the cubed bread and toss it with 2 tablespoons of olive oil. Place both sheets in the oven. Roast the tomatoes for a full 20 minutes, tossing once during cooking. Toast the bread for 10-12 minutes, until golden, tossing 2-3 times during cooking.
Place mozzarella on a paper towel to remove a bit of the moisture and water. Chop any larger basil leaves, leaving the smaller ones intact if desired.
In a large bowl, add bread, tomatoes, basil, remaining salt and pepper. Gently toss with two large spoons, trying to keep the tomatoes intact for pretty visual purposes. Drizzle the remaining olive oil over the salad, and then add on a liberal drizzle of balsamic glaze. Serve immediately.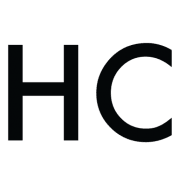 Kim Hamill
By day, Kim is the 3rd generation in her family's NYC taxi business. By night, she writes about food, fashion, DIY projects, travel, and beyond on www.loveumadly.com. Her stories, recipes, and photographs have appeared in Marie Claire, NY Press, the Kitchn, HGTV.com, Food Gawker, and Finding Vegan. She doesn't sleep very much.