Mikkel Borg Bjergsø was a Danish high shcool teacher armed with a home brewing kit and the humble ambition to make a replica of his favourite beer. Now his brewery is hailed as one of the best and most innovative in the world.
By Lars Hinnerskov Eriksen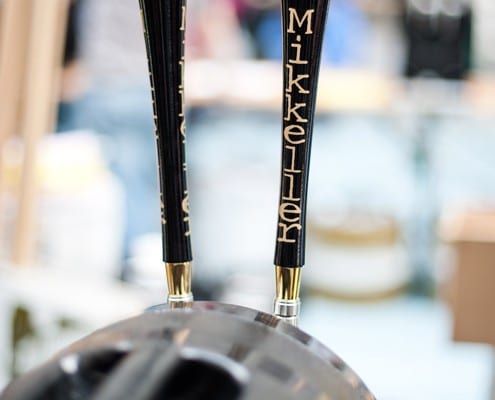 NOTE – This article was originally published in 2012
Mikkel Borg Bjergsø was a Danish high shcool teacher armed with a home brewing kit, some books and the humble ambition to make a replica of his favourite beer. Now his brewery, Mikkeller, is hailed as one of the best and most innovative in the world, he makes beer for the restaurant Noma, and he might be about to change our perception of how beer and gastronomy work together.
Not that you've got any chance of a brewery tour if you visit Copenhagen. Mikkeller has no fixed abode and instead collaborates with craft beer makers around the world to use their facilities. Two years ago Bjergsø added a more permanent base in the shape of Mikkeller Bar, located in Copenhagen's trendy Vesterbro district and offering a rotating selection of 20 draught beers (you can check the current lineup on Mikkeller's website). The stylish basement bar is usually packed with a discernible crowd of beer geeks and local hipsters, and was recently named by British newspaper Sunday Times as one of the 50 best bars in the world.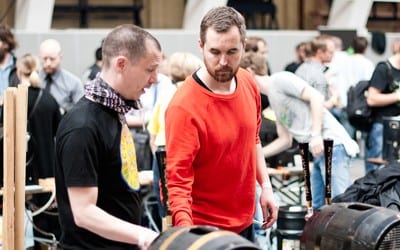 Probably no surprise then that tickets sold out almost instantly when Mikkeller launched its first beer festival, Copenhagen Beer Celebration, in May. The list of brewers read like a who-is-who of the craft beer scene, from Three Floyds in the US to Brouwerij de Molen in Holland.
A few stalls down from Mikkeller's own stand at the festival was To Øl (two beers), a brewery run by Tobias Emil Jensen and Tore Gynther, a couple of Danish guys in their mid-20s. Their imperial stout Sort Mælk (black milk) – a whiskey-barrel aged beauty packing a biter caramelised punch – was one of the festival highlights.
Tobias and Tore's brewing career started in high school where they found themselves frustrated by the poor beer selection at school parties. They found a kindred spirit in their teacher – one Mikkel Borg Bjergsø – who shared their taste for quality beer. Bjergsø bought a brewing kit on the school budget and the three of them started their beer production in the school kitchen.
"There were lots of complaints from the cantine staff because they thought we were making a mess," says Tobias. "We had to [brew the beer] outside opening hours after 5pm and sometimes didn't finish until three in the morning. We slept on the sofa and had to get up for classes and Mikkel had to teach. They were great times."
Bjergsø no longer has to worry about getting up for teaching duties in the morning. Demand for Mikkeller keeps rising in the US and UK, and last year he produced a whooping 94 different beers.  How does he find inspiration for new tastes and types? "I don't think too much about it. It just happens naturally," says Bjergsø. "I don't go around thinking I have to create a new beer because it's been two weeks since the last one. When we made those 94-odd beers last year it was not because I was thinking  we have to make as many new beers as possible. Ideas just happen, collaborations happen and maybe you get a good idea from somebody else. So far it hasn't been a problem."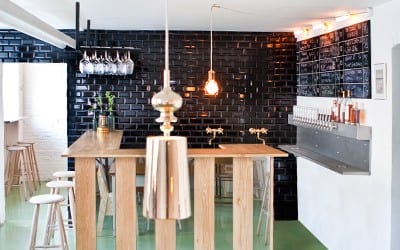 One of his projects is a series of single-hop IPAs, which he hopes can help educate people about the variety of hops. As a home brewer he started making the single-hop beers in order to learn the different types and pinpoint their unique tastes. "You can relate it a bit to wine where there are differences between grapes," he says. "Most people know that by now, but few people know there are differences between hops, or at least what these are. Many people have a favourite grape but bloody few have a favourite hop."
When it comes to food Bjergsø is equally passionate about the qualities of beer. "I love to have wine with my dinner, but I think beer has a legimate claim when it comes to high-end gastronomy, and I think beer can actually achieve more things than wine." Luckily for Bjergsø he is based in a city with a burgeoning culinary scene. He has produced beer for Noma (named the world's best restaurant for three years running), and has brewed for such diverse establishments as a Michelin-starred Thai restaurant (Kiin Kiin) and a burger joint.
One of his closest culinary allies is the chef Jakob Mielcke. For a dinner at Mielcke's restaurant earlier this year, Mikkeller showcased an IPA made with the green bits of jalapeno peppers. "Compared with a mineral white wine this is just as good," says Bjergsø. "It fits in nicely with the new Nordic cuisine and these green and delicate flavours."
At Copenhagen Beer Celebration, Mielcke cooked braised pork loin served with a hop-infused potato mash and paried with a young Belgian lambic beer from Mikkeller. The beer was low in alcohol and fizz but its citrusy and crispy freshness complimented the succulent pig.
See Also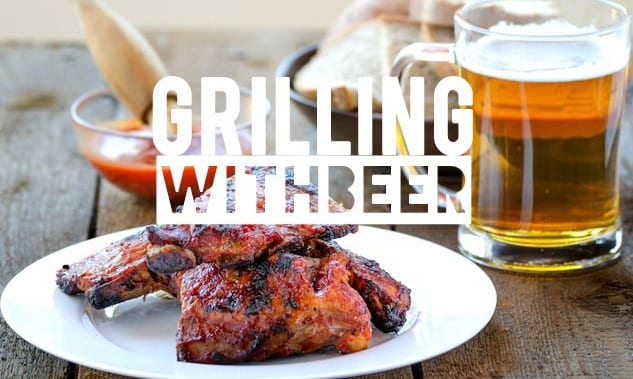 "Jakob [Mielcke] has a different approach to this than most chefs at his level," says Bjergsø. "His startig point is the beer and then he cooks food for that. Most chefs will start with food and then try to find the beer that matches and that can be tricky because we can't change our beer. When it has been brewed it taste the way it does.  Jakob has flipped it around, saying it's fine that the two have to go thogether but he has the ability to change a dish at the last minute. For example, a double IPA  is extremely strong in terms of hops and alcohol. Most chefs will say it's too overpowering for food, which might be true, but if you turn it around you can try to match the flavours in the beer with the food you are cooking."
So what about the people who say you can't get same flavour nuances in beer as you find in wine?
"That's a bunch of crap. It's just because they haven't tried the right beers."
WANT TO TAKE PART IN THE ULTIMATE BEER PAIRING DINNER?
Two of the most talked about restaurants in the world are joining forces for two nights only at this very exclusive and intimate event, seating only 20 people per dinner (October 6th and 7th, 2013). This is a very rare opportunity to experience the two Noma alumni chefs – Matt Orlando of Amass and Daniel Burns of Luksus – cook together again, and drink some of the best beers in the world together with their food. Luksus is situated inside the amazing beer bar Tørst in Brooklyn, run by Mikkel's brother Jeppe – the founder of Evil Twin Brewery. Get your ticket for this ultra exclusive beer event below today!
Noma Reunited – Tasting Menu and Beer Pairing at Luksus, Featuring Daniel Burns and Matthew Orlando
Lars Hinnerskov Eriksen
Lars Hinnerskov Eriksen lives in Copenhagen where he writes about food and football for the Guardian newspaper. Prior to that he spent 10 years in London where he studied journalism, worked on the Guardian's newsdesk and enjoyed a passionate love affair with British food culture (stop sniggering at the back) and the pub.