Buttery blondies receive a touch of chocolate from Nutella and are spiked with amaretto for a truly delicious mouthful.
By Meagan Burke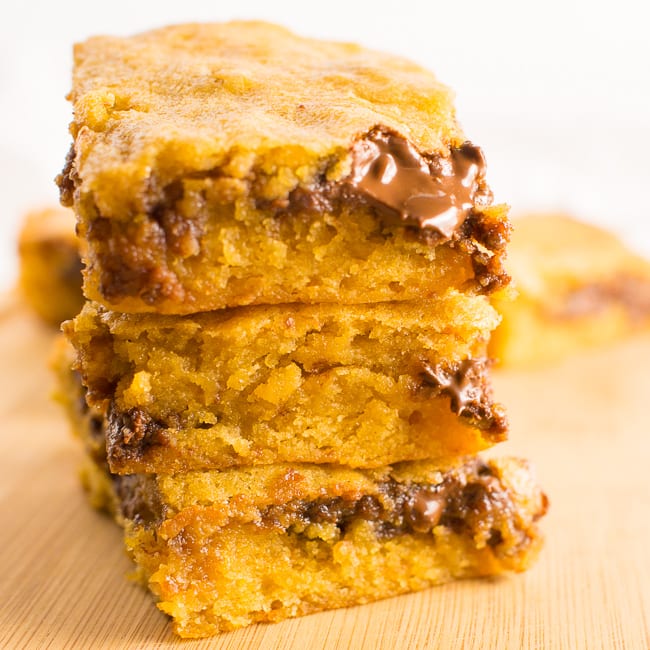 I'm not very good at coming up with names for the cocktails and desserts I create (the "I can't decide if I want whiskey or sherry, so I'll have both"- cocktail?), and these blondies are no exception.  I brought them to a late night party and got the "OMG, these are amazing!  What are these?!"
My response:  "They're blondies.  There's some Nutella stuffed inside.  And a little amaretto.  Oh, and I browned the butter.  They're gooey brown butter Nutella-stuffed amaretto blondies."  That's a mouthful.  I need to do better.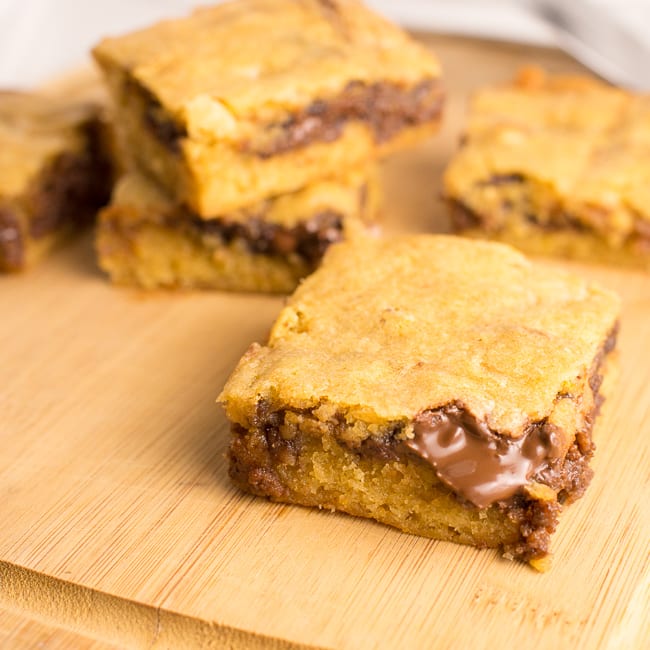 I thought about calling these "Triple Nut Blondies", but it's a misnomer since there's no actual nuts.  They get they're nutty profile from the Nutella, amaretto, and the browned butter.
Ohh the brown butter…
Mention the words brown butter when describing a dessert, and many people Ooh and Aah.  Let's be real – it's not difficult at all to brown butter.  It's only one extra step that takes no more than 5 minutes.  The complex flavor that it adds is surreal, though, and it will secure your BAKING SUPERSTAR status.
So brown away!  Just make sure the distracting cat videos are paused while you do it.  Nobody wants charred grainy blackened butter.
Nutella and Amaretto Brown Butter Blondies
Serves:
9x9 pan of blondies
Ingredients
1-1/2 stick unsalted butter
1-1/2 cups all purpose flour
1 tsp baking powder
pinch of salt
1-1/2 cups light brown sugar
3 eggs
½ tsp vanilla extract
2 tbsp amaretto
½ cup Nutella (or chocolate hazelnut spread of your choosing)
Instructions
In a small sauce pan on the stove, melt the butter over medium heat until it foams up and smells nutty. Swirl the pan gently as it cooks to prevent burning. Keep a close eye on it because it will go from done to overdone very quickly. Pour the butter through a fine mesh strainer into a bowl, cover it, and put it in the freezer for 20-30 minutes to cool off.
Preheat the oven to 350 degrees F. Line a 9x9 inch baking dish with parchment paper.
In a mixing bowl, whisk together the flour, baking powder, and salt; set aside.
Using an electric mixer, beat together the light brown sugar and the cooled browned butter until well combined. Beat in the eggs one at a time. Then add the vanilla extract and amaretto. Add the flour mixture, mixing just until combined.
Spread about ⅔ of the batter evenly in the baking pan. Drop Nutella by the spoonful all over the batter. Spread the remaining batter on top, and using a skewer or offset spatula, swirl the batter and Nutella. Bake 30-35 minutes, until the top begins to brown. (A toothpick inserted will not come out clean; it will come out coated in Nutella goodness). Cool on wire rack before cutting.
Meagan Burke
Meagan has lived in the New Orleans area most of her life. She first learned how to bake as a young girl by helping her mother prepare sweets for her family's holiday celebrations. As an adult, she's bartended the last few years in high-volume cocktail bars, namely the Carousel Bar in the Hotel Monteleone. She's now combined her passion for baking with her ever-growing cocktail and spirits knowledge to develop sweet and savory recipes using liquor.