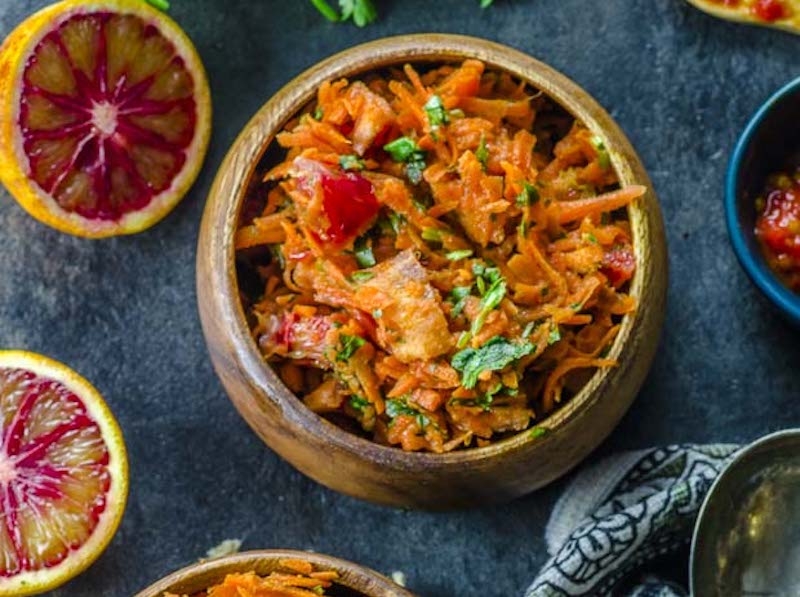 Thought a carrot salad was boring? Think again. Bright and zingy, our Moroccan Carrot Salad harnesses the clean taste of lemon and the spiciness of hot chiles for a carrot salad that is a perfect accompaniment to any meal.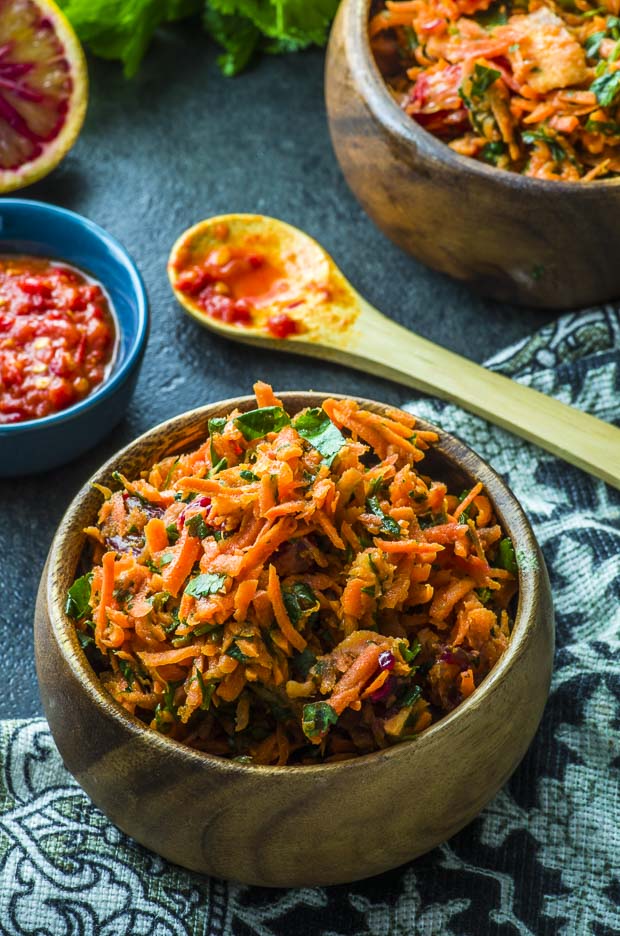 Our delicious Moroccan Harissa Carrot Salad blends the sweetness of fresh raw carrots and oranges with a spicy cumin-lemon vinaigrette for an earthy robust salad that captivates the spirit like a sunny day in Marrakech.
Rich in Vitamins A and C and fueled by the antioxidants of harissa (the blended paste of serrano chiles, garlic, lemon juice, and coriander that is widely used in many parts of the Middle East), this carrot salad will enchant you with its depth of texture and flavors.
Our families love this dish served alongside a thick rich vegetable stew, or as one of a variety of delicious salads and pickled vegetables served before the meal in the traditional Moroccan style. The combination of flavors – sweet, salty, and sour — is an age-old method to awaken and whet the appetite.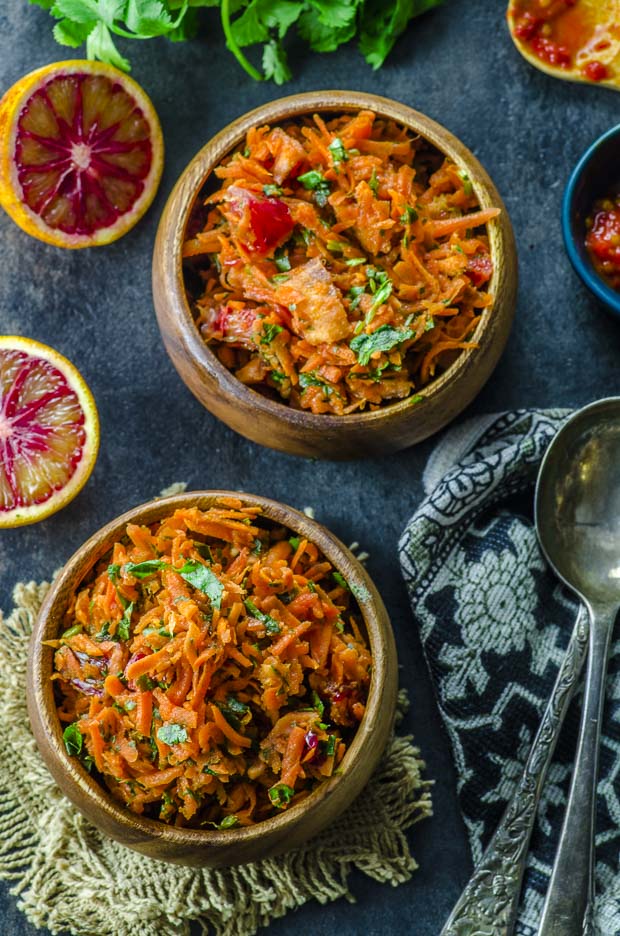 We absolutely love the combination of carrots and oranges in this Moroccan Carrot Salad! It's a wonderfully fresh taste, and if you can find blood oranges to use in the recipe, the flavor is sublime. We like to shred the carrots, but you can also slice them on the diagonal or into thin round pieces.
Our spicy harissa dressing is a snap to make by blending store-bought harissa (also known as zhug) with fresh lemon juice, olive oil, cumin and a touch of salt. Once assembled, sprinkle with a handful of fresh chopped cilantro or parsley. The aroma of this piquant salad will turn even the most conservative taste buds adventurous!
Suggestions for Serving
Our delicious Moroccan Harissa Carrot Salad is best served cold. Find a colorful earthenware bowl to serve the salad, and top with 3-4 fresh segments of orange or a few pine nuts if desired. This carrot salad is great as a side dish or tapas appetizer. Enjoy!
Harissa Carrot Salad
Ingredients
4

cups

freshly grated carrots

about 8 medium carrots

1

cup

chopped fresh cilantro

about 1 bunch

2

blood oranges

sliced and diced (use regular oranges if blood oranges are not available)

Harissa Dressing

2

tsp

Harissa

4

tbsp

fresh squeezed lemon juice

3

tbsp

extra virgin olive oil

1/4

tsp

cumin

1/4

tsp

salt
Instructions
Toss the carrots, cilantro and oranges in a medium bowl

Combine all the ingredients for the dressing in a glass jar with a lid and shake well. Add to the salad, toss well and refrigerate for at least an hour
Notes
This salad last for 4-5 days in the refrigerator.
It can be served as a side dish or as a part of a tapas or mezze spread
Use it in sandwiches and wraps o as part of a dinner bowl
Vicky Cohen and Ruth Fox
We are two sisters born and raised in Barcelona, Spain, with Sephardic and Middle Eastern roots. We grew up eating the best, most flavorful, comforting home-cooked meals prepared by our mom, who taught us everything we know about cooking. When we moved here to the U.S. we felt it was really important to keep our traditions and background alive, and we've done so by sharing it with everyone we've met throughout the years. After all, what better way to make new friends and share our love and culture than through food, right? Our friends have come to enjoy our food and gatherings so much that are always asking us for our recipes. That inspired us to start a cooking blog called "May I have that recipe" where we share recipes we've created inspired by our multicultural background.