Handmade Sweets From Milk and Honey on the Chattanooga, Tennessee North Shore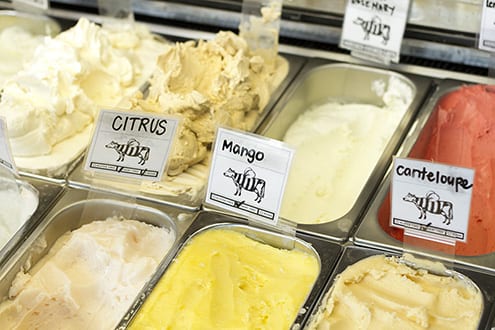 Chattanooga, Tennessee may not be the first place that you think of when you think of haute cuisine or even of the "local food movement"…but if you live there you know that the culinary movement in the area is, well, on the move.
By Mary Haymaker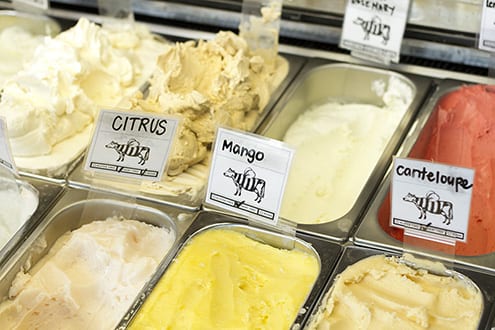 Mike and Taylor Monen are leading the charge with their bevy of restaurants, beginning with the opening of Taco Mamacita in 2008 (they've since added Taco Mama restaurants in Nashville and Sullivan's Island, South Carolina), Urban Stack Burger Lounge in 2010, Community Pie (featuring neopolitan pizza) earlier this year, and now….Milk & Honey.
Milk & Honey is the fulfillment of Taylor Monen's longtime dream of owning a sweets shop and the answer to the lack of desserts that had cropped up as somewhat of a weakness in the Monen's restaurants.  Besides operating as its own entity, Milk & Honey supplies paletas (fresh fruit popsicles) for Taco Mamacita (which, conveniently, is located right next door), gelato that is the base for Urban Stack's milkshakes, and a variety of gelato flavors for Community Pie (which doesn't feature the same flavors as Milk & Honey).
Featuring local ingredients as much as possible and making as many of their treats from scratch as possible (as well as showcasing some other made-here treats like bottled sodas from Pure Sodaworks), Milk & Honey has already acquired a loyal following in the five weeks since they opened.  Whether you're one of the working stiffs clamoring for their carhop breakfast (housemade buttermilk biscuits!) delivery service or one of their lunchtime "nooner" specials (weekly features like a Reuben or homemade pork belly ramen), a schoolkid craving an afternoon popsicle, having a meeting over a horchata latte, or taking the family for an after-dinner gelato, you're not likely to leave disappointed….unless you were hoping for a light crowd.  Lauren McCorkel, Operating Partner, reports that there are some times that the place isn't teeming with souls craving one of their unique treats….but I have a feeling those are few and far between and will only grow fewer and fewer when school is out in a few weeks.  It's a well-deserved popularity, though.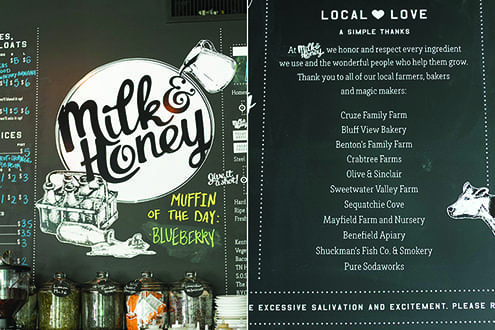 The menu at Milk & Honey features an ever-rotating selection of gelatos (like stracciatella, lavender and honey, chai, and the signature milk & honey) and sorbets (including strawberry lemonade, lime basil, or the more unique sweet beet and celery apple), close to 25 varieties of paletas at any given time, the Milk & Honey birthday cake (milk and honey soaked vanilla cake layered with homemade raspberry preserves and white chocolate buttercream), a muffin of the day (on the day I visited it was blueberry), and familiar looking cookies with a Milk & Honey twist, like thumbprints rolled in sprinkles or a crispy-treat style Fruity Pebbles bar (they have also featured popular breakfast cereals in their gelatos).  Their breakfast menu includes biscuits, wraps, oatmeal, fruit, and yogurt, and in addition to the nooner special the lunch menu includes a classic PB & J and a turkey & brie pita with housemade raspberry preserves.
On my recent visit to Milk & Honey, I decided to sample one of their unique lattes.  Lauren told me that the horchata latte was her favorite and several people had already recommended the coconut milk latte, but as soon as I saw the "drink of the day"-a lavender honey latte-I was sold, since I am pretty much obsessed with all things lavender flavored.  Tasty…but not enough lavender flavor.  Honestly.  I want to feel like I'm chomping on the lavender flowers.  The thumbprint cookie I ordered was almondy in flavor and crumby in texture, delicious and perfect for a tiny goody.  My friend also got a thumbprint but instead of coffee had some burnt sugar gelato, and I was über-jealous of her creamy treat.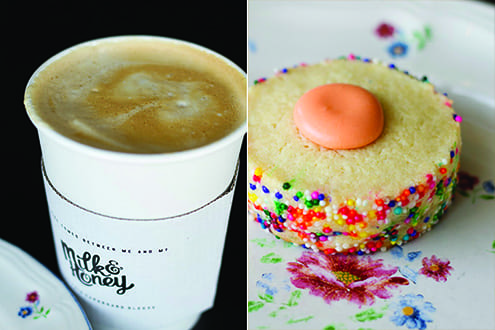 There are so many places to get amazing food in Chattanooga, but if you're in town you'll want to make a point to stop by Milk & Honey to try one of their confections and hang out on one of their yellow stools.  Trust me, you cannot pass this place up.
Milk & Honey is located at 135 Market Street, Chattanooga, Tennessee.  You can call them at 423-521-3123.  Their website is milkandhoneygelato.com and you can also find them on Facebook.
Mary Haymaker
Mary Haymaker is a teacher by day and a cook, food writer, and photographer by night. She has lived in the Chattanooga, Tennessee area her entire life and is dedicated to supporting the growing local food movement there. You can read more of Mary's writing at her blog, chattavore.com.