Australian, Anisa Canberra, set out to find the best gelato. Discover her guide complete with the best of the best across Italy.
By Anisa Canberra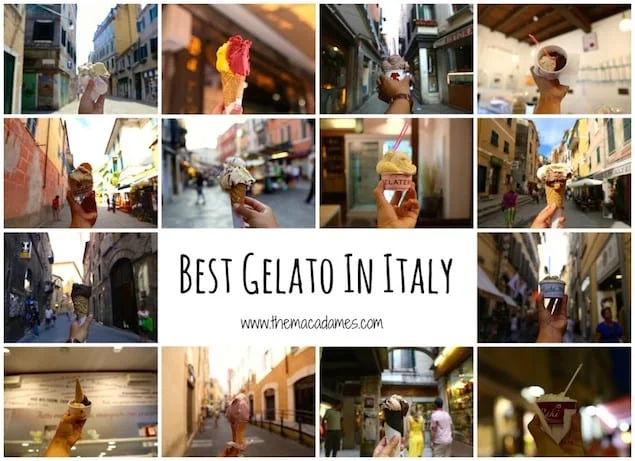 I set myself a grand task. To find the best gelato in Italy. A noble mission I know, but somebody has to do it. No one said life as a Macadame is easy!
The mission took me from big cities to quaint seaside villages, all while sampling some of the best gelato I have ever had. Cities featured in this post are Florence, Venice, Rome, Sorrento, Siena, Monterossa al Mare and Vernazza.
To help you on your journey, here are tips from veteran gelato blogger at Revealed Rome:
a) Stay away from places with the pretty, puffy clouds of gelato. The fluffiness comes from artificial thickeners and those huge mounds mean that they're making lots of gelato in advance and reusing the leftovers each day (so much for freshness!).
b) If the colors are too bright, the gelato ain't right. The high-octane colors mean lots of chemicals were used in the process. Have you ever tossed an apple in a blender, or a banana? Then you know they don't come out bright green and bright yellow.
I hope this helps you, because let's face it – life is too short to eat sh*t gelato.
Florence
Perche No
Via dei Tavolini, 19-r, Florence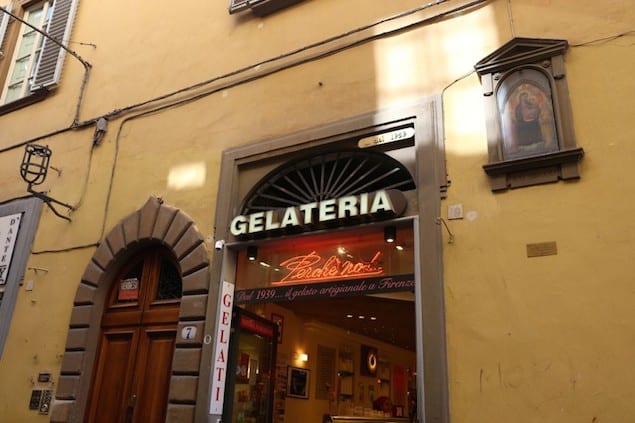 Perche No wins best gelateria in Italy, hands down. I stumbled across this place by accident and although it doesn't look like much, don't be fooled – they make the best gelato in the world. The owner Paula and head gelaterista spent at least half an hour explaining to me the way they make their gelato.
They have 4 kinds; traditional gelato – made with milk and cream, sorbet – which is completely diary free, semi freddo – which is a traditional gelato method which produces a more mousse type consistency, and granita – which is basically a fruit slushie.
The gelateria has been around since 1939 and has been with Paula for 20 years. They import fresh produce every day and make sure they use only the finest Italian ingredients. The flavours change every day based on fresh ingredients so you can be sure to always get the best quality.
I tried their Apple pie (I die!!), Milk, honey & sesame, Lavender (unique and very delicious), Marscapone (creamiest flavour ever), Green tea, Strawberry granita and Coffee semifreddo. Paula also said one of her favourites include the Rose and pistachio or the Saffron or Cardamon flavours.
Their most popular flavour being Pistachio, with the pistachios coming from Bronte in Cicily. I actually can't tell you how amazing this flavour is. I went back three times to have more. It was that good. If you do NOTHING but go here in Florence, you can die happy.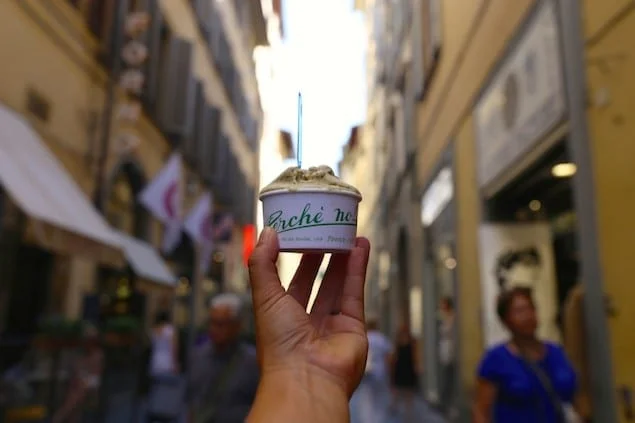 Santa Trinita
Piazza Frescobaldi, 11-12/r (Ponte Santa Trinita)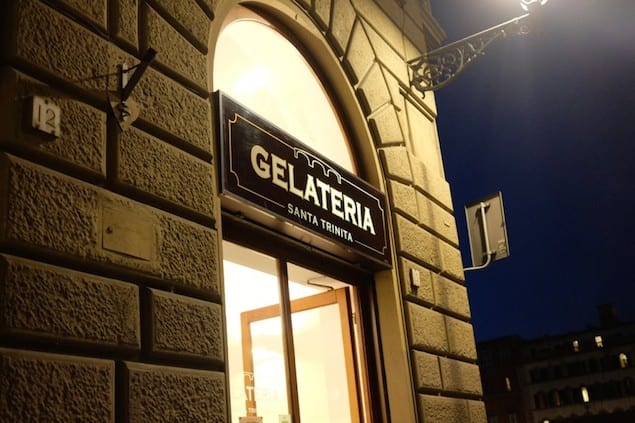 I ducked in here before (yes you read that correctly) dinner our first night in Florence. It was the spur of the moment type occasion so I hadn't done any research – but I stumbled on a gem! They serve all the traditional flavours but also a few more creative ones like Pannacotta, Pear and Black sesame (not for me!). The marscapone was so creamy and rich – a delightfully guilty pre-dinner treat.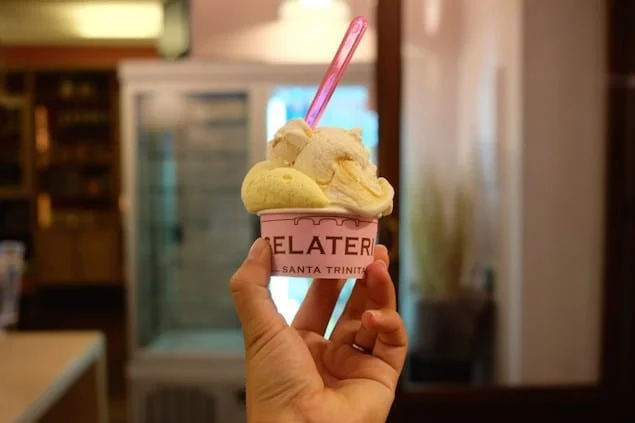 Vivoli
Via dell'Isola delle Stinche 7r, Florence
Many of the food blogs I stumbled across say Vivoli have the best gelato in Florence. They serve mostly traditional flavours which is fine but I do like to see gelaterias push the boundaries a bit. I tried the crema and chocolate – I found them creamy but overly sweet. Gelato really doesn't need to punch you in the face with sweetness, it's the subtle sweetness that marries perfectly with the creamy texture. Although it was good, it wasn't amazing – I definitely expected more. The location (near Santa Croce) is a bit hard to find so be sure to keep your eyes open. Oh and for you cone-heads, please note they only have cups – boo!
Venice
Suso Gelatoteca
Calle della Bissa, 30124 Venezia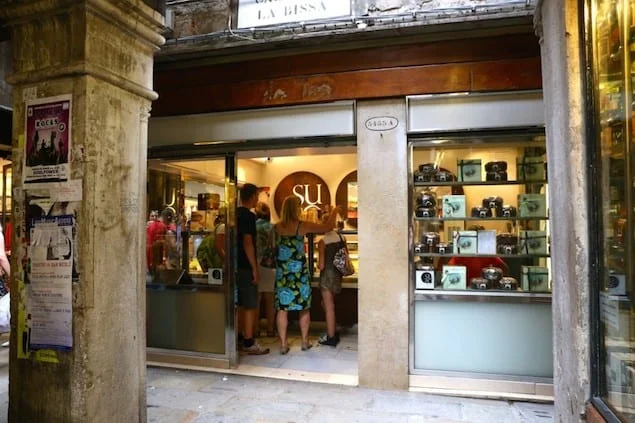 Located right near Rialto bridge, this little gelateria is a must visit when in venice. Serving all the traditional flavours, there is almost always a big line and it's no surprise. I tried the Opera favour (with chocolate fudge on top) in a dark chocolate cone. I didn't try it but the Suso (toffee and caramel) also looked amazing!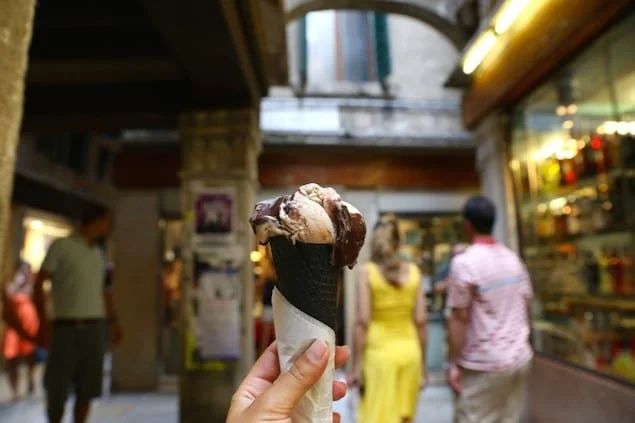 Gelateria Alaska
Calle Larga dei Bari, 1159, 30135 Venezia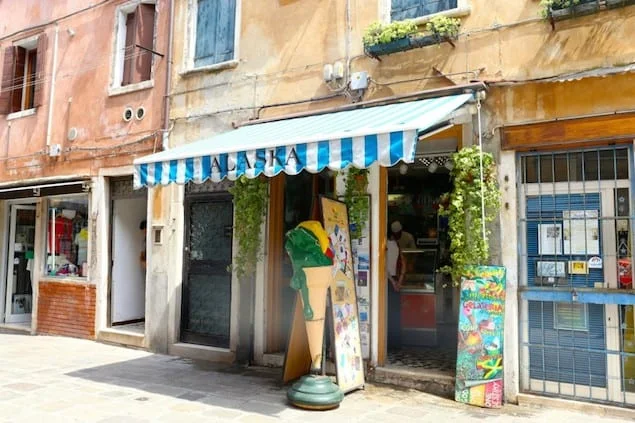 The hands down winner in Venice (it was the best in Italy until I came across Perche No in Florence), this gorgeous little shop is run by Carlo Pistacchi (no really that's his name) who is known not only for his passion for making gelati but for experimenting with unique flavours such as ginger, asparagus, artichoke or celery. He uses only the most natural ingredients and the least bit of sugar he can get away with. I sampled celery (so refreshing), ginger (ah-may-zing), cinnamon (delicious), watermelon (tasted like summer) and pistachio (one of the best I've tried). When he knew I was trying them "for work" he offered to give it to me for free. When I insisted I pay, he let me try the rainbow of flavours which took me nearly an hour. Ah Italian hospitality!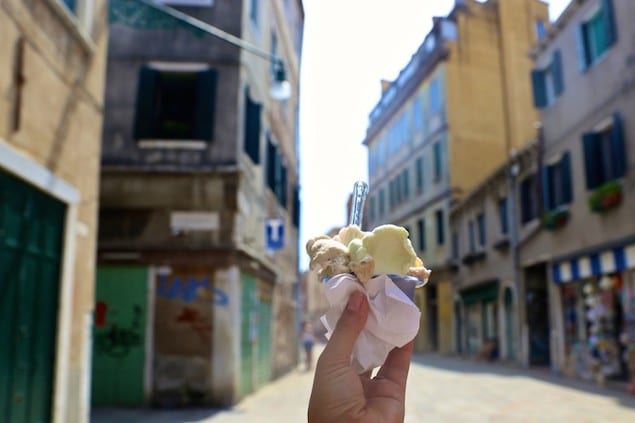 La Boutique del Gelato
Salizzada San Lio, Castello, 5727, Venezia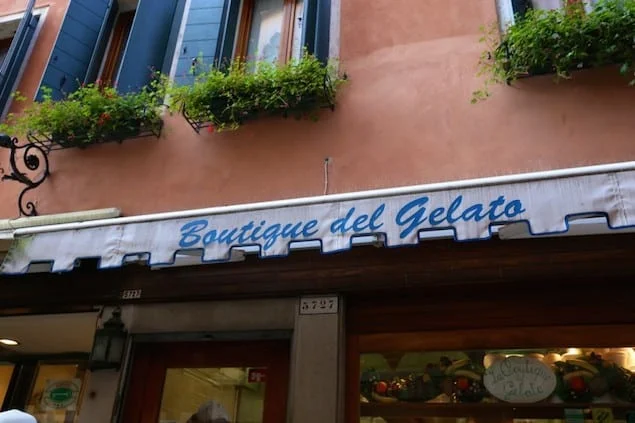 Although they don't serve a great variety of flavours, they definitely didn't disappoint on taste. I tried the chocolate mousse flavour, which was basically the most delicious chocolate mousse ever. It was thick, creamy and rich. I also tried a few samples of the other flavours which were all great. Although it was a bit on the expensive side, I think it was worth it.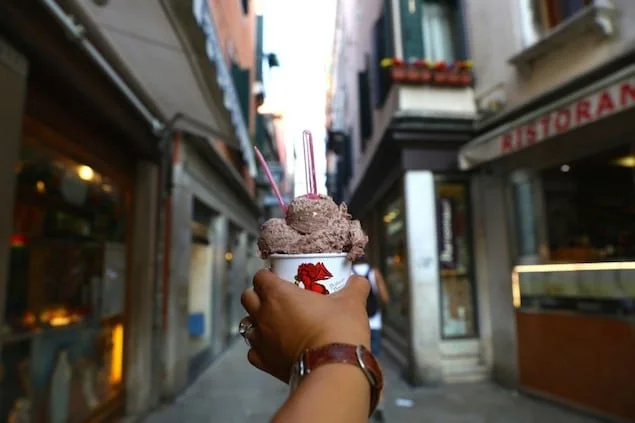 Gelateria Artigiana
Via Ca'Rossa 3 Alberoni Lido di Venezia, 30126 Venice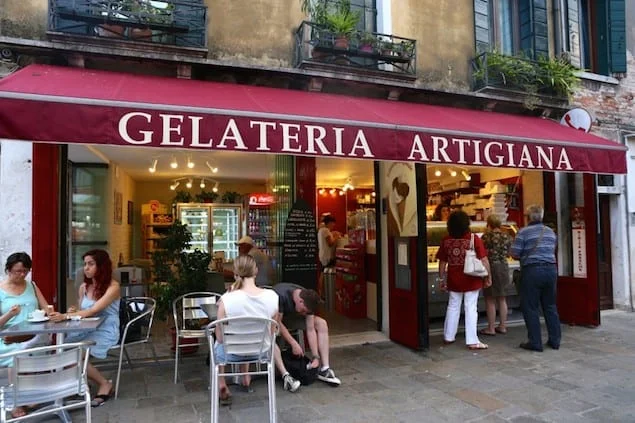 Located on one of the main drags, this simple gelateria had a wide range of flavours including one made with rice milk which the mister loved. I tried Tiramisu and Cookies which were both good but the highlight was the hazelnut made from rice milk. It was creamy and subtly sweet.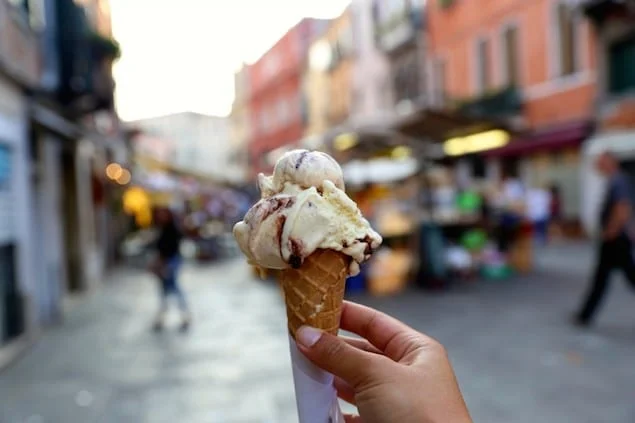 Rome
Many of the stops in Rome and flavor tips are courtesy of Elizabeth Minchilli in Rome.
Il Gelato
Several locations, I went to Il Gelato – viale Aventino 59 Roma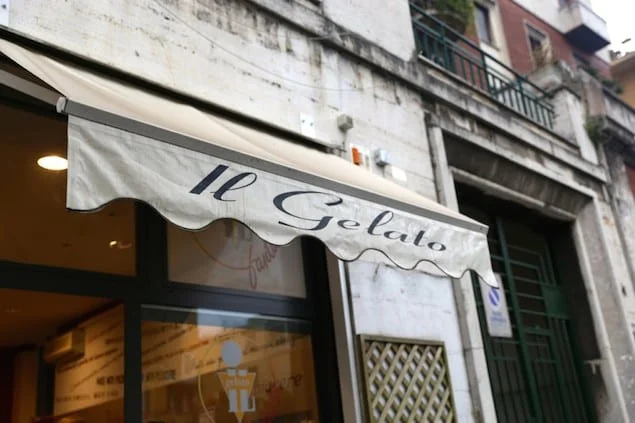 Il Gelato is owned by gelato master Claudio Torcé, who has attracted foodie fame for the shop's all-natural ingredients and adventurous flavors. From classic flavours (hazelnut, pistachio) to more wild ones (gorgonzola or chilli chocolate), there's something here for everyone.
They seem to experiment with some crazy mixes including Ricotta, Sambuca & coffee, Cointreau & orange peel, Halva with sesame & pistachio, Ginger & cinnamon, Cream with orange & bergamot or Green tea but it was the Ricotta with biscuits and Chocolate orange that I settled for. Don't worry though, they also have "normal" flavours too.
You can tell they only use the highest quality ingredients because all the flavours were fresh and tasted just as they should.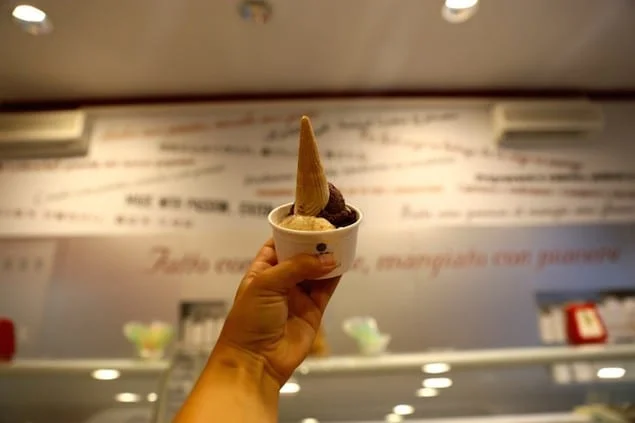 Fatamorgana
Via Lago di Lesina, 9-11, 00199 Roma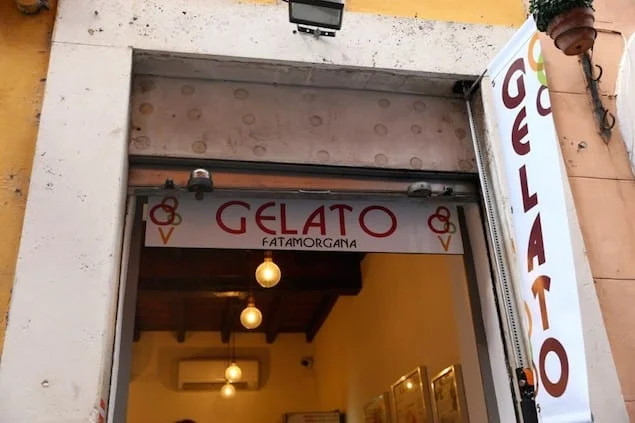 Fatamorgana was one of the first artisanal gelaterias in Rome to start playing around with wild ingredients. I'd heard tales of a Kentucky flavour – a mix of chocolate, licorice and tobacco or the Dukha – Middle Eastern inspired meld of sesame seeds, hazelnuts and coriander, so I knew I had to try it for myself.
When I advised I was writing a post about the best gelato in Italy, they let me try almost every flavour. Some of my favourites include Gorgonzola & pear, Almond & cardamon, Wasabi chocolate, Pecorino, honey & orange, Baklava (amazing!!), Banana cream & crunchy sesame. But in the end it was the Snow white (Tahitian vanilla, apple & raspberry) and Princes Kiss (Chocolate, hazelnuts & nut cream) that stole my heart!
It's no surprise Fatamorgana is becoming one of the best gelaterias in Rome!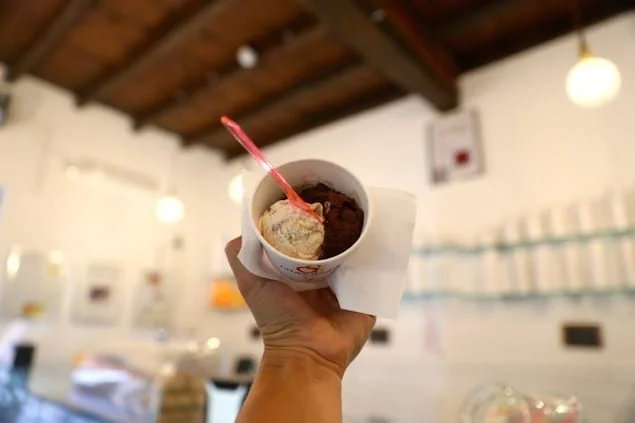 Giolitti
Via degli Uffici del Vicario, 40, Roma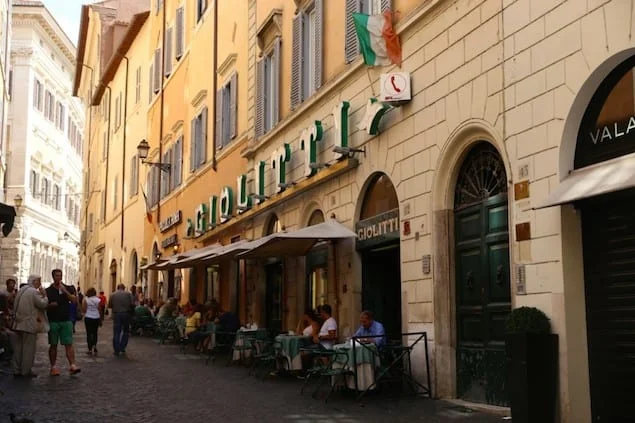 Although Giolitti seems to be on the touristy side of things, it's for good reason – they have excellent gelato (and great coffee I might add). They serve mostly traditional flavours (although I did notice a Baileys and pear flavour) but their fruit sorbets are especially good. I asked the gelaterista to give me his favourite 2 and I ended up with Amarena (sour cherry) and Fruits of the Forest. Both were so creamy and had a delightful fruity sweet tang.
Although not the best in Rome, you won't be disappointed.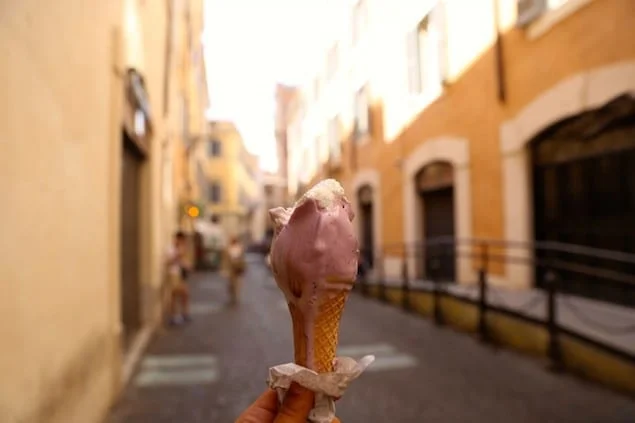 Sorrento
See Also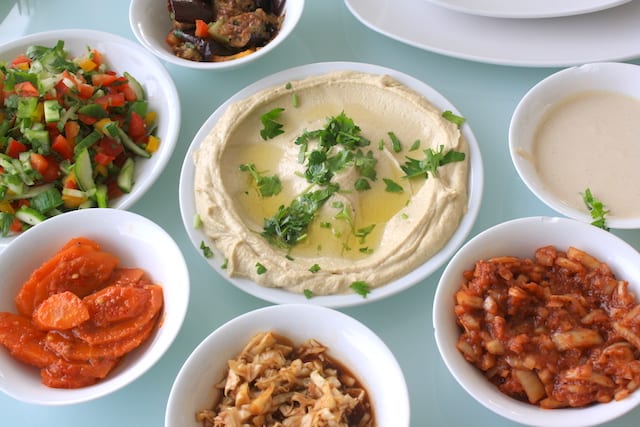 Antica Gelateria Sorrentina
Via Fuoro 21 Antica Gelateria Sorrentina – Via Fuoro 19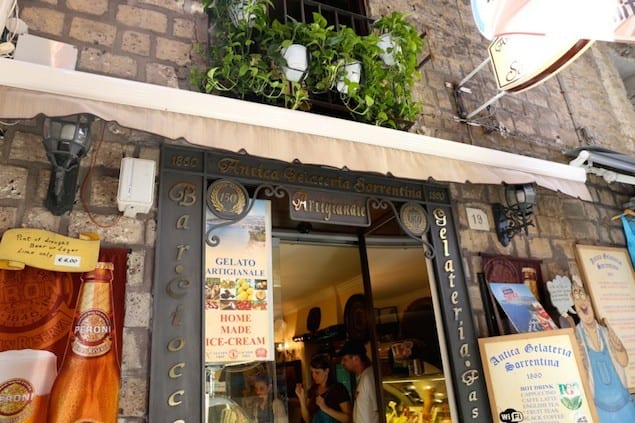 The Antica Gelateria Sorrentina has been in the same family for 3 generations. From 1860 the Gargiulo family have been leaders in the field of ice cream production and here you'll find the whole family working the streets and inside the gelateria, trying to get you to try their artisinal gelato. Mamma will tell you that they only import the finest Italian ingredients: pistachios from Etna, hazelnuts from Piemonte, coffee from Naples, vanilla from Bourbon etc. And you can really tell the quality of ingredients: the flavours tasted so fresh and creamy.
I tried a few flavours but settled on berries and mango: it was like spooning fresh fruit into my mouth. Delish!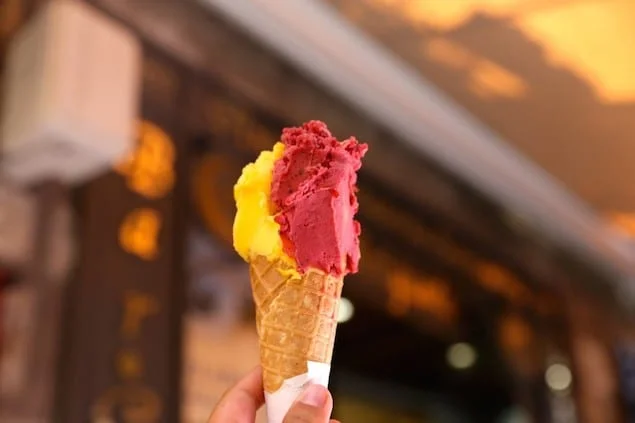 Raki
Via San Cesareo, 48, 80067 Sorrento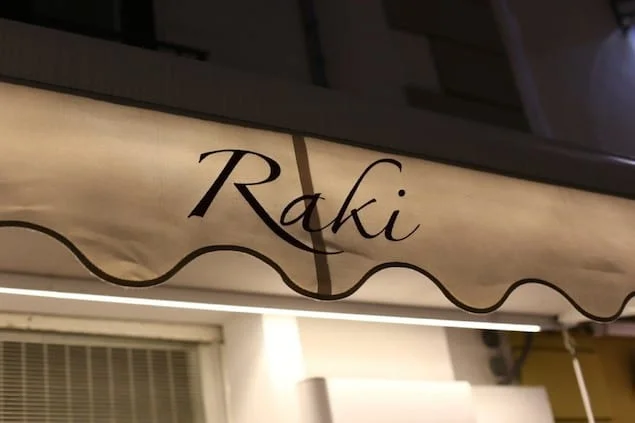 Raki are dedicated to not only making alto, but gelato that tastes seriously good. They use only 100% natural and organic products imported from all over Italy. Their store is very clean and chic, making it a perfect haven from the bustling streets of Sorrento.
They serve mostly traditional flavours but I went with their marscapone, caramel and pine nut. It was so creamy, subtly sweet with a nice crunch. I also sampled their famed Almond flavour, with the almonds coming from Avola – it really is one of the best I have ever tasted.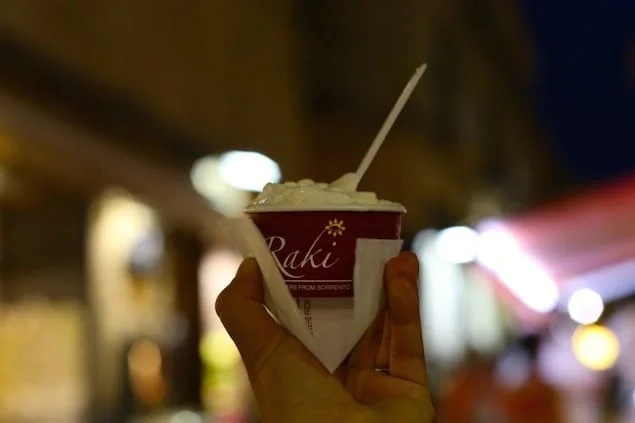 Siena
Super Panna
Via banchi di sotto 24, Siena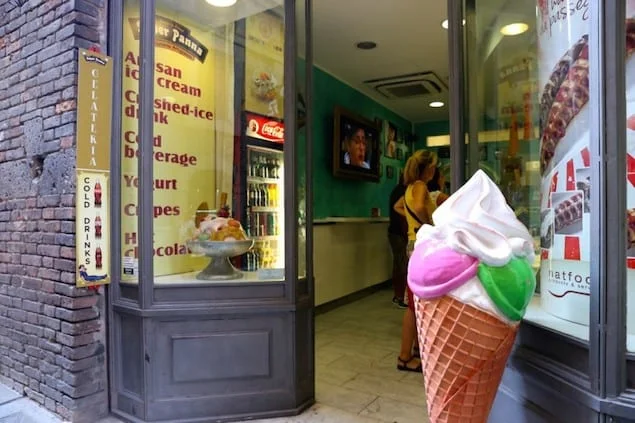 I have had almost an gelato a day while in Italy, however it had been 2 days since my last when stumbling across this little gem in Siena. Super Panna is a small hole in the wall gelateria serving mostly traditional flavours. I tried a few flavours but it was the Dark chocolate fondant that I settled for, served in a chocolate & nut covered cone.
I only managed to try one place in Siena, but you won't be disappointed with Super Panna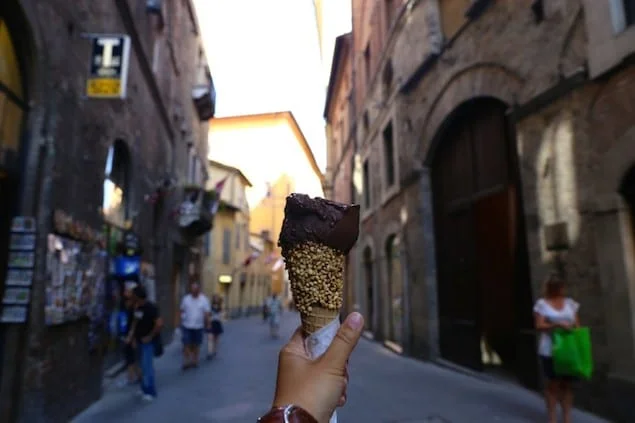 Monterosso, Cinque Terre
Gelateria Ice Cream Il Golosone
Via Roma 17, 19016 Monterosso al Mare, Italy
I stumbled across this cute gelateria when exploring the winding cobbled streets of seaside village, Monterosso al Mare. It's tucked into an alleyway so have your eyes peeled as it's easy to miss. It's a shame they don't let you taste because they had a few gorgeous flavours that I wanted to try – like their almond or boysenberry. I went with the cream caramel and sour cherry. Both were very very good. The price is very reasonable at 2 euros for 2 flavours. Other venues will have a wider variety of flavours however Il Golosone is the best for quality and price.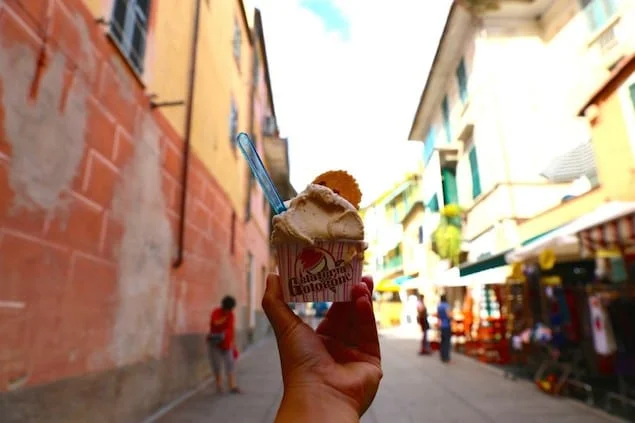 Vernazza, Cinque Terre
Gelateria Vernazza
Via Roma, Vernazza, Italy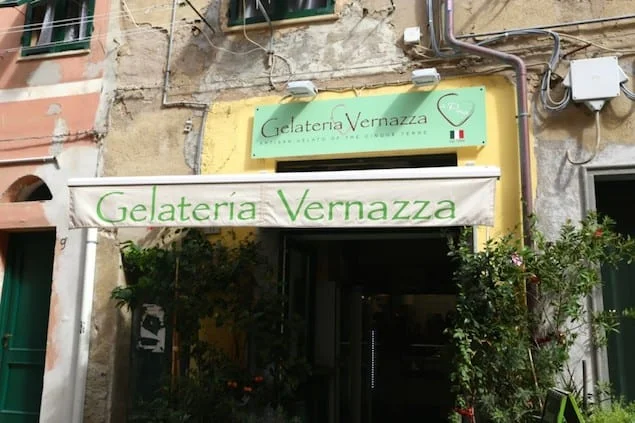 I can't take the credit for discovering this little gem, a food blogger I follow, Food Feels had been to Cinque Terre right before me so he paved the way. This little gelateria is located on the main street, a few skips away from where you get off the train. They don't have a million flavours but they did have all the traditional such as Pistaccio and Crema, a spritely Mandarin and a Vanilla bean that looked to die for. But it was the gooey hazelnut and marscapone with burnt fig that took my eye. The hazelnut had gooey chocolate sauce all throughout and each lick had a delightful crunch with plenty of fresh hazelnuts. But the marscapone – oh the marscapone! That creamy flavour still has me dreaming! One of the best in Italy for sure!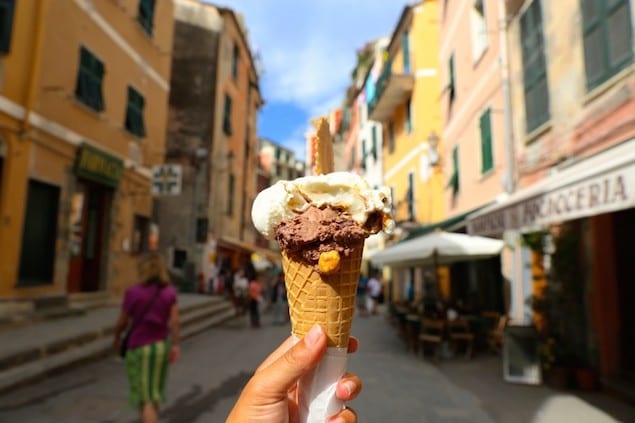 Alora! That about sum up my tour of gelato in Italy. I really hope this helps you in always finding the best gelato when you're travelling. Feel free to pop comments with new places or updates if you visit any of the places mentioned above.
Ciao!