Learning to master a new grill is Sheila McGrory-Klyza's summer project. Grilled Shrimp Scampi with Polenta is an early success and a new favorite. This new way of making Scampi is sure to become a summer favorite.
By Sheila McGrory-Klyza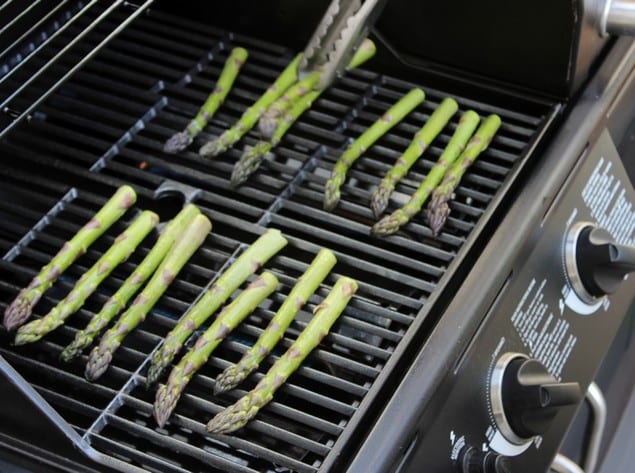 I just graduated—from a small, charcoal kettle grill, that is, to a 6-footer, gas/charcoal combo grill that I'm affectionately calling The Big Boy. It's an impressive piece of equipment, with cast iron grates and a warming center in both sections, and a side burner that I haven't even tried out yet.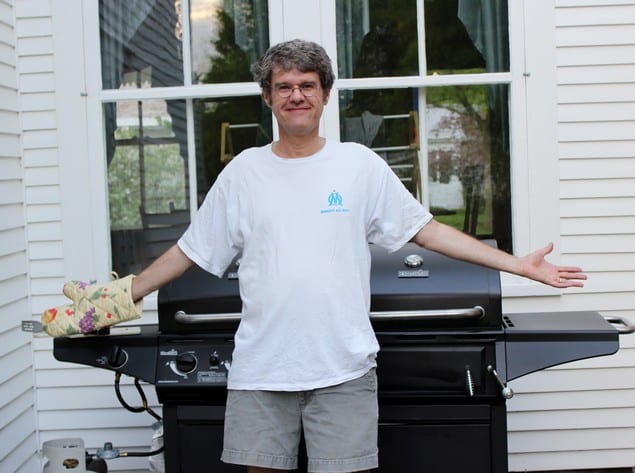 Now that Chris and I have entered the world of gas grills, we don't have to wait for a block of time on the weekend when the weather cooperates to cook out. We can fire up The Big Boy spontaneously on a cloudy weeknight if we want to. I have the utmost respect and admiration for my purist friends who only grill over wood, but if we'd like to attain that smoky wood flavor, we can always throw in some wood chips.
As an INFJ (Myers-Briggs) and proud of it, I usually have some kind of project going. So for my summer project this year, I'm becoming a grill master. Up until this point, Chris has mainly manned the grill while I prepped everything and organized the rest of the meal in the kitchen. But now that we have The Big Boy, I plan to learn the finer points of cooking over fire, experimenting beyond our usual fare. It'll be a team effort, but I'm hoping we'll whip up as many dinners as we can outside, extending Vermont's relatively short grilling season for as long as possible. All manner of vegetables taste better on the grill, as does fish, especially salmon, and charred bread that's been lightly brushed with olive oil is irresistible.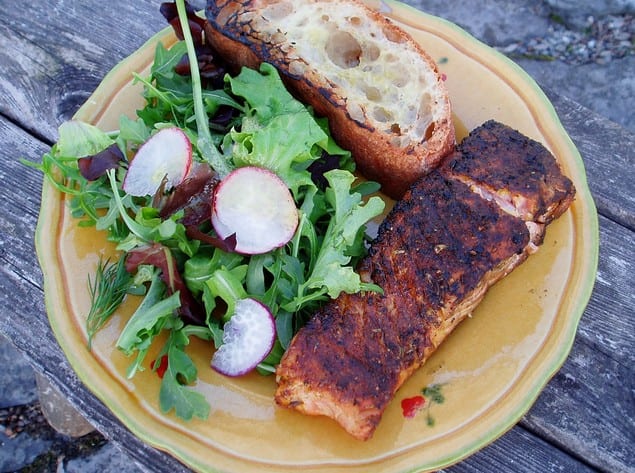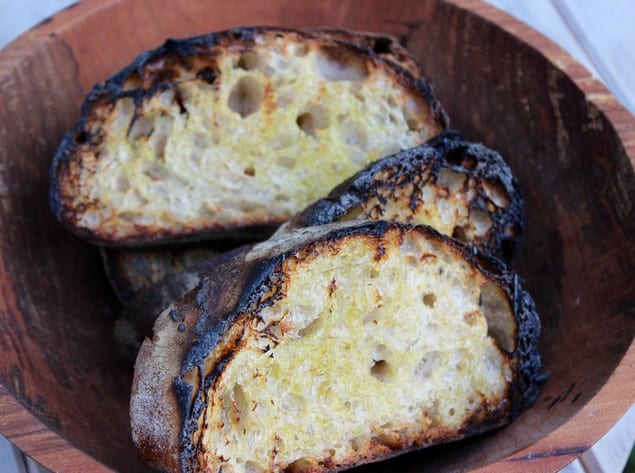 But it's the meat that really appeals to our primitive selves. Whether it's poultry, or beef, pork tenderloin, or sausage.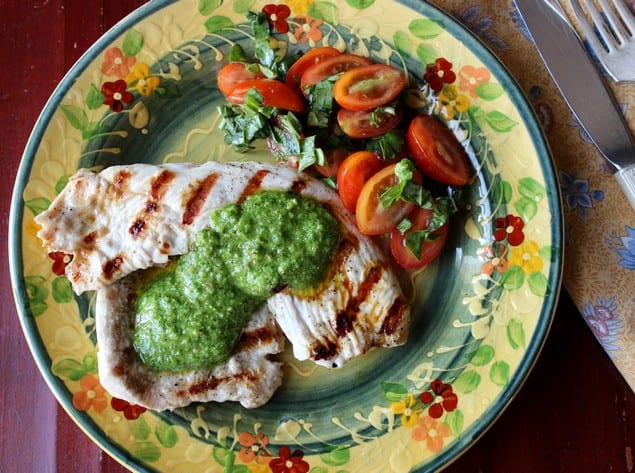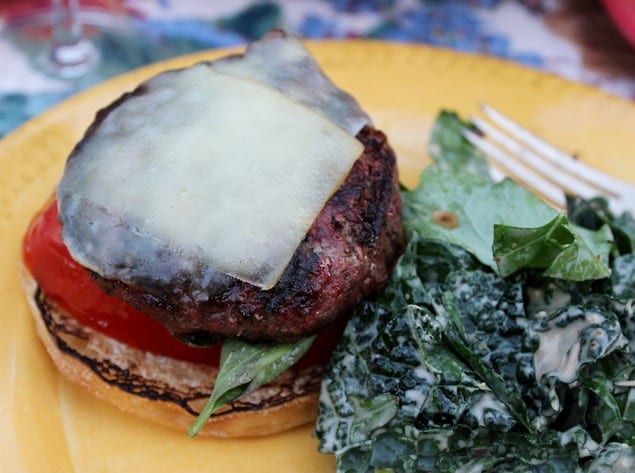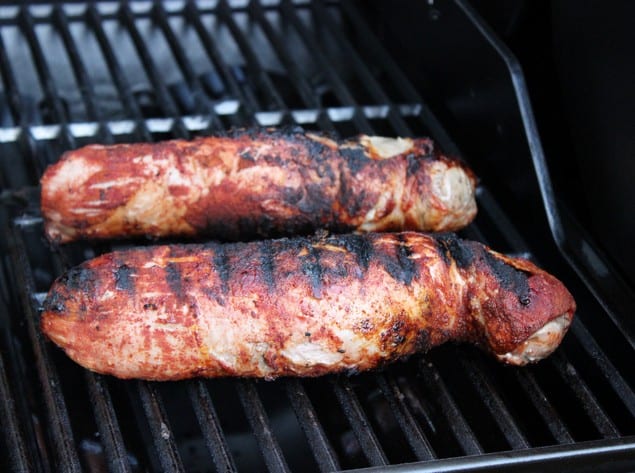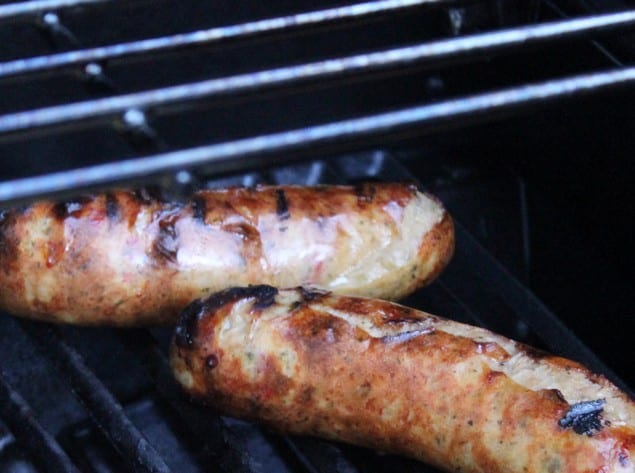 When the fire hits that animal protein and the scent wafts over the patio, we evolve backwards and start salivating.
One of the beauties of the grill is that you can easily create a meal that appeals to everyone's desires—vegetarians, pescatarians, carnivores, and the GF crowd can all have their fill. This makes life simpler both within our own family and also when friends come to visit. Aside from around the holidays, we tend to do most of our entertaining, both with local friends and out-of-towners, during the summer. The Big Boy will get lots of action over the next few months.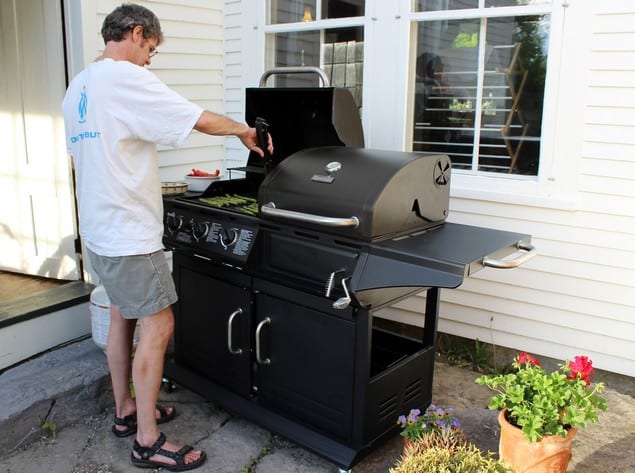 We fired him up last weekend when our friend Steve came to visit. Steve and I met years ago when we were both first-year teachers at Andover. We bonded in the early weeks over something irreverent, although I can't recall exactly what, and have been friends ever since (I actually was given the honor of officiating at his wedding—a once in a lifetime, at least so far, experience for me). Chris and I were not yet married when I was teaching at Andover, but he came down from Vermont regularly on the weekends to visit and he and Steve soon became fast friends. Over the past several years they've been hiking the length of the nearly 300 mile Long Trail together, one piece at a time. As a pre-hike dinner, grilled Shrimp Scampi with polenta provided sustenance before they took on a 15-mile stretch that included climbing three mountains the following day, their own version of the Tough Mudder.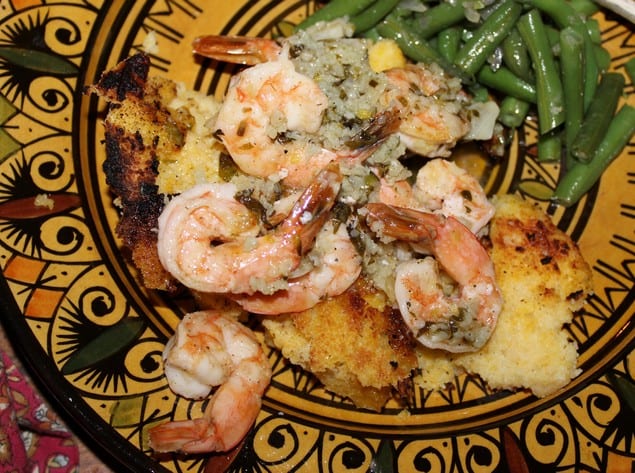 I had never made Scampi with grilled shrimp before, nor with grilled polenta, and the combination makes the regular stove-top version seem dull in comparison. Instead of marinating the shrimp in the sauce before grilling them like most recipes call for, I just lightly dressed them with olive oil and lemon juice.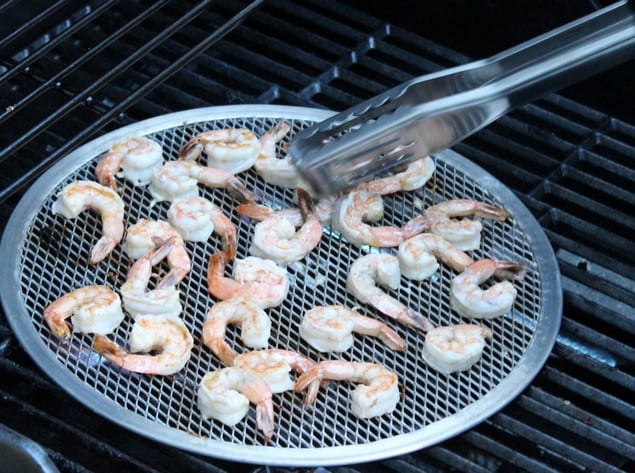 I made the sauce separately on the stove (I could have used the grill's side burner, now that I think about it, or prepared it over the fire), and then poured the sauce over the shrimp after they were cooked. This way, you don't lose tasty pieces of garlic and herb. I grilled the polenta until it was lightly charred, so the flavors of the fire permeated the whole dish.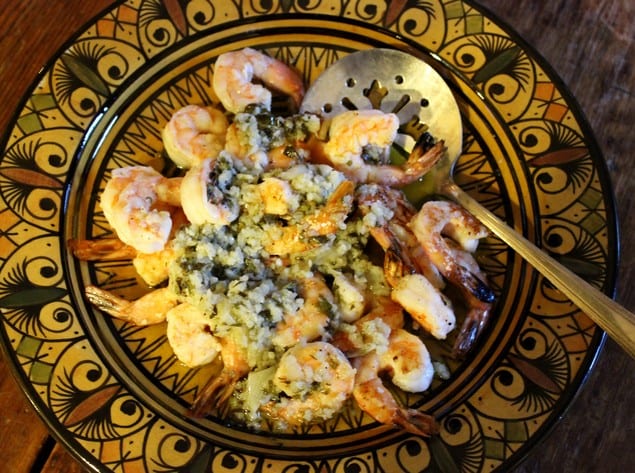 This new way of making Scampi is sure to become a summer favorite. Another longtime favorite is clams steamed over the fire in white wine and herbs and then combined with chorizo to make a Portuguese feast.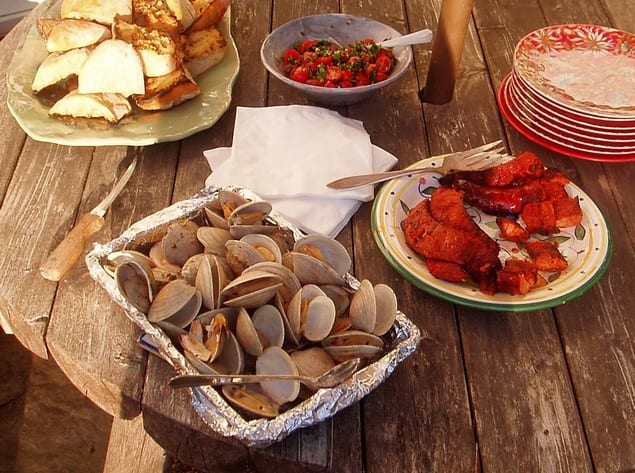 The clams and sausage are especially delicious when served with a tomato, basil, and garlic salad over grilled bread.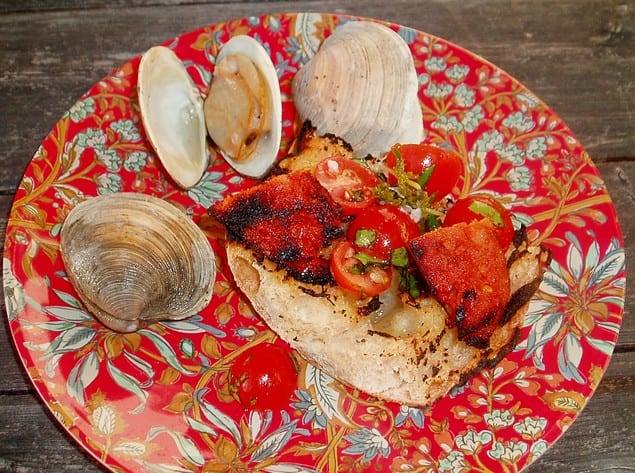 It's only mid-June so we have a whole summer with The Big Boy ahead of us. Experimenting with some new cooking methods on the grill is a large component of this summer project. I'm thinking pizza, tortillas, slow-cooked leg of lamb….Oh, what delights await. Plus, I have to admit, there's nothing more attractive than a Tough Mudder in a floral oven mitt.

Grilled Shrimp Scampi with Polenta
Grilling the shrimp and the polenta separately, and then pouring the sauce over them before serving, heightens the flavors in this classic dish. You can make the entire dish on your grill, using wood chips to enhance the smokiness.
Author:
Sheila McGrory-Klyza
Ingredients
Polenta
6 cups water
1 teaspoon sea salt
2 cups coarse cornmeal
¼ cup olive oil
½ cup Parmesan
Shrimp Scampi
¼ cup olive oil
1 teaspoon freshly squeezed lemon juice
1 pound peeled and deveined large shrimp
sea salt
freshly ground pepper
5 minced garlic cloves
1 dried hot red pepper pod
½ cup dry white wine
4 tablespoons unsalted butter cut into 1-inch pieces
1 teaspoon minced fresh oregano leaves (or 1 tablespoon flat leaf parsley)
Instructions
Polenta
Bring the water to boil in a large, heavy saucepan.
Add the salt and then the cornmeal in a stream, stirring immediately with a whisk. Decrease the heat to low and cook for 30 minutes, whisking frequently to prevent lumps from forming.
Remove the pan from the burner and add the olive oil and the Parmesan.
Whisk the mixture well and season with more salt if desired.
Spoon the polenta into a loaf pan and refrigerate for 3 hours.
When the polenta is chilled and firm, turn the pan over onto a plate to remove the loaf (it should slide out in one piece).
Slice the polenta into ½-inch wide pieces and lightly brush them with olive oil. Grill the polenta slices over a hot fire, turning once, until they're lightly browned. Transfer them to a serving dish and keep them warm.
Shrimp Scampi
In a large bowl, stir together 1 tablespoon of olive oil and the lemon juice.
Add the shrimp and stir gently to coat them.
Season with salt and pepper.
Grill the shrimp on a fine rack over a hot fire, about 2 minutes per side, being careful not to overcook them.
Transfer the shrimp to a serving dish.
In a saucepan over the grill or on a stove, combine the rest of the olive oil, the garlic, pepper pod, and white wine and cook over medium-high heat, stirring occasionally, about 2 minutes.
Lower the heat to medium and add the butter, stirring until it has melted.
Remove the pan from the heat and discard the pepper pod.
Stir in the oregano and season with salt.
Pour the sauce over the shrimp and serve with the grilled polenta.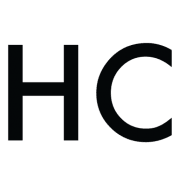 Sheila McGrory-Klyza
Sheila McGrory-Klyza is a writer who is interested in the intersection of food, culture, and conservation. She is mainly a self-taught cook, but has taken a class here and there. She lives in a small Vermont village and is inspired by the bounty of food producers and growers surrounding her. An avid Francophile, she has also lived in France at a few different times, most recently in Paris in 2010. She writes about her food adventures in Vermont and France, and other culinary travel, on her blog The Vermont Epicure.