Grilled Pork Tenderloin with Berry Bacon Sauce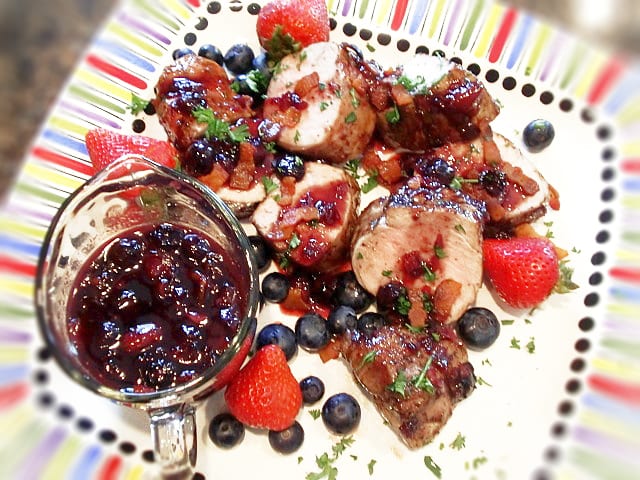 Pick up some local berries that are bountiful during the early growing season. Transform them into a sweet and savory sauce for this grilled pork for an unforgettable dinner.
By Amy Casey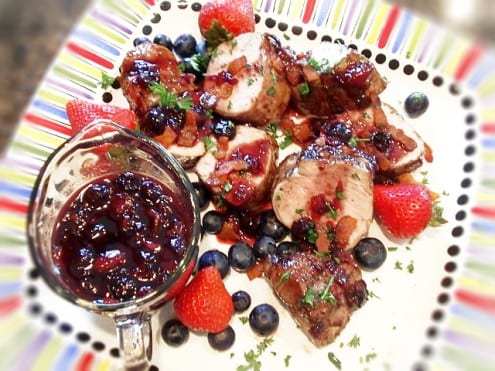 Berries are loaded with health benefits as well as being delicious. Blueberries are high in vitamin C, fiber, and may help fight cancer. Not to be outdone by the tiny blue powerhouses, strawberries taut their own nutritional value. They are high in antioxidants that help fight arthritis and heart disease and potassium which can lower blood pressure.
Grilled Pork Tenderloin with Berry Bacon Sauce
Pick up some local berries that are bountiful during the early growing season. Transform them into a sweet and savory sauce for this grilled pork for an unforgettable dinner.
Ingredients
4 slices of bacon, chopped
½ cup finely chopped red onion
2 garlic cloves, finely chopped
¼ cup balsamic vinegar
⅓ cup brown sugar
1 tablespoon Worcestershire sauce
1 teaspoon stone ground mustard
½ teaspoon salt
¼ teaspoon pepper
1 ½ cups blueberries
½ cup chopped strawberries
1 pork tenderloin, about 1 ½ pounds
Olive oil
Salt
Pepper
Instructions
In a large sauté pan over medium high heat, add the bacon. Cook until crisp and browned. Remove to a paper towel lined plate and leave the bacon grease in the pan. Add the red onion and garlic and sauté for 3 – 4 minutes or until the onions begin to soften. Add the balsamic vinegar, brown sugar, Worcestershire sauce, mustard, salt, pepper, blueberries and strawberries. Bring to a boil then reduce the heat to medium low and cook for 8 – 10 minutes. The berries will begin to break down and the sauce will thicken. Stir in half of the cooked bacon.
Heat a grill to medium high heat. Drizzle the pork tenderloin with olive oil and generously season with salt and pepper. Grill the tenderloin on each side for about 5 – 7 minutes, rotating a quarter turn each time. Continue grilling and rotating the pork for a total of 20 – 25 minutes or until in internal temperature of the pork is about 145 degrees F. During the last 5 minutes of grilling, brush the pork tenderloin with some of the berry sauce. Remove the pork from the grill and let rest for 5 minutes. Slice the pork, sprinkle with the reserved bacon and serve along with the remaining sauce.
Amy Casey
Amy Casey, of northern New Jersey, is a food columnist for the New Jersey Herald and cookbook author. She has developed a wealth of recipes as a personal chef and also while cooking for her own family of five. See more of her recipes in her just published cookbook for e-readers Dinner for a Year – 52 Easy and Delicious Recipes to Spice Up Your Family Menu Planning.