Sponsored Post: We've teamed up with Farm Promise to bring you versatile recipes featuring their wholesome, delicious pork raised to not only sustain us, but the land too.
These grilled pork pitas with garlic-y toum sauce make an awesome and unexpected weeknight dinner, and the leftovers are fantastic for lunch the next day.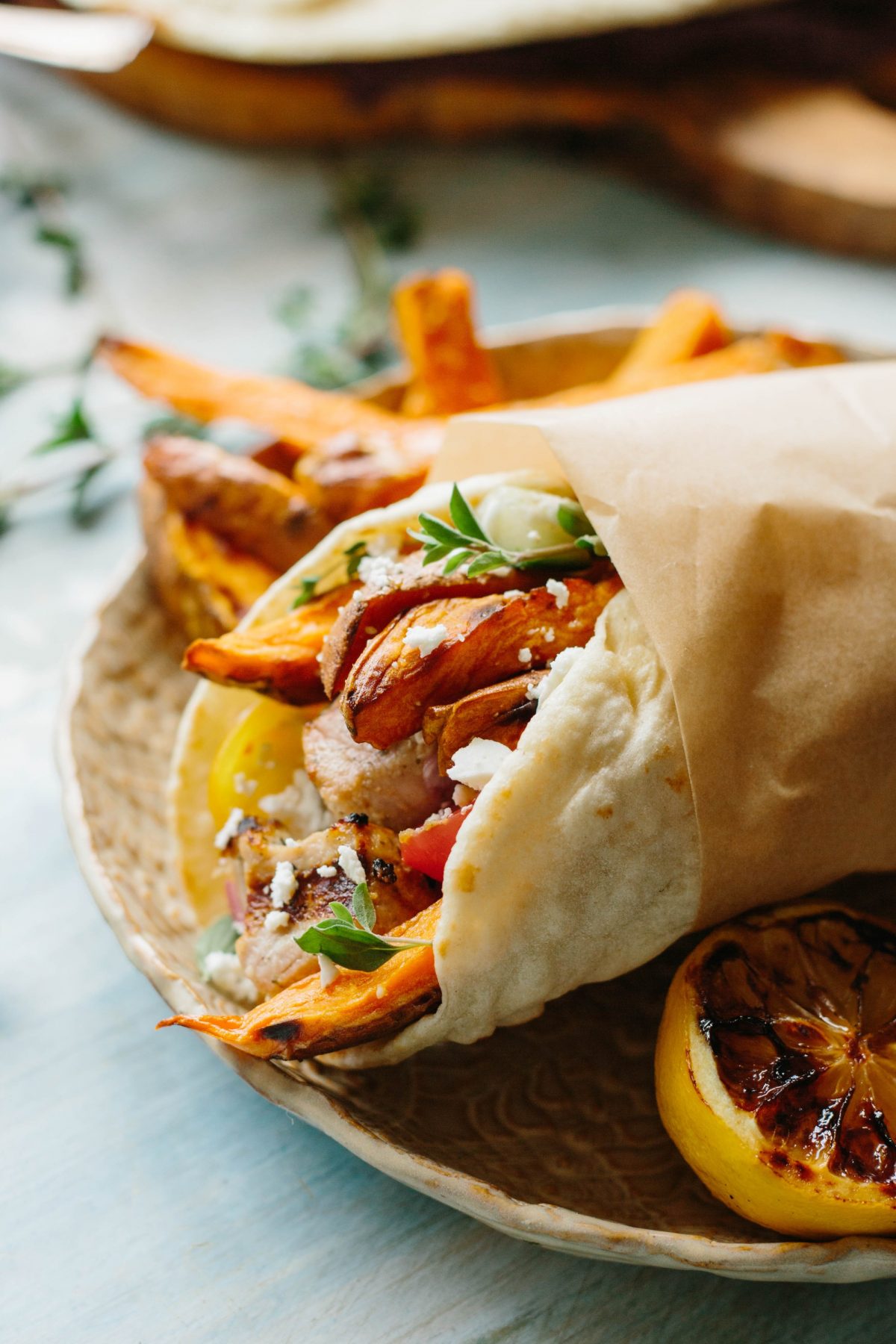 This recipe for pork kebab pitas with toum is a mashup of a few similar sandwiches that hail from various Mediterranean and Middle Eastern countries. All throughout the region you can find different versions of grilled, marinated meats wrapped in pitas and slathered with a pungent garlicky sauce. There are gyros, souvlaki, doner, shawarma kofta, and kebab just to name a few. They're all very similar, but each has its own unique qualities, and more importantly, they're all incredibly delicious.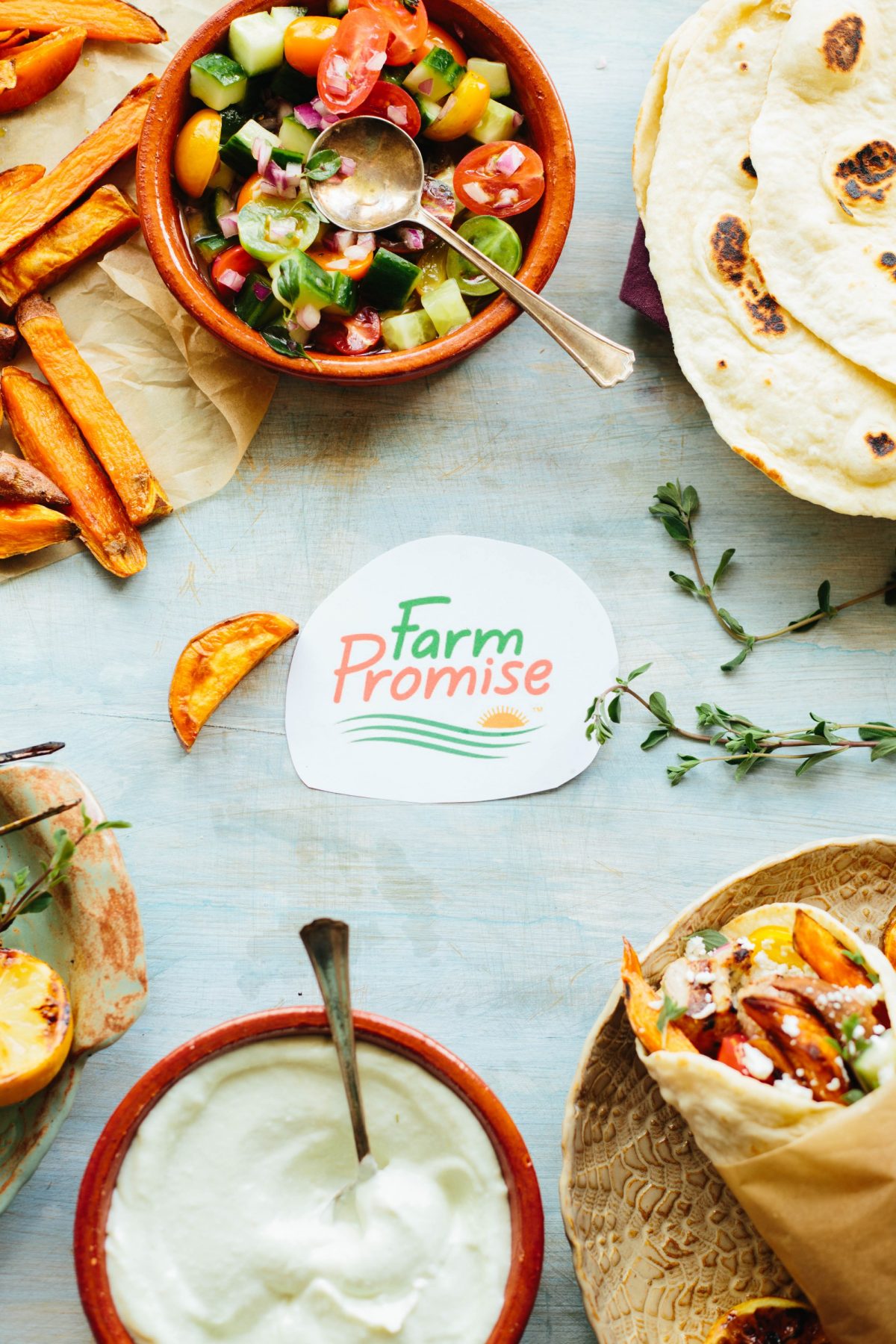 Here I've combined a few different techniques and ingredients to create a pita sandwich that tastes even better than it looks. Let's break it down:
First let's talk about the star of the show – the meat. I chose to use pork here for a few different reasons. Pork is actually the most traditional meat used on a gyro (contrary to what we see here in the states), but I chose it for it's flavor. Recently I started buying a new brand of pork called Farm Promise at my local Shoprite, and it's some of the best pork I've had in a long time.
Farm Promise pork is raised by family farmers that pride themselves on humanely raising healthy pork without ever using antibiotics, hormones, or growth promotants. Farm Promise makes cleaner food not only accessible in my area, but they also make it affordable, and that's something to really be happy about.
I cut a Farm Promise pork loin into big chunks, then let them marinate in lemon juice, red wine vinegar, honey, red onion, garlic, oregano, and a touch of cumin. After a long, slow marinade, the pork gets skewered and grilled to perfection. The meat will taste best grilled over charcoal, but a gas grill or even an indoor grill will do ya just fine.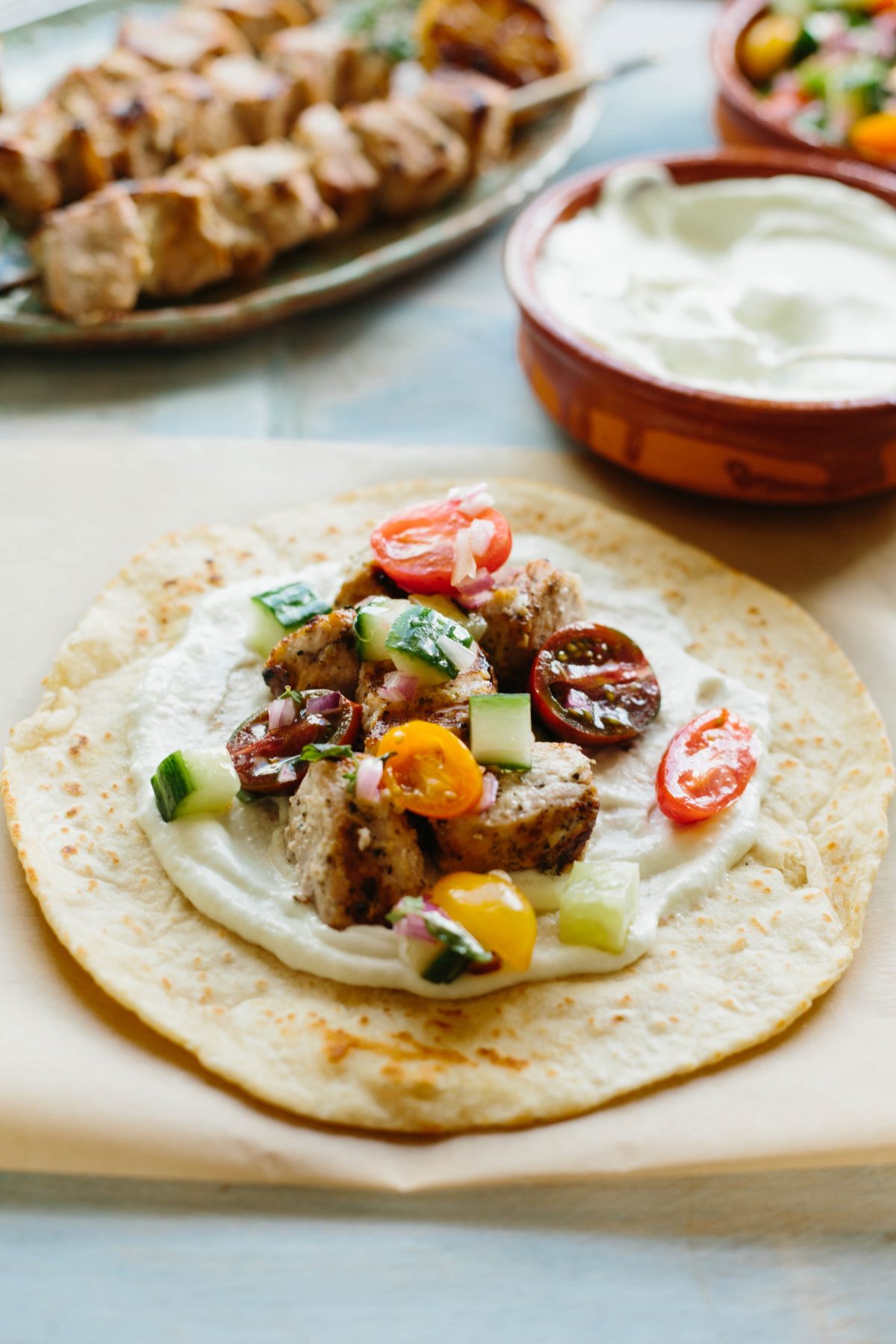 Next up is the sauce. For years I've been making a similar version of this recipe with a classic tzatziki sauce. I love tzatziki – the garlicky Greek yogurt sauce dotted with cucumbers and dill, but I've become a bit bored with it. Enter: toum, a naturally vegan, intensely flavored Lebanese garlic sauce that has quickly become my favorite thing ever. Be warned – this sauce is no joke. Plan to make it and eat it on a day when you don't have to be anywhere after dinner, because you will reek of garlic in the best way possible (although others may not agree).
Making toum is very simple and only requires five ingredients: garlic – lots of it, lemon juice, neutral oil (I like grapeseed), water, and salt. But don't let the humble ingredient list fool you. The magic of this sauce all comes down to using proper technique. Toum is an emulsion, which means that you need to take your time and practice patience while making it. You cannot rush this recipe like I did the first time I made it, or it will break into a sad oily mess that can only be saved by the addition of an egg yolk, which will essentially turn it into mayonnaise. You want to avoid that if you can, but it's better than throwing it all away.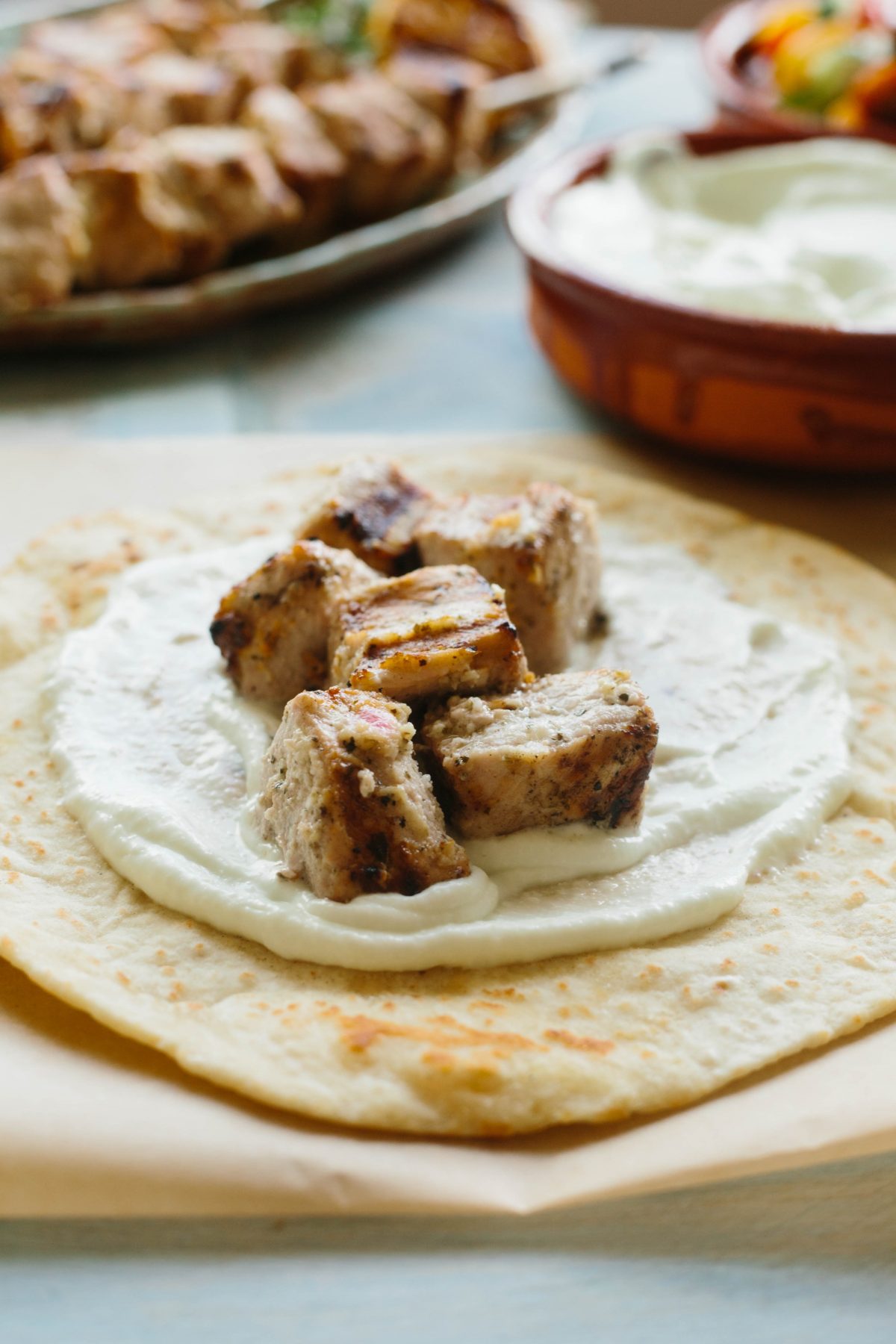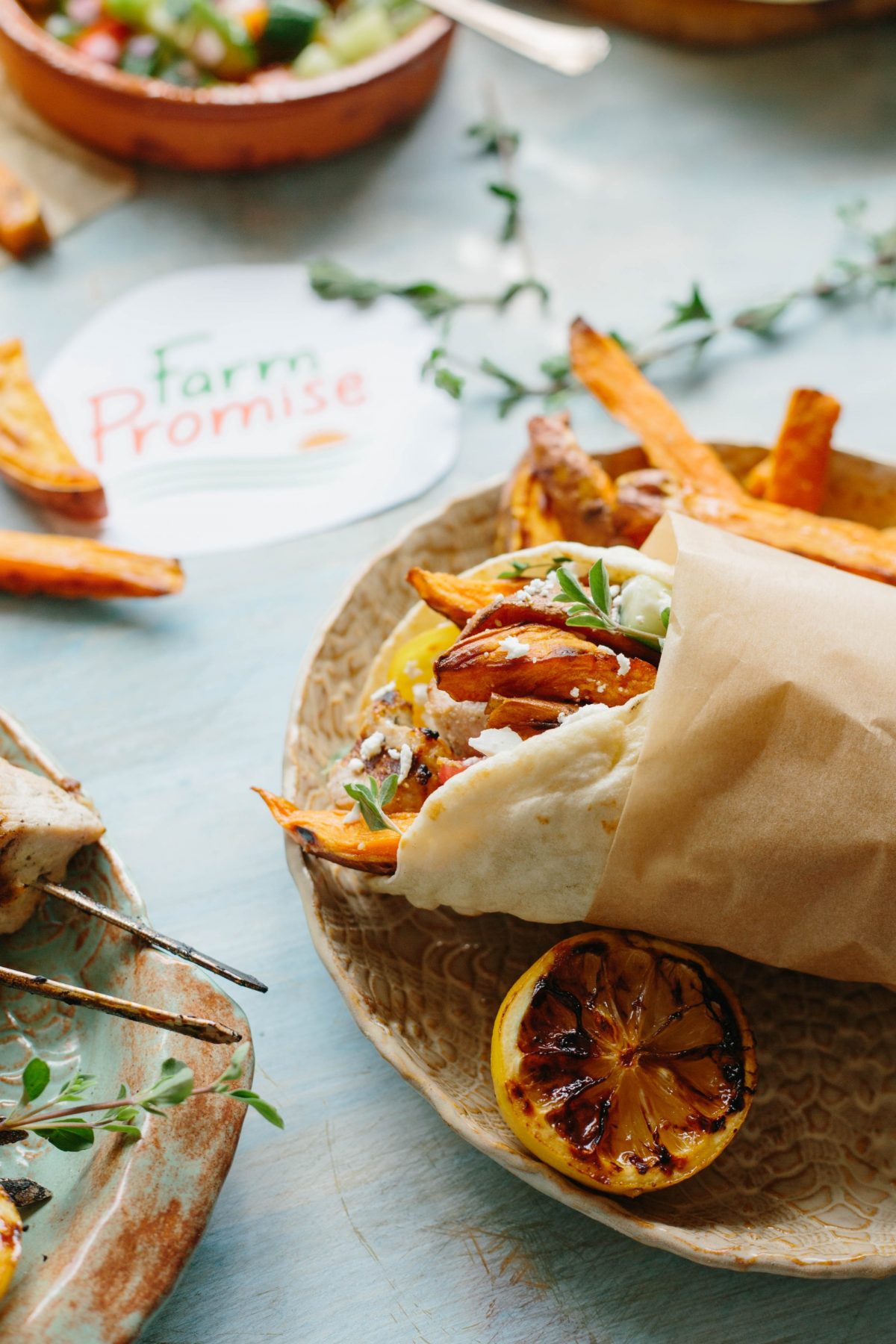 Garlic, lemon juice, ice cold water, salt and a little bit of chilled oil are added to a blender and blended on high. Then the rest of the oil gets streamed in very, very, very slowly. I can't stress enough not to rush this step. It should take between 5-10 minutes to stream all the oil in, and your sauce will turn into a thick, creamy, cloud-like emulsion. It will have a smooth texture and will taste lemony, intensely garlicky, and you will want to slather it on everything immediately. Take your time, and you'll have no problems.
I first learned about toum from this recipe in Bon Appetit, which is why I opted to put sweet potato fries in the pita. French fries are a super common ingredient in gyros all throughout Greece, but I found that the salty, garlicky toum becomes even more addictive when paired with sweet potatoes instead. I make easy oven fries that can roast while the rest of the dish is being assembled.
See Also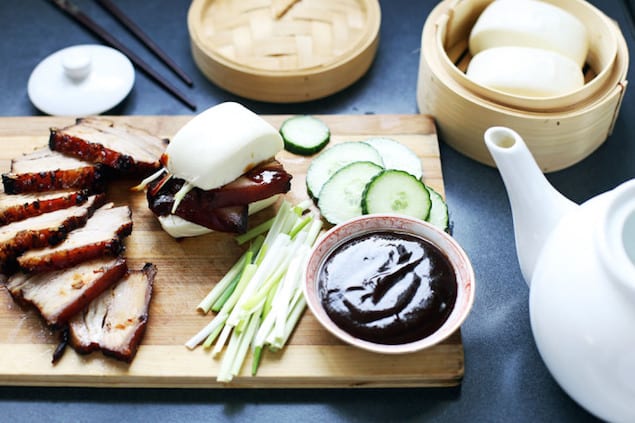 A simple salad of diced tomatoes, cucumber, red onion, and fresh oregano dressed with just a bit of olive oil and lemon adds freshness and crunch. The final touch is a little bit of crumbled feta cheese to add a salty bite, but you can totally skip this if keeping dairy free.
Lay down a piece of pocketless pita or flatbread (store bought is totally fine), then spread it with plenty of toum. Throw on some chunks of pork (without the skewer, obviously), then top with a few sweet potato fries, a little tomato cucumber salad, then finish with some crumbled feta. Wrap it up, then dive in.
These pork kebab pitas with toum are easily one of the tastiest things I've made in recent memory, and I cannot wait to make it again. I hope you give it a try!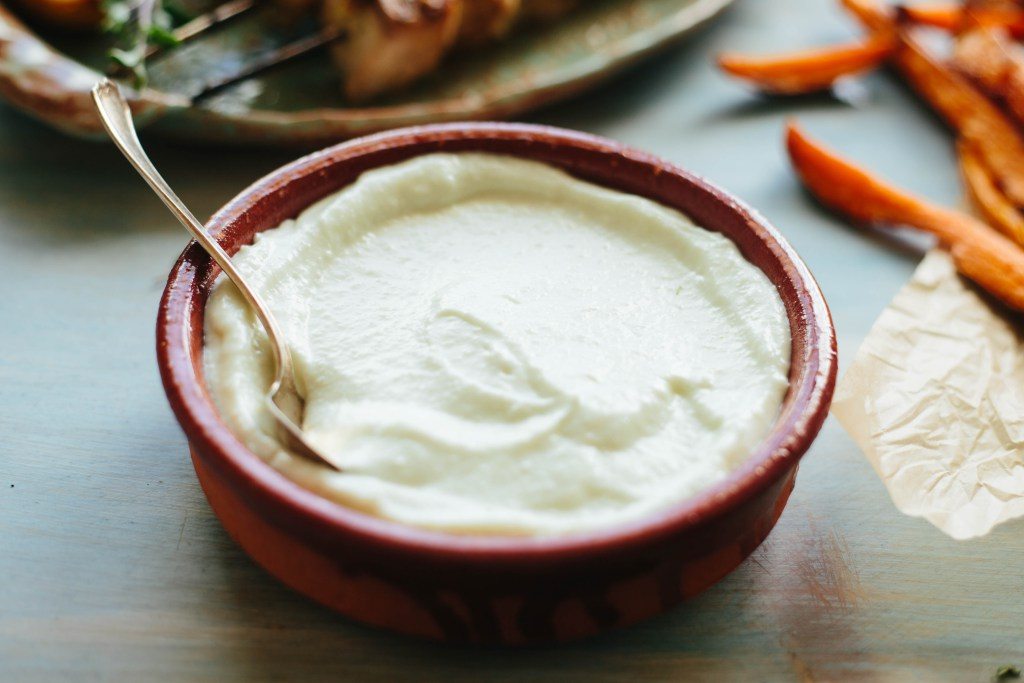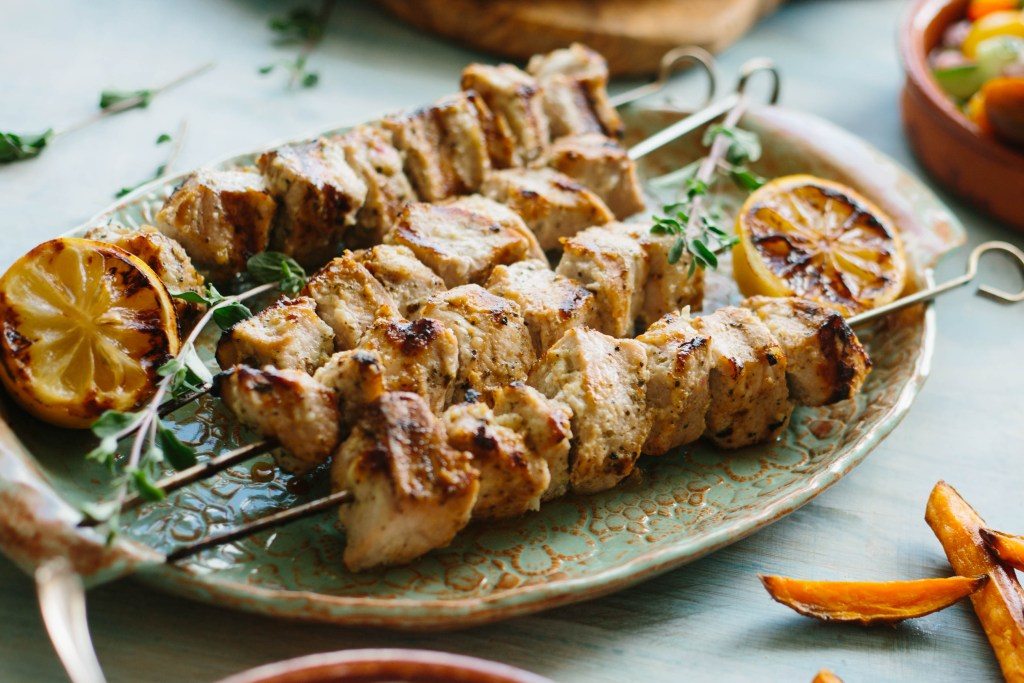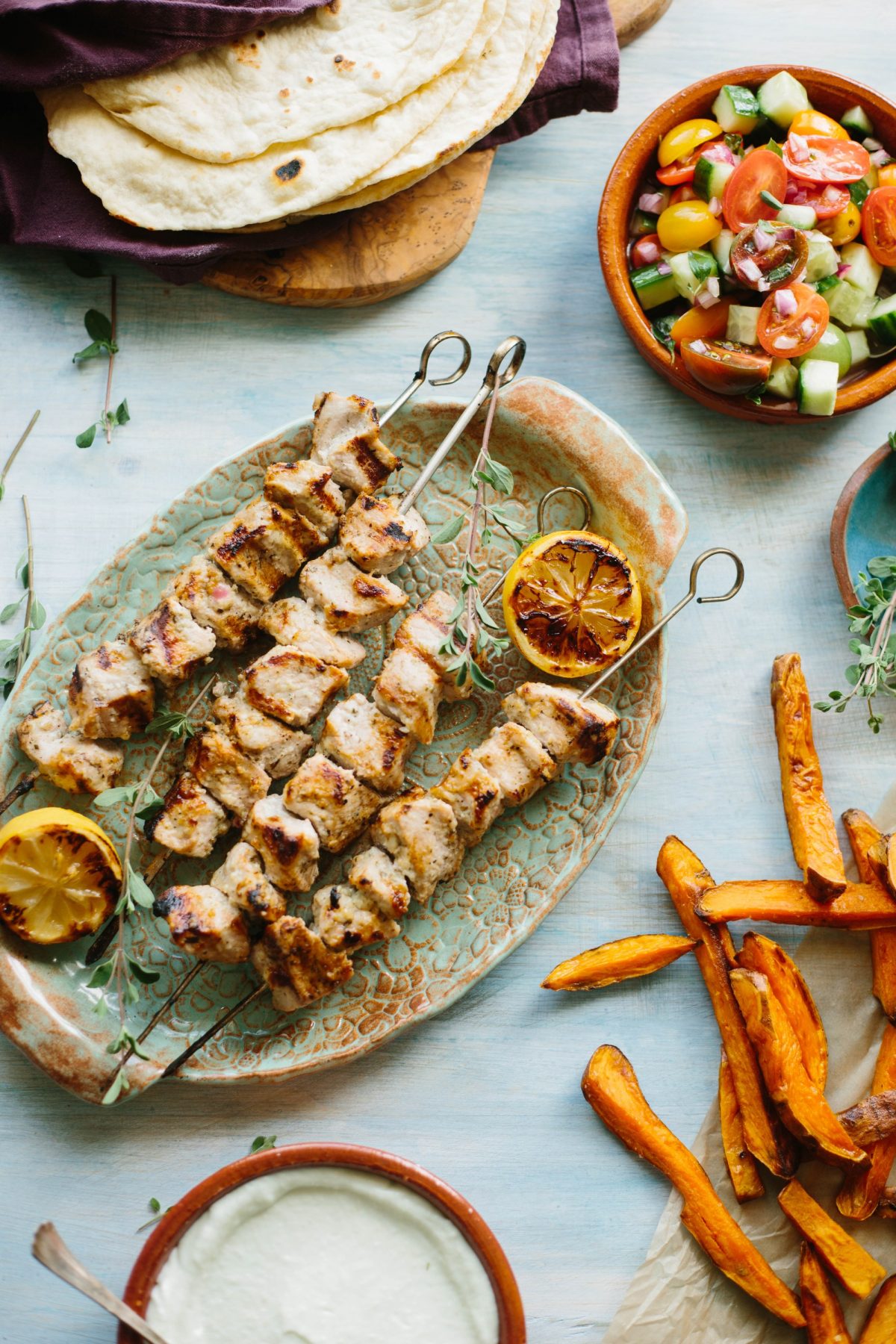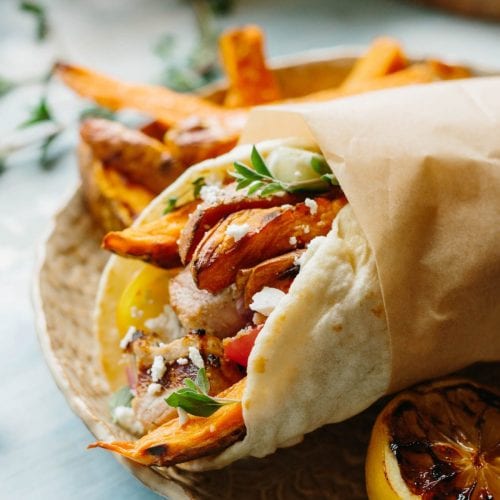 Grilled Pork Pitas and Toum Sauce
Nicole Gaffney
Ingredients
FOR THE PORK
½

small red onion

4

cloves

garlic

juice from 1 lemon

2

tablespoons

red wine vinegar

2

tablespoons

honey

1/4

cup

extra virgin olive oil

1

tablespoon

fresh oregano

roughly chopped, or 1 teaspoon dried oregano

1/4

teaspoon

cumin

2

teaspoons

kosher salt

1½

lbs

Farm Promise pork loin

fat trimmed, cut into large cubes

FOR THE TOUM

6-8

garlic cloves

peeled (you want about 1/4 cup)

3/4

teaspoon

kosher salt

2-4

tablespoons

fresh lemon juice

to taste

1

cup

neutral oil

I used grapeseed, chilled

ice water

as needed
FOR THE ASSEMBLY
4

medium sweet potatoes

scrubbed and cut into long fries

olive oil for drizzling

salt

to taste

1

cup

cherry or grape tomatoes

halved

½

English cucumber

diced

1/4

small red onion

very thinly sliced

2

teaspoons

fresh oregano

minced, or 1/2 teaspoon dried oregano

juice of ½ small lemon

4

pieces

pocketless pitas or flatbreads

crumbled feta cheese

optional
Instructions
MARINATE THE PORK
Add the red onion, garlic, lemon juice, red wine vinegar, honey, olive oil, oregano, cumin, and salt into a blender. Blend until smooth, then add to a zip top bag along with the pork.

Seal the bag and squish it around so that all the pork is coated with the mixture. Marinate in the refrigerator for at least 6 hours or overnight.
MAKE THE TOUM
Add the garlic, 2 tablespoons lemon juice, salt, ¼ cup oil, and 1 tablespoon ice water to a blender. Blend on high until it forms a thick paste - you will need to stop the blender and scrape down the sides a few times for this to happen.

Next, while the blender is running, very slowly stream in ½ cup of oil. This should take several minutes - do not rush it or the sauce will break. Stop and scrape down the sides as needed to help facilitate blending.

Add another tablespoon of ice water, then very slowly stream in the remaining oil. Scrape down the sides, then taste and add more salt and/or lemon juice if desired. Blend for about 1-2 more minutes to make sure it's totally smooth.

Transfer to a bowl and refrigerate until needed. Toum can be made up to 3 days in advance.
ASSEMBLY
Preheat a grill to medium-high heat and preheat the oven to 425 degrees.

Line a sheet pan with parchment, then place the sweet potatoes on top and drizzle with olive oil and sprinkle with salt. Toss around, then spread into an even layer. Roast for about 15 minutes, then give the potatoes a toss. Continue roasting until browned and crisp, another 15-20 minutes or so. Season with more salt if needed.

Skewer the pork cubes onto metal or wooden skewers. If using wooden skewers, be sure to soak them for at least 30 minutes beforehand so they don't burn up on the grill.

Grill pork until slightly charred on all sides, but be careful not to overcook. Pork can still be slightly pink in the center, and it will continue cooking after removing from the grill, so it's better to have it be slightly underdone than over, which will cause the meat to be tough.

Allow the meat to rest for about 5 minutes before serving. While the meat is resting, warm the pitas or flatbreads in the oven for a few minutes and mix together the salad. Toss together the tomato, cucumber, red onion, and oregano, then drizzle with olive oil, lemon juice, and salt.

To serve, place a pita down on a plate, then slather with plenty of toum. Place several pieces of pork (removed from the skewer) on top, then a handful of sweet potato fries. Spoon tomato cucumber salad over, then sprinkle with crumbled feta. Fold up the pita and serve immediately.