Two Potato Hash with Poached Eggs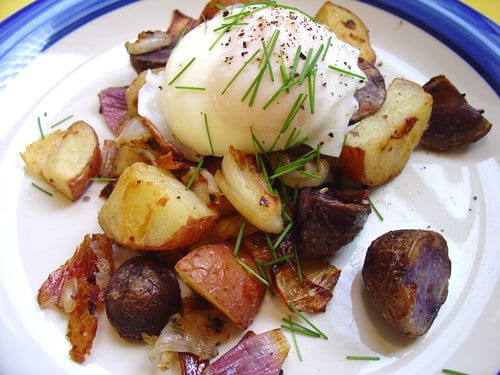 You can use any vegetables you have to supplement the potatoes. Carrots, turnips, cherry tomatoes, asparagus, and green beans are all good choices.
By Jennifer Abbott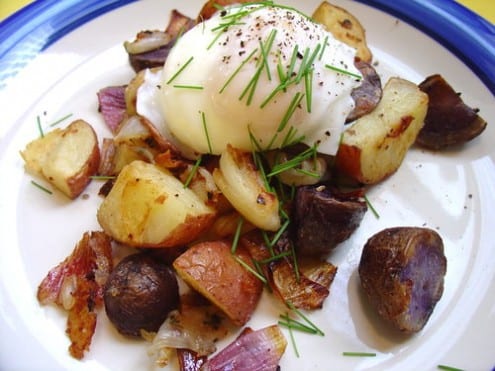 When it comes to poaching eggs, by all means, use the method you like best. I sometimes use my little saucepan with the egg-poaching inserts; it works well enough, though it's not fancy, and it generally relieves all my stress about the little poachers coming out right.
Two Potato Hash with Poached Eggs
You can use any vegetables you have to supplement the potatoes. Carrots, turnips, cherry tomatoes, asparagus, and green beans are all good choices.
Ingredients
1½ pounds purple potatoes
½ pound red potatoes
2 small red onions
3 tablespoons extra-virgin olive oil, pecan oil, or other oil
1½ teaspoons salt
½ teaspoon freshly ground black pepper (optional)
1 to 2 teaspoons chopped fresh herbs (thyme and rosemary are nice if you have them)
1 to 6 eggs (1 to 2 eggs per person, depending on appetites)
snipped chives or other fresh herbs, for garnish
Instructions
Preheat the oven to 400. Wash the potatoes and cut them into roughly ¾" chunks. Cut the onions into ¾" chunks and combine the potatoes and onions in a large shallow roasting pan.
Drizzle all the oil over the potato mixture. Toss with your hands to evenly distribute the oil and make sure all the pieces get coated. Season generously with salt, pepper, and fresh herbs, and toss again. Place in the oven and roast for about an hour and 15 minutes, stirring every 20 minutes or so.
When the potatoes have about 15 minutes left to roast, fill a deep saute pan or a medium saucepan with 2" of water (I used a 9" saute pan with 2½" tall sides). Bring the water to a boil, almost--the pan will have those tiny bubbles that are starting to barely trail up to the surface of the water--then turn the heat off. Break each egg into a small bowl and gently tip the egg into the water. Let sit undisturbed for a minute, then take two spoons and gently bring the ragged egg whites back around their yolks. You can keep them in the water off the heat for 4 minutes (total) and get a nicely done egg with runny yolk, or if you're cooking several eggs in the pan and you think the water temperature needs a little boost, turn the flame back on after two minutes of cooking. Gently lift each egg out with a spatula and drain it on paper towels.
When the potatoes are done, give them a nice stir and taste for seasoning, adding more salt if necessary. Serve poached eggs on beds of roasted potatoes and onions. Sprinkle fresh herbs over the top.
Jennifer Abbott
Jennifer Abbott is a writer, music teacher, Southern food enthusiast, and soup aficionado. She lives in New Orleans and blogs about cooking and dining at Food Orleans.