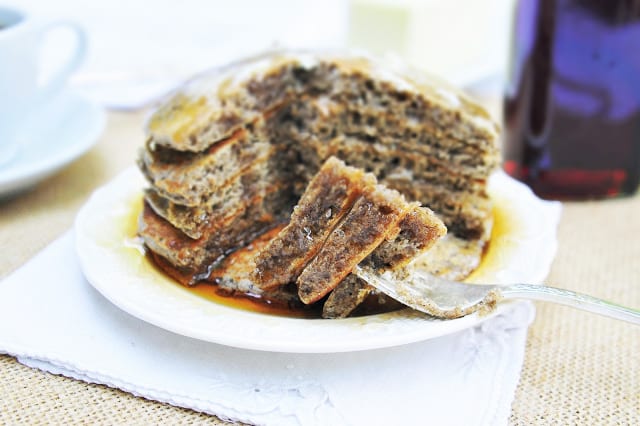 In the morning, enjoy this delicious buckwheat pancake recipe from Sherron Watson.
By Sherron Watson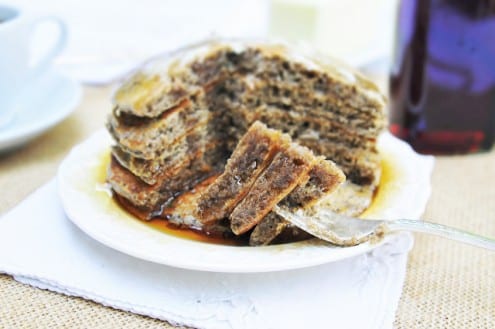 Starting each morning with a good breakfast, warm smiles, music and a fresh cup of Folgers coffee is a great way to begin our day. I have included a recipe below for one of our favorite breakfast foods, buckwheat pancakes.
Buckwheat Pancakes
In the morning, enjoy this delicious buckwheat pancakes recipe from Sherron Watson.
Ingredients
3 cups buckwheat flour
1 teaspoon baking soda
2½ teaspoons baking powder
½ teaspoon salt
3 tablespoons real maple syrup
3½ cups of milk
3 tablespoons melted butter
3 eggs, separated
½-1 teaspoon cinnamon (optional)
Instructions
In a large bowl, combine dry ingredients and whisk together well.
In a medium bowl, add egg whites and whip until soft peaks form.
Add the wet ingredients (milk, egg yolks, syrup and melted butter) to dry ingredients. Mix well.
Fold in egg whites and gently combine.
On a heated grill, add butter to season surface.
Using a small ladle, add each pancake. Cook until lightly brown and air bubbles appear on top of the pancake. Flip and continue cooking.
Remove and serve with your favorite topping: syrup, molasses, jelly or jam.
Store any leftovers in a sealed container or baggie in the refrigerator for 5 days. May be frozen too.
Sherron Watson
Sherron Watson is a writer and photographer. Her passion for food started at a young age while working with her family in their restaurant business. A career in photography gave her the experience she needed to start capturing images of her favorite dishes. This led to the creation of her blog: simply-gourmet.com. She is currently a food writer for Capital Style Magazine in Annapolis, MD.