Selina Periampillai uses mackerel to create a simple but comforting supper, accompanied with Rasson bouillon, a Mauritian soup, ladled on to rice.
By Selina Periampillai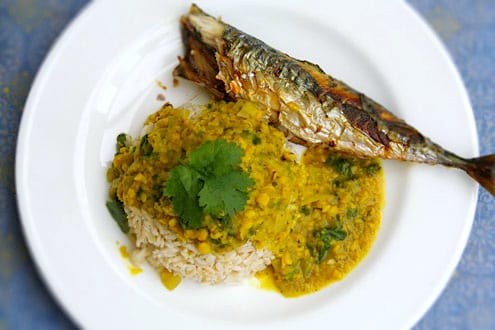 As we came to the end of National Fishing Week n the UK , it's only right to celebrate and support the delectable creatures from the sea. It has been a month long celebration and awareness campaign to encourage every family member to have a go at fishing from whatever cultural or social background they may be from.
And in this case my recipe hails from my background, Mauritius. Where the supply of fish is rich and plentiful , where most recipes in some shape or form use seafood.  Whether it is dry barbequed on the beach in Belle Mare or slow cooked crab in a soup style bouillon. It reminds me of family get together in Mauritius, always surrounded by food as the centre of attention and seeing the produce, freshly taken from being caught in the blue turquoise seas to cooked in simple yet understated wonderful family recipes.  Sometimes this way tastes best and lets ingredients speak for themselves.
See Also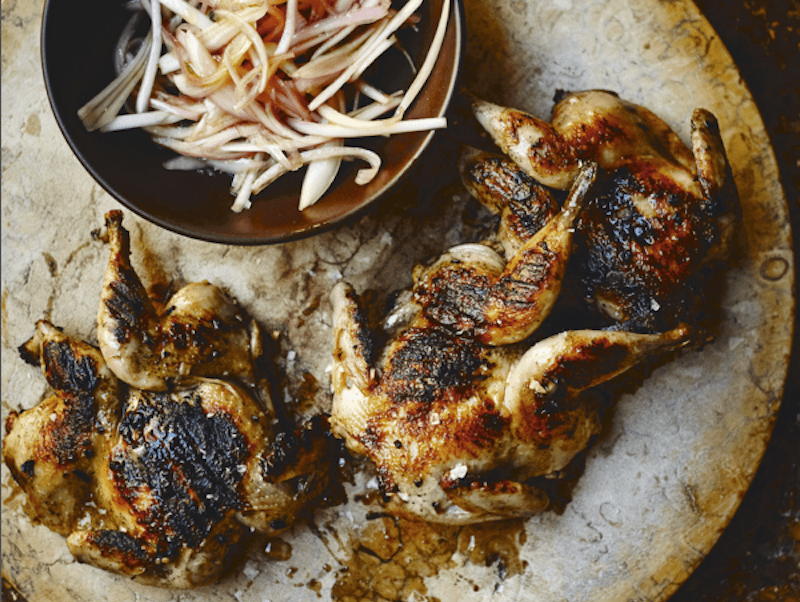 Here using mackerel, my favourite fish of late, to create a simple, fulfilling, comforting supper, accompanied with Rasson bouillon, a Mauritian soup, ladled on to rice.  This soup is a traditional spicy vegetarian soup that can be eaten alone, deciding to add it to rice (a staple in Mauritius cuisine) and with normally simple flavoured fried fish. But here I decided to be a little healthier and opt for grilled, still gaining that crispy skin.
Grilled Mackerel with Mauritian Rasson Soup
A Mauritian thick dhall soup served with fresh grilled mackerel gives a hearty dish, can be served over rice.
Author:
Selina Periampillai
Ingredients
Ingredients
For the Rasson Soup:
½ tsp crushed garlic
1 red chilli (adjust to taste)
4 curry leaves
120g dhall/4.2 oz, yellow split pea
1 tsp chopped parsley
1 tbsp freshly chopped coriander leaves
1tsp dried thyme
250g/8.8 oz spinach leaves
2 cloves
½ tbsp crushed cumin seeds
½ tsp turmeric powder
Olive oil
Black pepper and salt
1 chopped onion
Mackerel:
2 mackerel, cleaned, gutted
Salt & Pepper
Lemon juice
Instructions
Method
Boil the dhall in water (make sure it has enough water to cover over 3 inches above the level of dhall) with the turmeric and a little salt. Allow to cook till a creamy consistency, strain and keep the liquid in a bowl separately.
In another pan, fry the onion in some olive oil for a minute or so then add in dhall liquid, tamarind and the rest of the spices into the mix, stir well. Top up with some water and let it simmer for 10 minutes. After this add in spinach leaves and continue to let it simmer for another 10 minutes or so. Add more water if it dries out, to keep the soup like texture.
Rub the salt and pepper over the mackerel, add a squeeze of lemon and pat over the olive oil. Preheat your grill and place the fish under on a medium heat, let it cook till golden skin on one side then turn over. This shouldn't take very long.
Sprinkle the coriander leaves on the Rasson Soup and serve over rice or in bowls and accompanied with the beautifully simple grilled fish.
Selina Periampillai
Selina runs a Mauritian Supper Club, in South London where she cooks for diners wanting to experience homemade mauritian cuisine, learnt from family generations of recipes. Her food is comfort food, nothing fancy or fine dining just down to earth delicious home cooking. She is a self taught wedding cake maker and cook, she recipe writes for websites, is a regular contributor to online food magazines, loves to travel especially to experience different food cultures and is a keen charity walker. You can see her culinary creations and adventures on her food blog Yummy Choo Eats.