A simple and delicious way to take heart: skewered and dressed in a fresh herb vinaigrette.
By Alaina Sullivan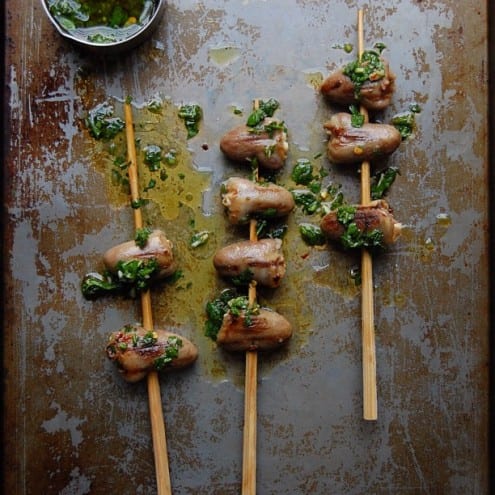 I fell in love with chicken hearts when I had them as part of an offal appetizer at Blue Hill NYC. Oft-neglected and under-appreciated, they taste like little nuggets of dark chicken meat with a slightly metallic aftertaste (c'mon, think of all the blood they pumped), and their chewy texture is further reminder of how hard the little muscles used to work. Hearts and their "odd part" cousins (think: tongue, liver, tail, and other byproducts of butchery) aren't frequently stocked at local grocers so when I found some at the farmer's market last week I pounced. A curious farmer left me mulling over how I was going to prepare the little organs, but since the warm weather had me antsy to grill and the size of the hearts makes them perfect for skewering, that's the route I took.
Piercing and grilling hearts on a stick might be somewhat of a romantic taboo, but the results are delicious. Taking inspiration from Gourmet, I brined the hearts for several hours, threaded them onto brochettes (homemade from whittled-down chopsticks), then grilled them and served with a fresh herb vinaigrette. I was restricted to using a cast iron grill over the range, but the hearts would really benefit from an open fire grill so they could take on the smoky flavor of wood or charcoal.
Print
Grilled Chicken Hearts with Parsley Vinaigrette
---
Author:

Alaina Sullivan

Total Time:

3 hours 40 minutes

Yield:

4

1

x
Description
A simple and delicious way to take heart: skewered and dressed in a fresh herb vinaigrette.
---
1 qt

cold water

2 Tbsp

sea salt

1 tsp

sugar

1/2

lb chicken hearts, visible arteries trimmed

1/2 cup

flat parsley, finely chopped

1

garlic clove, minced
Olive oil
Red wine vinegar
Crushed red pepper flakes
Sea salt
---
Instructions
Combine 1 quart cold water with 2 tablespoons sea salt and 1 teaspoon sugar. Stir until dissolved. Add chicken hearts, cover, and chill for 3 hours.
Drain chicken hearts. Thread hearts onto presoaked wooden skewers, leaving about 1/2 inch between them, and place between paper towels to dry.
Heat grill or grill pan over high. Meanwhile, make vinaigrette by combining 1/2 cup chopped parsley with 1 minced garlic clove, equal parts olive oil and red wine vinegar, about a teaspoon of honey, plus crushed red pepper flakes and sea salt. (I didn't measure, simply adjust to desired taste and consistency.)
When grill is hot, brush chicken hearts with olive oil and sprinkle with sea salt. Place skewers over heat and cook, turning occasionally, 3 to 5 minutes total.
Serve with parsley vinaigrette.
Prep Time:

3 hours 30 mins

Cook Time:

10 mins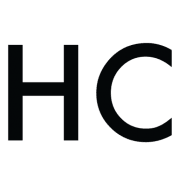 Alaina Sullivan
The voice and vision behind the blog palate/palette/plate, Alaina is an artist, photographer and writer based in NYC. She is a regular columnist and photographer for Mark Bittman's website, and also involved with testing and writing recipes for his cookbooks. Her recipes and photography have been featured by Saveur, FineCooking, YahooShine, FOOD52 and more.