Grilled Cheese with Pea Shoots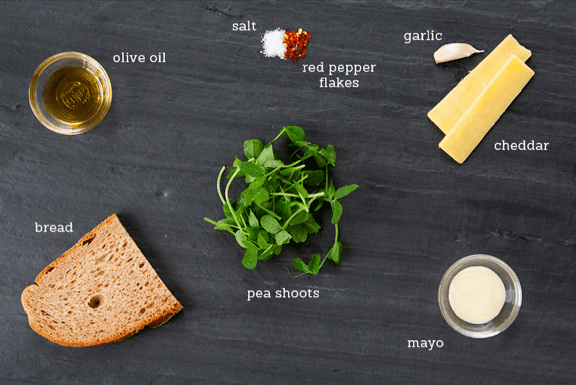 When you need some fresh greens to balance out an indulgent grilled cheese, pea shoots are perfect.
By Rachel Crawford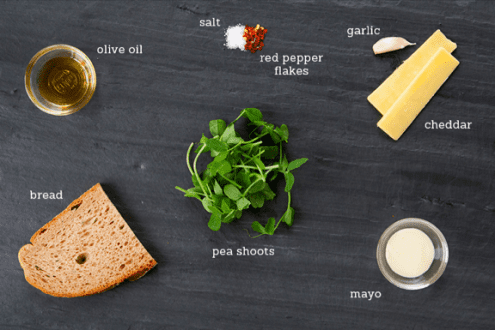 Pea shoots wilt down quite a bit when cooked, so they're not terribly practical as a side dish unto themselves. But when you need some fresh greens to balance out an indulgent grilled cheese, they're perfect.
See Also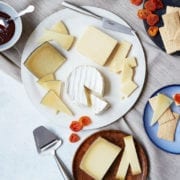 This was actually the first time I spread mayo on the outside of my grilled cheese bread. Usually I'm a butter girl. But it does create a nice crunchy crust. I can't say it makes a huge difference though, so go with your preference.
Grilled Cheese with Pea Shoots
When you need some fresh greens to balance out an indulgent grilled cheese, pea shoots are perfect.
Ingredients
Bread
Cheddar
Garlic cloves
Pea shoots
Mayo
Olive oil
Salt and red pepper
Instructions
Mince garlic and sauté in oil with pea shoots until they are wilted.
Season pea shoots with salt and red pepper flakes.
Slice cheddar and layer on bread with pea shoots.
Spread mayo on outside of bread. Pan fry on low until both sides are crispy and the cheese has melted.
Eat.
Rachel Crawford
Rachel is a lover of vegetables and an avid home cook. She has catered parties, participated in cook-offs, hosted elaborate supper clubs, and volunteered with Slow Food teaching elementary school kids about seasonal food and how to cook. Recently, she left her full-time job as a branding consultant to spend more time in the kitchen. Her personal blog, madeweekly.tumblr.com, focuses on one seasonal ingredient every week, with a new recipe each day. She can also be found on kitchensurfing.com, a new site that allows anyone to search for and hire personal chefs online. Rachel studied acting at NYU's Tisch School of the Arts, and has lived in New York, NY for almost 12 years, which means she can officially call herself a New Yorker.