Enjoy an awesome grilled carrot sandwich, courtesy of Zita Nagy.
By Zita Nagy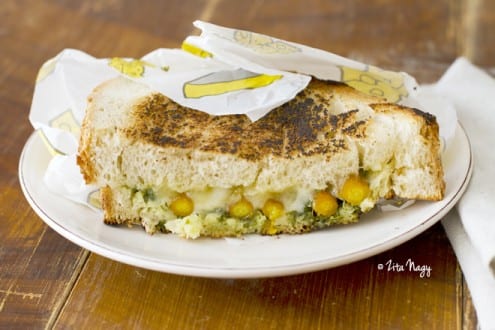 Do you know what the predecessor of open sandwich was? During the Middle Ages in Europe, thick slabs of coarse and usually stale bread, called "trenchers", were used as plates. After a meal, the food-soaked trencher was fed to a dog or to beggars at the tables of the wealthy, and eaten by diners in more modest circumstances. These trenchers were the precursors of open-face sandwiches. Initially perceived as food men shared while gaming and drinking at night, the sandwich slowly began appearing in polite society as a late-night meal among the aristocracy. The sandwich's popularity in Spain and England increased dramatically during the 19th century, when the rise of an industrial society and the working classes made fast, portable, and inexpensive meals essential. It was at the same time that the sandwich finally began to appear outside of Europe. In the United States, the sandwich was first promoted as an elaborate meal at supper.
Print
Grilled Carrot and Carrot Green Pesto Sandwich
---
Author:

Zita Nagy, adapted from Happyolks

Total Time:

35 mins

Yield:

3
Description
Enjoy and awesome grilled carrot sandwich, courtesy of Zita Nagy.
---
– 1 bunch carrots with greens
– 3 cloves garlic, peeled
– 1/4 cup olive oil + more for the carrots
– juice of 1 small lime
– 150 g Cheddar, cut into thin slices
– 4-6 slices of sourdough bread
– butter
– salt, pepper
---
Instructions
Preheat the oven to 180C (356F). Remove the greens from the carrots and set aside. Place carrots on a baking sheet, drizzle with olive oil, season with salt and pepper. Roast for 20-25 minutes until it gets brown.
Meanwhile transfer carrot greens to a food processor, add olive oil, lemon juice and garlic and pulse until it gets smooth. Season with salt and pepper.
First spread butter, then pesto on one side of each slices of bread, layer with cheese slices and a few grilled carrots. Finish with another layer of cheese and cover with the other slices of bread. Place these sandwiches in a hot non-stick pan and grill on each side until they get golden brown.
Enjoy!
Prep Time:

10 mins

Cook Time:

25 mins

Category:

Side
Zita Nagy
Zita's love for cookbooks and delicious food started at the age of 9. Whenever she went home from school her little brother and she would wait for mom to make dinner for them. Until the dinner was ready, she was turning the pages back and forth and was staring at photographs of amazingly looking dishes in mom's cookbooks to kill her appetite somehow. She couldn't have known then, that she would be collecting cookbooks after reaching adulthood and would still be, just like in her childhood, staring at awesome photos of delicious dishes. The only difference is that she does the cooking now. She loves traveling, going to the organic market and browsing foodblogs. Her vegetarian food and travelblog is Zizi's Adventures.