Grill Like an Italian with Colavita: Ultimate Italian-Inspired Burgers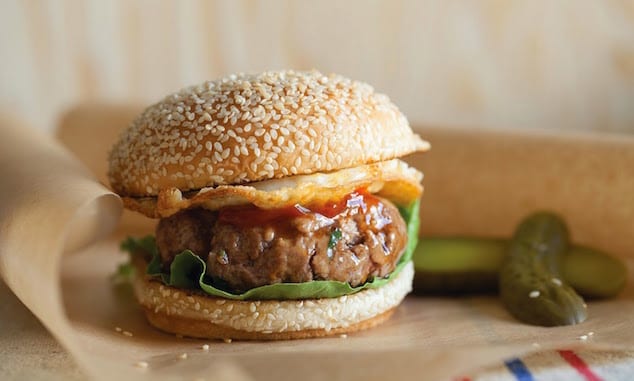 PARTNER POST — Grilling season is here and it is time to explore Italian grilling with authentic ingredients from Colavita.
Homemade focaccia-like buns, a sun-dried tomato chutney, and fresh ground burgers topped with a garlic infused olive oil makes for an exciting backyard barbecue.
By Michelle Tchea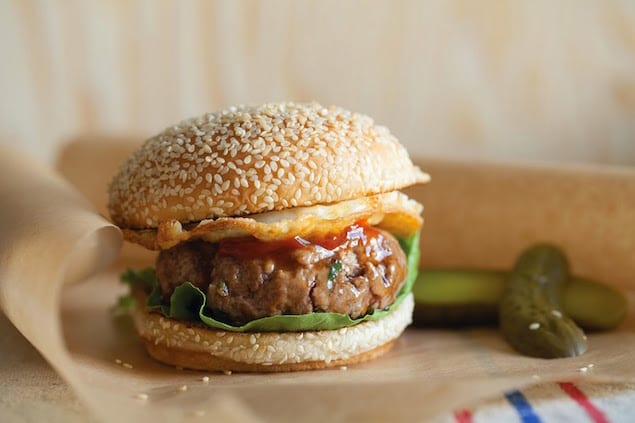 Click here to start grilling like an Italian and for a $1 off Colavita products or 15% off at their online store.
Nothing says summer like a big, fat juicy burger. I know this may sound 'ho-hum', but there's nothing better than going on a spontaneous weekend getaway and having a gold old fashion, Barbie. Even the most experienced baker and cook needs inspirations in the kitchen, so here is my ultimate – from-scratch burger made with the finest Italian flavours.
I'm seriously going back to basics with this recipe and even making my own burger patties, as well as my own bread! Don't turn away just yet – making your own bread has its pleasures – there's nothing better than getting a workout from knocking back your dough for the second rise. Just make sure you use good quality Italian flour – like Colavita's flour for pizza to get almost a focaccia-like consistency…Bellissimo!
But don't just stop at the bread: the filling is equally important. Using high-quality meats, freshly ground from your local butcher definitely helps improve any burger, but for special picnics, where you want to show-off your cooking skills among friends, you really need other flavorful ingredients to rival other burgers!
Despite making absolutely everything from scratch in this recipe – yes! From bread rolls to the deliciously sweet and spicy chutney/tomato sauce – everything can be done ahead of time and in no time whatsoever!
All the ingredients in this deliciously juicy burger should be in your well –stocked pantry, but feel free to adapt and replace with any other Colavita item to make this recipe your own!
Grill Like an Italian with Colavita: Ultimate Italian-Inspired Burgers
Homemade focaccia buns, a sun-dried tomato chutney, and fresh ground burgers topped with a garlic infused olive oil makes for an exciting backyard barbecue.
Recipe Type:
Main, Burger
Cuisine:
Italian-Inspired
Ingredients
Home-made Sesame Buns
500grams or approximately 5 cups Colavita bread flour
1 envelope of yeast, about 7g dry or 25g fresh
Approximately 1½ cups water, luke-warm
1 egg
2 tbs room temperature butter
1 tbs sugar
1 tsp salt
Sesame seeds to decorate
Sweet and spicy chutney
3 cloves garlic, minced or finely chopped
1 can-Crushed tomato with basil
1 tsp Malabar black peppercorn, crushed with a mortar and pestle
2 dried chilis, finely chopped or blended
1 tsp brown sugar
1 handful, Colavita's Sun-dried tomato in extra virgin olive oil. Drained and reserved for cooking
2 tbs White wine vinegar (balsamic Chardonnay)
FOR THE JUICY, JUICY BURGERS – Makes about 10-12 small-sized burgers
Ground beef 500 g (1 lb 11/2 oz)
Small red onion 1, peeled and finely chopped
Handful of breadcrumbs
Colavita capers, 1 tbs finely chopped/diced
Colavita Sea salt
Colavita Black Pepper
Colavita infused Garlic oil
To serve
Homemade Burger buns , halved
Topping
Sunny-side-up eggs
Pickle slices a handful
Home-made Chutney
Instructions
Home-made Sesame Buns
Mix and combine the luke-warm water, sugar and yeast. Stir to dissolve and set aside until the yeast is active.
Combine the flour, salt with the yeast mixture, and add in the egg and butter. Knead for about 5 minutes, until the dough is spring-y when touched. Let rise in a warm place, covered with a kitchen towel.
When doubled in size, knock back and roll into individual rolls. Line on a baking tray and let rise for another 30 minutes.
Pre-heat the oven to 190deg, sprinkle the buns with sesame and bake the buns until golden brown. About 15 minutes.
Sweet and spicy chutney
Add 1 tbs of the sun-dried olive oil and fry off the garlic, peppercorn and chili's. Add in the chopped sun-dried tomato and cook for about 1 minute until fragrant.
Add in the crushed tomato with Basil and add in the white-wine vinegar, which will give a slightly sweet flavor to the sauce. Add a splash of water if it looks a little dry and the sugar.
Cook the sauce until sticky and store in a clean jar.
Burgers
For the burgers, lightly combine all the ingredients together and set aside for at least 15 minutes to let all the flavours infuse.
When ready and starving to eat, lightly drizzle your favourite Colavita Olive oil (truffle or garlic infused is my fav!) on the hot grill.
Place the burgers on the grill and cook to your liking -- about 3 minutes either side for me, because I like my burgers fat
Place your burger on the home-made buns (you can lightly grill these on the same grill ) and place your favourite toppings on the burger – chutney and egg (cause I'm an Aussie)
Michelle Tchea
Michelle Tchea is a 4-time bestselling author. Her books include, Building a Perfect Meal, My Little SoHo Kitchen, Signature Dishes (Australia's Best) and Chefs Collective. Her work can be found in other leading luxury travel and food magazines including Travel+Leisure Asia, SMILE, NUVO Magazine and The Telegraph