A perfect side to summer's barbecue, try making golden hushpuppies with a slightly sweet cornmeal center.
By Stacey M Doyle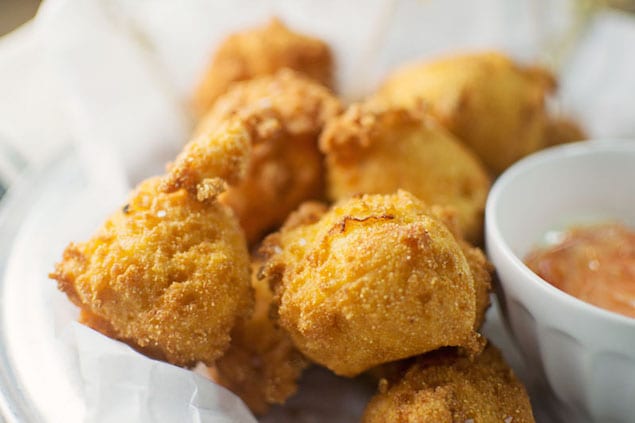 As far as I'm concerned, hushpuppies are a must with any fish fry and are a great idea to have copious amounts at any BBQ! I love my hushpuppies to have that slightly sweetened cornmeal center with a hint of onion lovingly wrapped with that tasty crunchy, golden layer and these are most definitely all that.
When my grandparents use to visit, it was inevitable that we would all end up having dinner at either a local seafood restaurant or Captain D's (yup, fancy – I know). My grandfather enjoyed his seafood and fish and he always made sure that I had plenty of hushpuppies.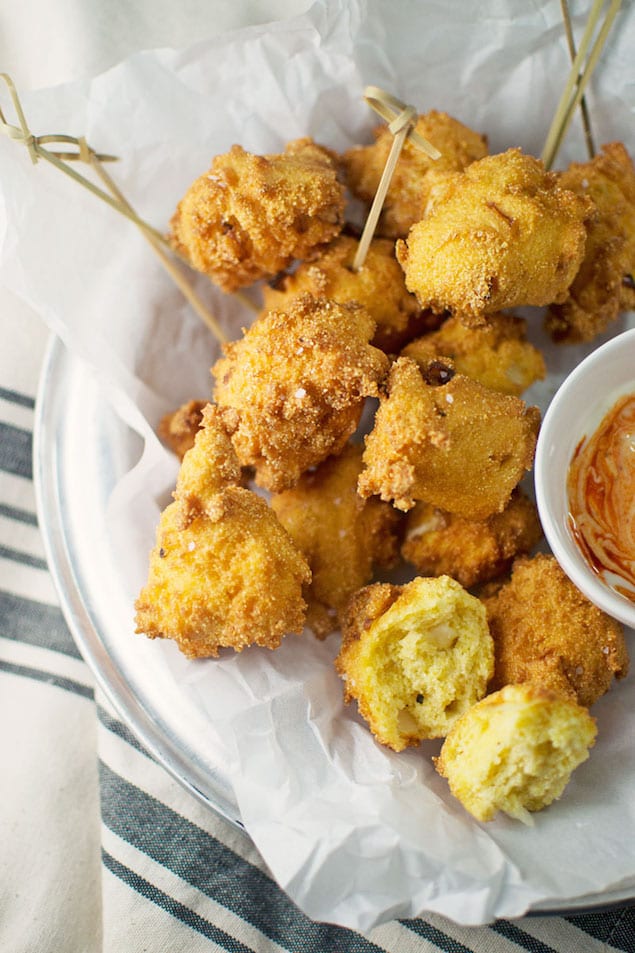 I think I could enjoy a large plate of these all on their own (carb-overloaded, yet well deserved – trust me).
See Also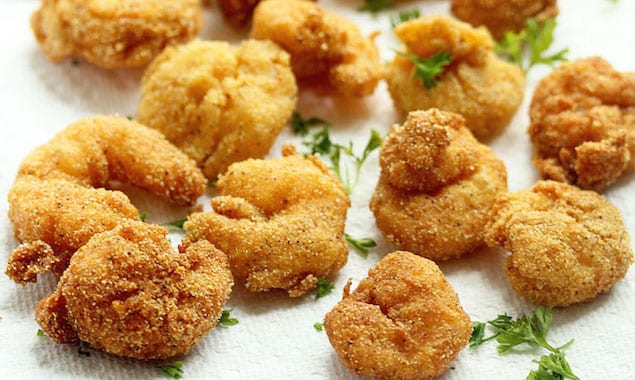 You can pop these darlings straight or mix up a spicy dip, like a bit of Ranch dressing doused with Sriracha, my personal favorite. Hushpuppies are easy to prepare and versatile. If you wanted to jazz them up a bit more, you could add in a small handful of your favorite shredded cheese, like Colby Jack or Pepper Jack. I also love hushpuppies with fresh chopped jalapeño tossed in at the add onion stage!
Find more addictively delicious recipes at Little Figgy.

Crispy Buttermilk Hushpuppies
A perfect side to summer's barbecue, try making golden hushpuppies with a slightly sweet cornmeal center.
Recipe Type:
Appetizer, Side
Ingredients
Oil (about 5 - 6 cups for a fryer or about 2 inches in a large deep pot)
1½ cups Cornmeal
½ cup Self Rising Flour
1 Tbls Sugar
½ tsp Salt
¼ tsp Black Pepper
1 small onion, diced
¼ cup Yogurt
¾ cup Buttermilk
1 Egg
Instructions
Preheat Oil to 350°F in deep fryer or large deep pot.
In a large mixing bowl, mix together the Cornmeal, Flour, Sugar, Salt and Pepper.
Add in Onion.
Make a "well" in Cornmeal mixture and add in the Yogurt, Buttermilk and Egg, mixing until well blended.
Carefully drop 1 heaping teaspoon of batter into 350°F hot oil. Do not over crowd and it's best if cooked in batches. Allow to fry until golden brown, about 2 - 3 minutes, then carefully remove and drain over paper towels and serve.
Notes
You can also add about ¼ cup of your favorite shredded cheese or try adding in some finely chopped red chilies or jalapeño peppers.

If you prefer you can use 1 cup of Buttermilk OR 1 cup Yogurt in place of the ¼ cup of Yogurt plus ¾ cup of Buttermilk.

Can keep for up to 3 - 4 days in an airtight container and then warmed in the oven.
Stacey M Doyle
A Southern girl with a taste for travel, Stacey takes inspiration from her global pantry and cooks with a sense of adventure. Now she's raising her three young children to appreciate a wide world of food, even if she doesn't always tell them exactly what they're eating. Stacey is the food photographer, writer and creator of Little Figgy Food. She's also addicted to coffee. Addicted to olives. Fairly obsessed with dark chocolate.