A simple and delicate recipe, featuring wild green garlic, brown butter and lime tossed pasta.
By Rinku Bhattacharya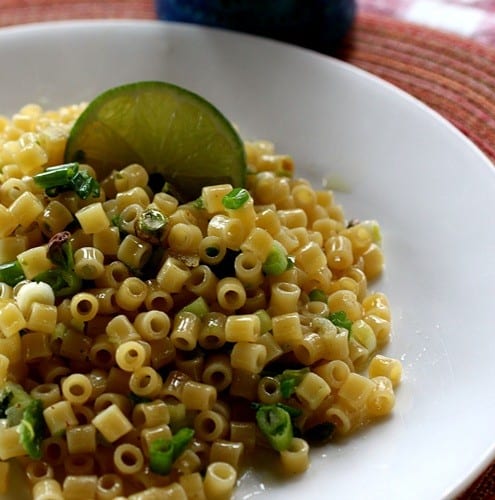 If you told me last year, that I would be foraging in our own backyard, I would have laughed in disbelief. However, that is beauty of exploring, living and working with nature. You are surprised, and gifted all the time. Yes, this year we have been blessed by a generous dose of wild garlic, not unlike the summer purslane that we had last year.
The garlic bulbs have a nice heady flavor. As for the greens, they have some tough spots and need to be cleared a little but, generally yield a nice crisp and fragrant flavor to a dish. I use them for an assortment of dishes, and if you are good and check out  the facebook page, you can see what I do with these fragrant beauties, all through the season, however for now let me please you will this pasta dish that we fell in love with. The green tops have some tough spots that needs a little picking through, but overall rather amazing.
It  is a simple, rich and great tasting pasta dish, which I did kick up with some minced green chiles. Tasted great! In fact, so good that I did not have enough left for the pictures.
Green Garlic, Brown Butter and Lime Pasta
Ingredients
¾ cup dry pasta (any small shape)
Water and salt for cooking the pasta
2 tablespoons olive oil
1 cup chopped wild garlic, the greens and whites separated
3 tablespoons butter
1 lime, cut into halves
2 green chilies, minced
Salt to taste
Handful of walnuts or pistachios chopped (optional)
Instructions
Prepare the pasta according to the directions on the package. Set aside to drain in a colander.
Heat the olive oil and add in the minced garlic whites and cook for 3-4 minutes until the garlic is a pale golden color.
Add in the garlic greens and cook till they wilt.
In a separate pan, heat the butter on low heat until it melts and turns into a pale golden brown shade.
Squeeze in the lime juice
Working quickly, add in the pasta and the salt and green chilies and mix well.
Mixed in the garlic and oil and the nuts and toss well.
Serve immediately!