Dream layers of flaky phyllo dough are filled with a vanilla custard and topped off with pistachios and honey for a new take on an elegant Greek pastry.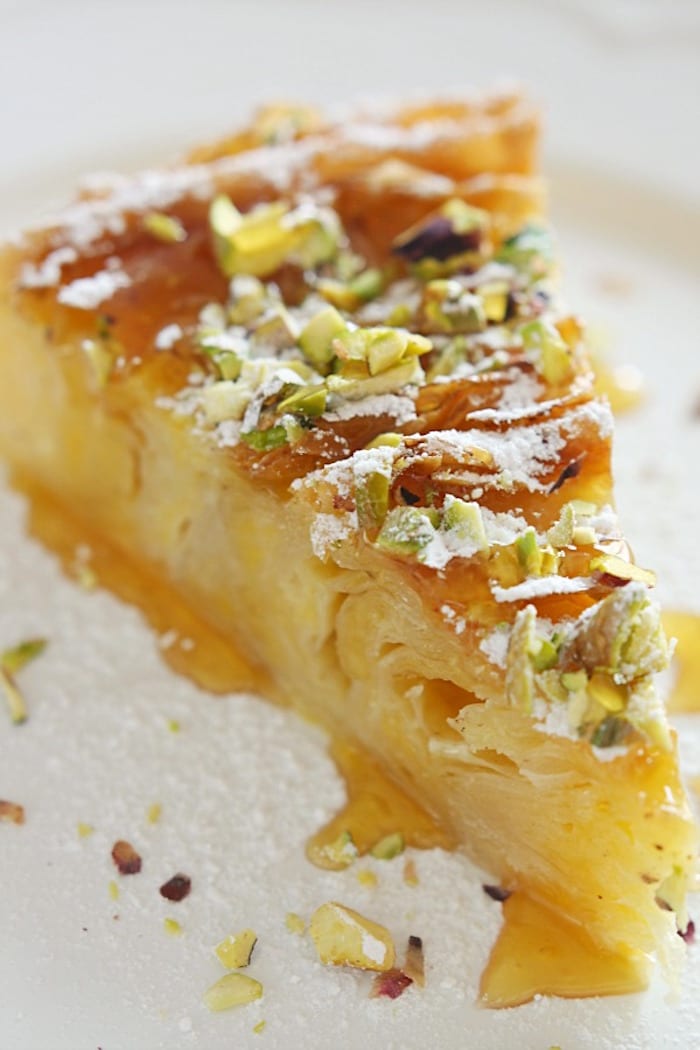 What on earth is a Bougatsa? I came across this funny sounding Greek dessert while hunting for some inspiration for my next post. Low and behold was this absolutely gorgeous rustic masterpiece. At first glance, my thoughts were… "Well, this looks like it's going to take some effort." I checked out the ingredients and method and was shocked to see how simple it was!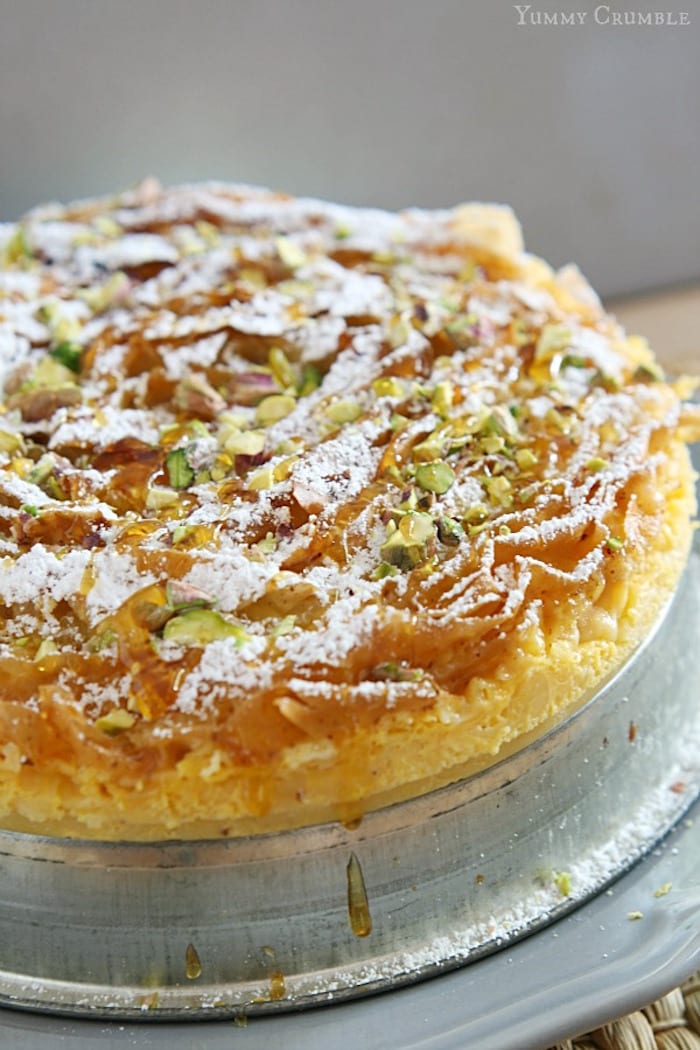 I added honey and pistachios as garnish at the end for a little wink at my favorite Greek dessert ever…Baklava. I have to say this Pistachio and Honey Bougatsa is coming close to knocking my Pear and Fig Baklava into second place. It's dreamy with all those layers of phyllo and that vanilla bean custard that's nestled through out its layers is to die for.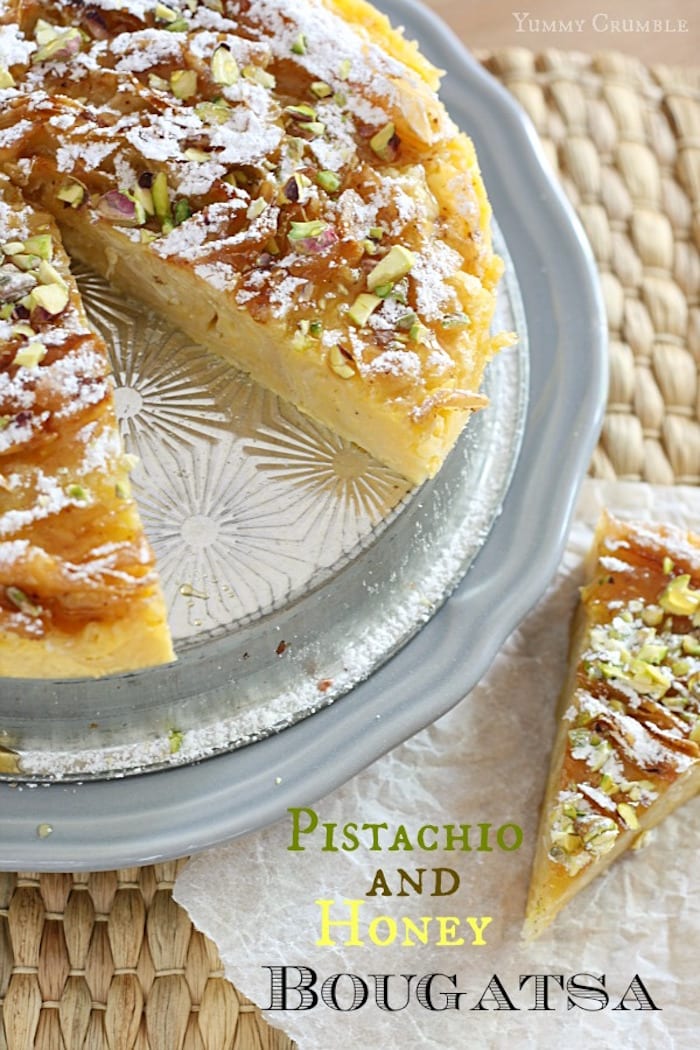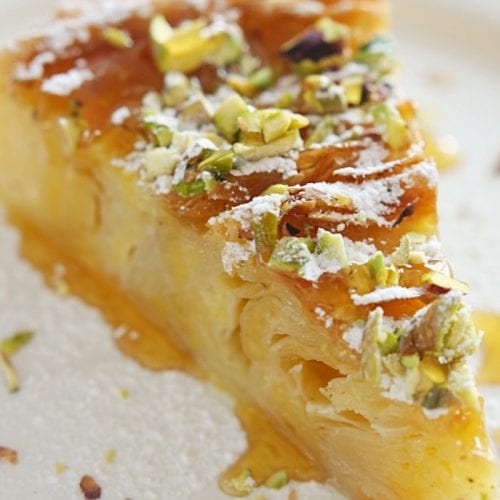 Greek Bougatsa with Honey and Pistachios
Kathleen Siegle
Dream layers of flaky phyllo dough are filled with a vanilla custard and topped off with pistachios and honey for a new take on an elegant Greek pastry.
Course
Baking, Dessert, Pastry
Ingredients
1

packet of phyllo pastry

375 grams

1

cup

unsalted butter

5

eggs

2

and ¾ cups cream

¾

cup

sugar

seeds from 2 vanilla beans or ½ tsp vanilla bean paste

1

teaspoon

ground cinnamon

honey

powdered sugar and chopped pistachios for garnish
Instructions
Preheat your oven to 350 F and butter a 12-13 inch cake pan.

Melt your butter in the microwave or a saucepan over the stove.

Take your first sheet of dough and roll it into a scroll. First fold it kind of like a fan, and then roll into a scroll. Kind of like a snail shell.

Place the first little rolled up piece of phyllo dough into the center of the dish.

Continue to fold the rest of the sheets like fans, and wrap them around your first scroll in the dish.

Continue to layer, until the whole pan is full of the phyllo dough...nice and layered.

Brush all the layers of dough with your melted butter, making sure the butter gets into each crevice.

Bake for about 30 minutes until golden brown.

In a large bowl, whisk together the eggs, cream, sugar, vanilla seeds, and cinnamon until nice and smooth.

Once the phyllo is done baking, immediately pour the custard over the entire thing and place back in the oven to bake for 30 more minutes.

Check on the bougatsa about 10 minutes before the end to make sure its not browning to much. If it is, you can place some foil on top while its finishing.

Once its cooled a little, drizzle with your favorite amber honey and sprinkle with chopped pistachios and powdered sugar.

It's best served warm!
Kathleen Siegle
I'm Kathleen and this is where I explore my sweet tooth and share it with you. I'm not gonna lie. Sweets make my heart flutter. Gooey chocolate chip cookies. Cupcakes with mile high frosting. I won't even turn down fruit cake! Other things that make my heart flutter are my two beautiful children and of course my lovely husband. We've been married for almost 10 years and I can honestly say he's my best friend. I love all things vintage, pretty, and retro and could spend hours lost in an antique shop. My newest venture is collecting vintage cookbooks. Are the recipes really as disgusting as the unappetizing photography? I remember using my mother's "Cooky Book" by Betty Crocker circa 1963 when I was a wee one. I decorated those sugar cookie cut outs in a way only a mother could love. The memories of helping her bake in the kitchen will stay with me forever. I remember the smells, the love I felt, and of course the eating! So now I'm passing this hobby down to my little ones. A few things about me: I'm a super geek. I love Star Wars, Battle Star Galactica and all things Disney and Harry Potter. I Love Lucy is on at my house. At all times. Or at least in my little head. I listen to Christmas tunes all day every day from August to January. I have moved an average of 2.5 times per year in the last 10. We're fancified carnies! I was in beauty pageants all through elementary school. I grow up on the street that Punky Brewster lived on. We were pals. I sometimes listen to 1920's jazz while I shower. I'm a weirdo. I'm a full time massage therapist for Walt Disney World. And…I always cry when I laugh.