With The League of Kitchens, students are welcomed into immigrant's homes to learn traditional cooking techniques. They put emphasis on the power food has to unite people while learning how to prepare traditional homemade ethnic cuisine.
By Cass Daubenspeck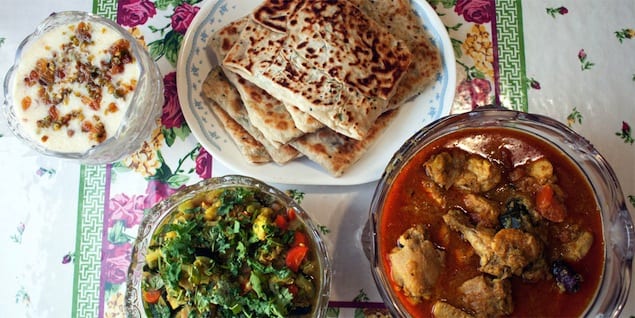 If you've ever been to a cooking workshop before, you know it's typically a brief sesh – you're there to learn one thing, and most of your attention is paid to the instructor, who is showing you what to do and asking you to imitate. Chop the vegetables this way, knead the dough just so. Some classes will even just give you a recipe that you're meant to follow yourself while the teacher walks around giving tips. An hour or two later you go home with a new recipe idea and a few techniques, but there isn't necessarily a lot of "experience" to reflect on.
That's fine for explicit classes, like knife skills or preserving, but if, like me, you want to become a better home cook and make sometimes-challenging ethnic foods at home, you need more than an hour and a recipe. Like a yoga student visiting the ashram, I needed to go straight to a master. I also needed a class where I could feel comfortable asking a million questions, where I had time to mess up what I was doing, and where I could taste all the food I was making, in order to properly replicate it on my own.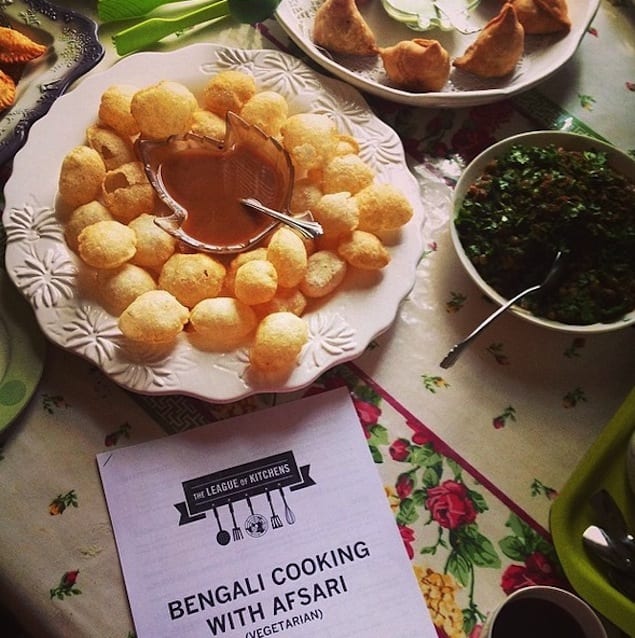 When I heard about The League of Kitchens, that's exactly what I did. I don't have an immigrant grandmother who can teach me to make the foods of my family's heritage (or of any other heritage), so I was thrilled that through the workshops, I could "adopt" an immigrant grandmother for a day and learn how to make Indian, Korean, Greek, Lebanese, Bengali or Afghan dishes right from her, in her own home kitchen.
I signed up for a Bengali workshop, curious about the cuisine, and took a quiet train out to Bay Ridge on a Sunday morning for the 5.5 hour class. I'm a reasonably outgoing person, but I was nervous! It's not every day you travel to a part of Brooklyn you've never been to, to go to someone's house you don't know, to meet up with several strangers and hang out with them for around six hours. I met another student outside and we walked in together, both of us already less nervous to have a new friend.
We walked upstairs and Afsari, our instructor, a warm and smiling woman, welcomed us inside. We removed our shoes and took seats on the sofa as she offered us tea and a selection of snacks like samosas and chutney. We had warmed up from the cold and were starting to feel at home as we listened to Afsari tell us her story – an interesting history of emigrating from Bangladesh to Singapore, and then working in the garment industry in Manhattan with her husband, putting her son through school, and rarely getting the chance to visit family because of travel time and cost. The whole experience felt a bit like visiting and catching up with a relative.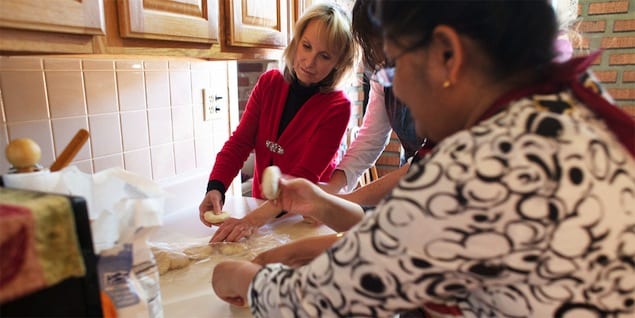 When the other students showed up, we all introduced ourselves and set to work. We started with rice pudding because it takes the longest. Afsari let us hold and feel the special rice she uses – Kalijira rice, a fine grain – and smell the cardamom pods she drops into the milk. We took turns stirring the pot, exchanging jokes and small talk. The workshop was very hands on – lots to do to prepare this five entree meal we would eventually eat – and I got to ask Afsari as many questions as I wanted. Why do you use this type of pot? Why ghee and not butter? What is ghee? She explained everything – why it's done this way, what the tradition is that puts it in context – and I took notes. I got to know other students as we shared the duties of peeling potatoes and chopping onions, preparing a garlic paste using a food processor, pouring coconut milk into the pan and stirring the rice pudding. We tried and sometimes succeeded at rolling out dough for chapatis, and looked on as Afsari placed a whole eggplant directly onto her stovetop flame – a method that lets the skin burn and roast, making it easy to tear away.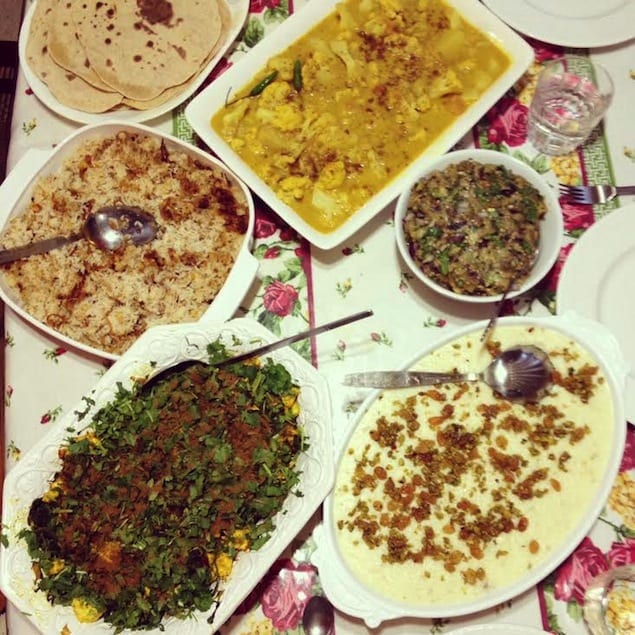 We all took turns washing dishes and cleaning up after our prep, and in a way, after a little while, we felt like friends at a dinner party.The finished meal was a reward in itself, but we also got to take home leftovers, along with a bag of goodies and a printed version of the recipes (which I only needed to use about three times before I could make most of the dishes from memory).
This class was different than any other I've been to, and there was so much to reflect on on the ride home. In fact, my classmates and I reflected together, since, at the end of the workshop, we all rode back together, as if we'd been friends all along.
The cooking workshops at the League of Kitchens are designed for a unique purpose. They put as much emphasis on the power of food to unite us as learning the proper way to prepare traditional homemade ethnic cuisine. You can go to any restaurant in New York and taste the food from hundreds of regions around the globe, but this? There's nothing else like it.
Cass Daubenspeck
Cass is a writer, editor, and adventurous eater from central Pennsylvania, where she was raised with a healthy appreciation for scrapple and shoo fly pie. When she's not writing and cooking, she runs Sunday Routine, a website devoted to the habits and rituals associated with living a good life.