This tomato and goat cheese tart is awesome. Awe-some. And then some.
By Sarah Schiffman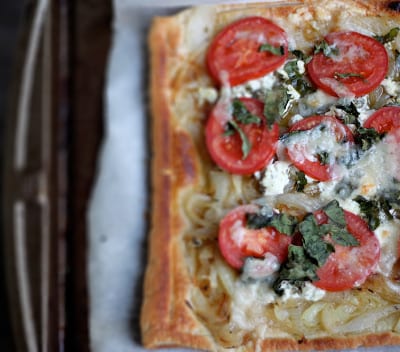 This tart is awesome. Awe-some. And then some. Plus it uses puff pastry and it takes to all sorts of cheeses and veggies which makes it an easy at home standby for any season. Confused about the store-bought vs. homemade puff pastry debate? You're not alone. I've said it before but my rule of thumb is to go for the all butter varieties.
Goat Cheese and Tomato Tart
This tomato and goat cheese tart is awesome. Awe-some. And then some.
Ingredients
1 sheet puff pastry, defrosted
olive oil
2 large yellow onions, thinly sliced
salt and pepper
3 Tablespoons dry white wine
2 Teaspoons fresh thyme, minced
¾ cup freshly grated parmesan
¼ cup freshly shaved parmesan
4 ounces garlic and herb goat cheese
1 large tomato, cut into thin slices
handful of basil, julienned
Instructions
Preheat the oven to 425 degrees F. Unfold puff pastry sheet onto a lightly floured surface and gently roll it out so that it is just a touch thinner and looks closer to a square. Place the pastry on a sheet pan lined with parchment paper and refrigerate until ready to use.
Heat 3 tablespoons of olive oil in a large skillet over medium heat and add the onions. Saute for 15-20 minutes, stirring frequently, until the onions are limp and there is little to no moisture left in the skillet. Add a pinch of salt and a pinch of pepper, the wine, and the the thyme and continue to cook for another 10 minutes until the onions are lightly browned. Remove from heat and set aside.
Using a paring knife, score a ¼ inch wide border around the pastry square. Prick the pastry inside the score lines with the tines of a fork and sprinkle ¾ cup of parmesan on the pastry square, staying inside the scored border. Cover parmesan with onions, again staying within the scored edge. Crumble goat cheese on top of the onions and spread sliced tomatoes on top of the goat cheese. Sprinkle with basil and add remaining ¼ cup of Parmesan.
Bake for 20-25 minutes until the pastry is golden brown. Serve hot.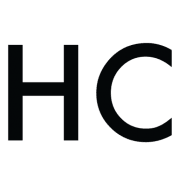 Sarah Schiffman
Sarah Schiffman is the author of the food and photography blog Pearl and Pine. Her recipes focus on fresh seasonal ingredients and she loves to share the stories and pictures that accompany each dish.