Traditional gnocchi with sun-dried tomatoes is a simple dish, but one that is bursting with fresh flavors and rustic charm. It's far easier to make than it seems, and makes for a perfect lunch or dinner!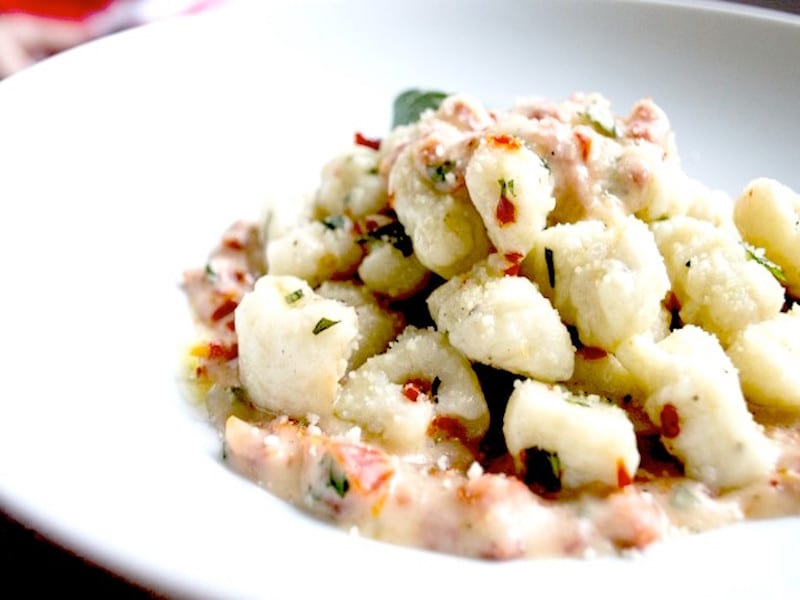 Gnocchi, a simple pasta made from potatoes, is one of my favorite things to make. I learned how to make it from an old Italian couple that I worked with many years ago. They owned a restaurant in Italy at one time. When I first made gnocchi for Jackie, she adored it, but she always giggles at the way I pronounce the word. Jackie, my ever so beautiful documentarian (with a very endearing nerdy side) likes to pronounce "gnocchi" it with a certain Italian flair. I, on the other hand, Americanize my pronunciation: "knock-y". However you choose to say it, this stuff is good. And this recipe has become one of our favorites. It is sweet, yet savory and ever so decadent.
How can you not love a pasta made with potatoes? I crave this stuff quite often, which is why I make enough to freeze. It enables me to make quick, delicious dinner in less than 15 minutes. We hope you enjoy this family favorite as much as we do.

Gnocchi with Sun-Dried Tomatoes
Ingredients
For the gnocchi:
4 medium potatoes
1½- 2 cups flour
1 egg plus 1 egg yolk
1 tsp garlic powder
Salt
Pepper
For the sauce:
4 tbsp butter
4 tbsp flour
1- 1½ cup milk
½ c grated Parmesan cheese
1 tsp garlic powder
¼ c diced sundried tomatoes
8-10 basil leaves
Salt
Pepper
Instructions
For the gnocchi:
Have large pot of salted water on stove heating to a boil
Peel and cut potatoes into 1 " pieces
Cook until fork tender
Drain and allow to cool for at least 5 minutes
Run potatoes thru a ricer or mix with beater until resembling mashed potatoes
Allow to cool until cool to the touch ( can be refrigerated )
Add 1½ cups flour to start. Add egg, egg yolk garlic powder and salt and pepper to taste.
Mix until dough forms
Convert dough to counter dusted with flour and knead dough until smooth and not sticky. You may have to add flour to create.
Cut off small portions and roll out to form ½ inch rope.
Cut into ½ pieces
Continue until all dough is cut
To form the gnocchi:
Using a fork take each piece of dough and roll the dough down the fork while pressing in with your finger to " hollow the inside".
Continue until all dough is rolled.
At this point arrange all gnocchi on a baking sheets.
(You can freeze at this point and when frozen, transfer to ziplock bags and store for up to 6 months in the freezer)
To make the sauce:
In a large saute pan melt the butter and mix in flour and cook over medium heat for 3 mins stirring often.
Wish in milk until flour and butter mixture is combined.
Turn heat to medium -low and allow to thicken, whisking often.
Once sauce reaches desired thickness turn off heat
Add Parmesan cheese, garlic powder, and sun-dried tomatoes and mix
Add salt and pepper
Dice fresh basil leaves and add to sauce and mix.
To prepare dish:
Bring a large pot of salted water to a boil
Add gnocchi about a cup at a time.
Allow to cook until they float to the top
Remove with slotted spoon and place in large bowl
Continue until you have cooked all the pasta
To serve, simply spoon sauce onto the bottom of plate and add about 1½ cups cooked pasta on top of sauce and garnish with Parmesan cheese and serve