Twisted with garlic, onions, and herbs this sun-dried tomato bread is gluten-free and Paleo approved, not to mention delicious, too.
By Simone Van Den Berg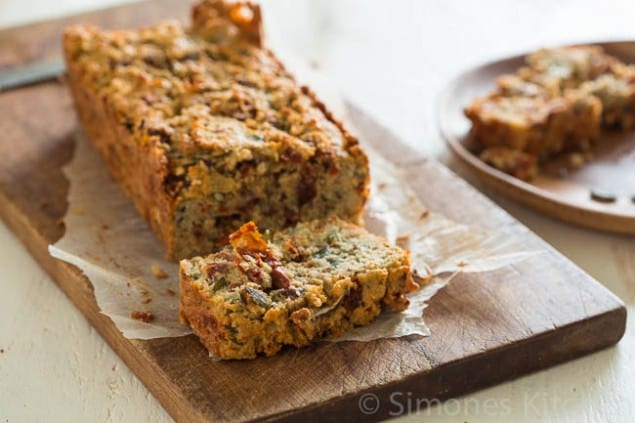 Gluten-Free Tomato Bread
Author:
Simone Van Den Berg
Cuisine:
Gluten-Free, Paleo
Ingredients
200 gr (1/2 pound) almond flour
1 tbsp of pumpkin seeds
1 tbsp of mixed French herbs
salt and pepper
½ tsp bicarb(baking soda)
2 cloves of garlic
1 red onion
2 cups of sundried tomatoes
a little bit of lemon juice
4 eggs
1 tbsp of coconut oil
Instructions
Preheat the oven to 180 C.
In a large bowl mix the almond flour, the pumpkin seeds, herbs, pepper, salt and bicarb. Mix it well.
Chop the garlic. Chop the onion and the sundried tomatoes in small pieces.
Add this to the other ingredients in the bowl. Add the lemon juice and stir everything together
In a separate bowl wisk the eggs well till they become foamy and add this to the large bowl. Again stir well. Melt the spoon of coconut oil in a small saucepan and pour into the rest of the mix
Line your baking tin with baking paper and put your mix into the tin. It's needs to be a fairly firm mixture. With the back of a spoon press the contents into the form.
Cover with aluminium foil and bake in the oven for 20 minutes.
Remove the foil and bake for another 20 minutes. The bread will rise a little bit and become brown
Simone Van Den Berg
Simone van den Berg is a Netherlands based freelance food photographer and food blogger. She has a passion for cooking, food and travel, which she shares on her blog Simone's Kitchen and of course right here on Honest Cooking.