These soft pretzels are chewy, flavorful and totally gluten free. Top with cheese, herbs, salt, or whatever your tastebuds desire.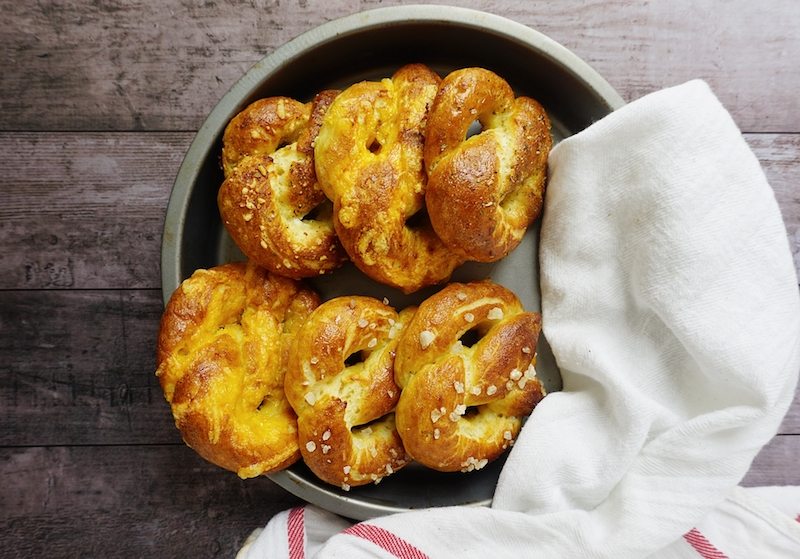 Last week, I made my first ever pretzel. Never tried it before, so I had no clue how it supposed to taste. Luckily, my husband guided me on how is supposed to taste. Every time we go to the mall, he and Anna always get Aunt Annie's soft pretzel bites, while I just stare. Yes, I know, is not as mature as is supposed to be.
Months ago, I tried to make some pretzels, but I failed miserably! Everything was wrong, the dough, the soda bathing… So, I gave up for a while until I get the urge of creating a dough, again.
Finally, I perfected my soft pretzels! I made small ones, topped half of them with coarse sea salt and the other half with shredded cheddar and finely chopped jalapeño peppers. You can even make a sweet version, it's entirely up to you!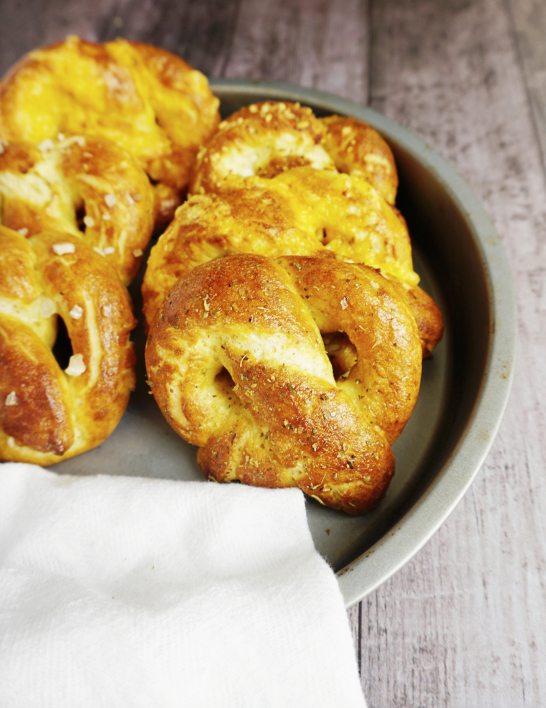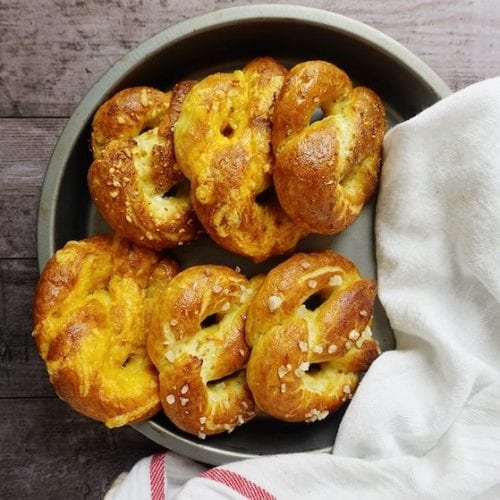 Gluten Free Soft Pretzels
Rita Anastasiou
These soft pretzels are chewy, flavorful and totally gluten free. Top with cheese, herbs, salt, or whatever your tastebuds desire.
Ingredients
2/3

cup

milk

warm

1

tablespoons

butter

1

teaspoon

yeast

1/4

cup

light brown sugar

1 1/2- 2

cups

gluten free all purpose flour

I used Cup4Cup*

2

teaspoons

baking powder

½

teaspoon

salt

1

large egg

¼

cup

oil
Pretzel bath and baking
1

teaspoon

kosher salt

or pretzel salt for dusting on pretzels

4

tablespoons

baking soda

2

cups

boiling water

6

tablespoons

butter

melted
Instructions
Preheat oven to 375 F/180 C and line a large baking sheet or two baking sheets with parchment paper.

Combine yeast with warm milk and sugar in the bowl of your stand mixer fitted with paddle attachment. In a medium bowl, mix flour and baking powder.

Once the mixture becomes "frothy" your yeast is ready. Usually it takes 5-10 minutes. Stir in salt and 1 tbs of melted butter, oil, and egg. Add flour mixture gradually until a dough forms and is no longer sticky. You may need more or less depending on temperature differences and knead dough for 5 more minutes until smooth and pliable. The dough might be a bit sticky, which is ok. Cover bowl with lightly plastic wrap and set in a warm, draft-free location to rise until nearly doubled in size (about 40 minutes).

While dough is resting, prepare a baking soda bath. In a medium-sized pot, boil water with baking soda. Once the baking soda is mostly dissolved, take the mixture off the heat and allow it to come down to a lukewarm temperature. Pour into a 9×9 (22 cm) baking dish once cooled down.

Take dough out of the bowl and flatten slightly with the palm of your hand. I prefer kneading the dough in a lightly floured silicone pad. After kneading grease the silicone pad and gently fold with a rubber spatula or greased hands. Cut dough into 8 sections. Roll each triangle into a long, thin rope, about 12 inches 930 cm) long. Shape into a pretzel by twisting both ends of the rope into a pretzel shape, crisscrossing them once, and then crossing one end over another in an X. Tuck the ends of the X behind the bottom of the pretzel shape and press gently but firmly to seal and place in baking soda bath for 2 minutes.

Once the 2 minutes are up, carefully pick pretzel up either by your hand or with the help of a fork and place on prepared baking sheet.

You may have to re-shape slightly. Sprinkle the pretzel with coarse salt or some cheddar cheese while still wet (optional). Repeat these steps until all pretzels are prepared and place them 2 inches apart from one another and on the baking sheet(s).

Brush generously with melted butter and bake pretzels for 8-9 minutes or until golden brown.
Notes
*NOTE: I prefer Cup4Cup because of its texture and the elasticity it gives. I haven't tried with different gluten free flour brand, so the results may vary and be different.
Rita Anastasiou
A Greek foodie and dessert-aholic, Rita lives in the crazy rhythms of Las Vegas with her daughter and husband. A graduate of the Academy of Tourism and Culinary Arts of Greece, she has worked as a cook for five years, but she hasn't stop there. At her blog, Gluten Free Home Bakery, she shares gluten free recipes from Greece and beyond.