This gluten-free pie is also vegan and will please all the guests at your holiday or dinner table. Parsnips and cremini mushrooms give the dish it warm, rich flavor.
By Vicky Cohen and Ruth Fox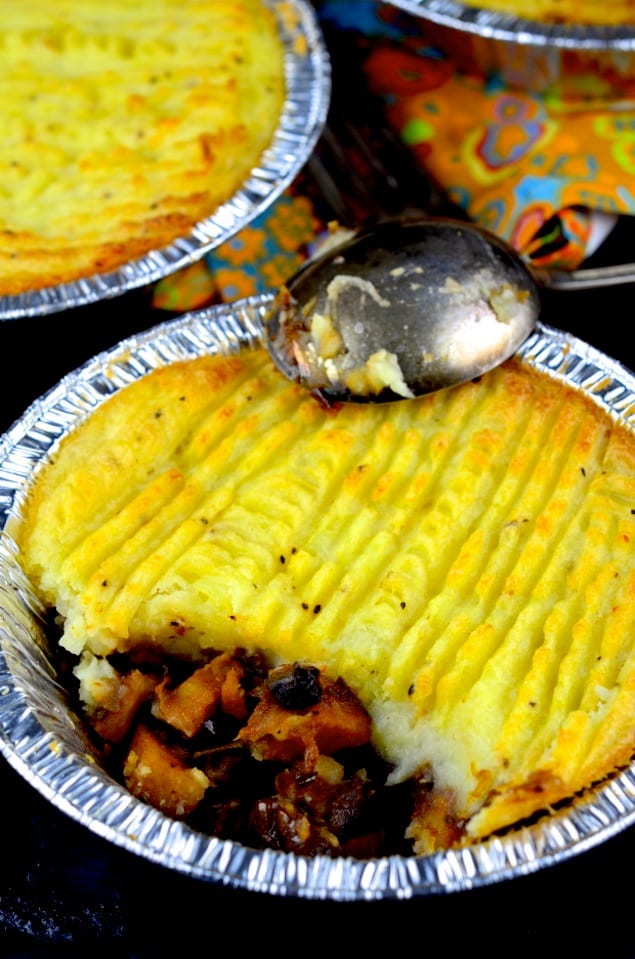 Gluten-Free Shepherd's Pie
This gluten-free pie is also vegan and will please all the guests at your holiday or dinner table. Parsnips and cremini mushrooms give the dish it warm, rich flavor.
Author:
Vicky Cohen and Ruth Fox
Ingredients
1 tsp extra virgin olive oil
3 tbsp tomato paste
½ tsp salt
¾ cup dry red wine
2 tbsp extra virgin olive oil
1 medium onion, chopped
1 large parsnip, diced small (about 1¼ cups)
2-8oz packs babybella or crimini mushrooms, sliced
1 (150g) pack roasted and peeled chestnuts, quartered
½ tsp salt
2 tsp chopped fresh thyme
1 tsp chopped fresh rosemary
10-12 medium size Yukon Gold potatoes (about 2 lbs)
1 tsp salt
¼ tsp black pepper
⅓-1/2 cup extra virgin olive oil
¾ cup vegetable broth or unsweetened almond milk
Instructions
Peel and dice the potatoes. Boil in plenty of salted water until tender, about 20 minutes.
Drain the potatoes and mash them using a potato masher or a fork. Add salt, pepper and olive oil and mix well. Slowly, pour vegetable broth or almond milk and mix until well incorporated. Set aside
In a medium size sauce pan, heat 1 teaspoon of olive oil, add tomato paste and cook over medium-high heat for 3-4 minutes. Add red wine and continue cooking for an additional 3-4 minutes, until it reduces. Set aside
In the meantime, saute onion in 2 tablespoons of olive oil over medium heat for 2-3 minutes until translucent. Add parsnip and continue cooking for 2-3 minutes. Add mushrooms, chestnuts, salt, thyme and rosemary. Cook for 10 minutes , stir in the red wine sauce and cook for another 3 minutes
Spoon aproximately ¾ cup of vegetables in 4 individual baking dishes (or disposable foil ones). Top with ½ cup of mashed potatoes and bake at 400F for 20 minutes until golden brown.
Vicky Cohen and Ruth Fox
We are two sisters born and raised in Barcelona, Spain, with Sephardic and Middle Eastern roots. We grew up eating the best, most flavorful, comforting home-cooked meals prepared by our mom, who taught us everything we know about cooking. When we moved here to the U.S. we felt it was really important to keep our traditions and background alive, and we've done so by sharing it with everyone we've met throughout the years. After all, what better way to make new friends and share our love and culture than through food, right? Our friends have come to enjoy our food and gatherings so much that are always asking us for our recipes. That inspired us to start a cooking blog called "May I have that recipe" where we share recipes we've created inspired by our multicultural background.