This gooey, gluten free carrot cake in a mug is made in minutes with nuts, raisins and a scoop of whipped coconut cream on top.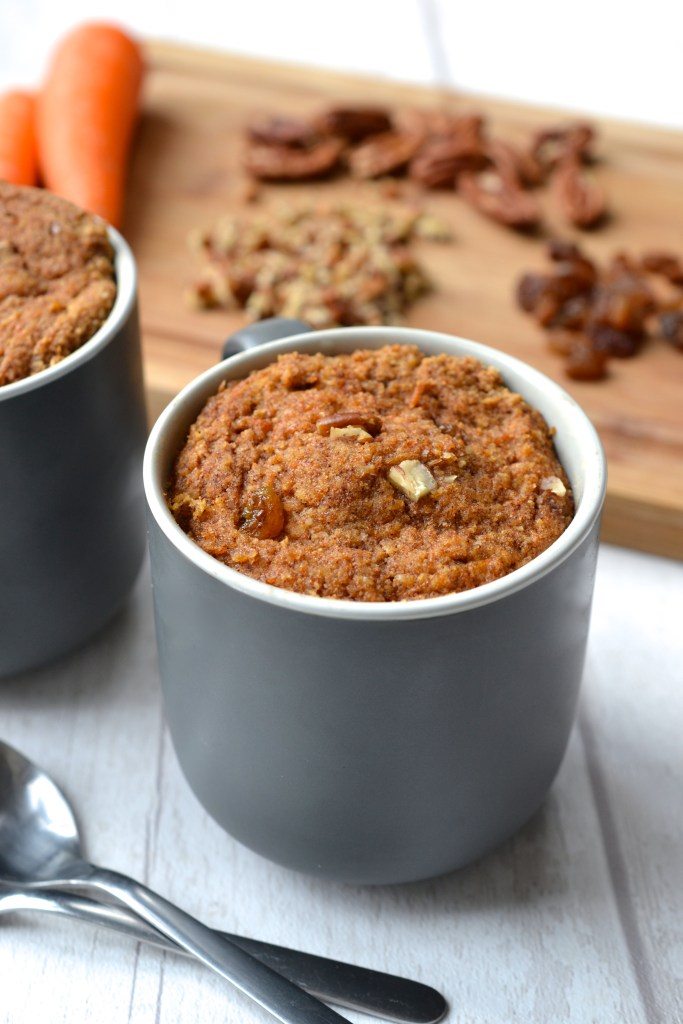 Do you ever get those cravings that just won't go away no matter how much water you drink or healthy food you eat? You try to ignore it for hours or even days but the craving just persists, like an itch that you can't scratch.
Well I have good and bad news. The good news is that if like me, that craving is often for Carrot Cake, than I have the fastest and easiest recipe ever to satisfy you. The bad news is that it might just be a little too easy to make this mug cake, so you are going to find yourself making it a lot.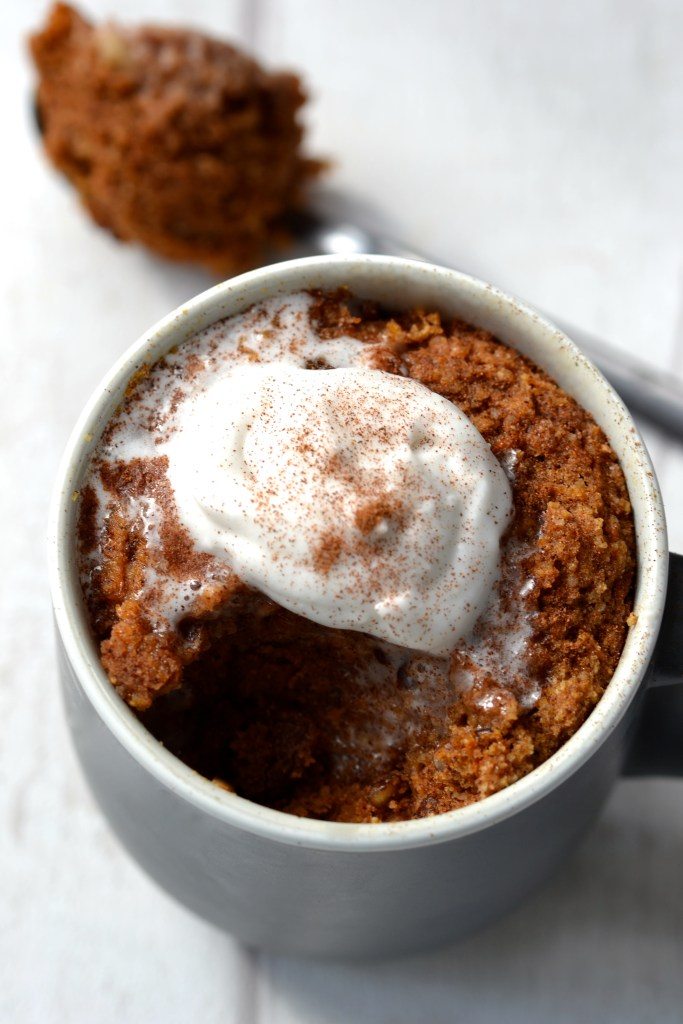 But then again, carrot cake contains a vegetable, so that makes it good, right?
This mug cake really couldn't be any easier to make and is basically fool proof. The only advice I can give is to make sure that you have a big enough cup as it rises when microwaved.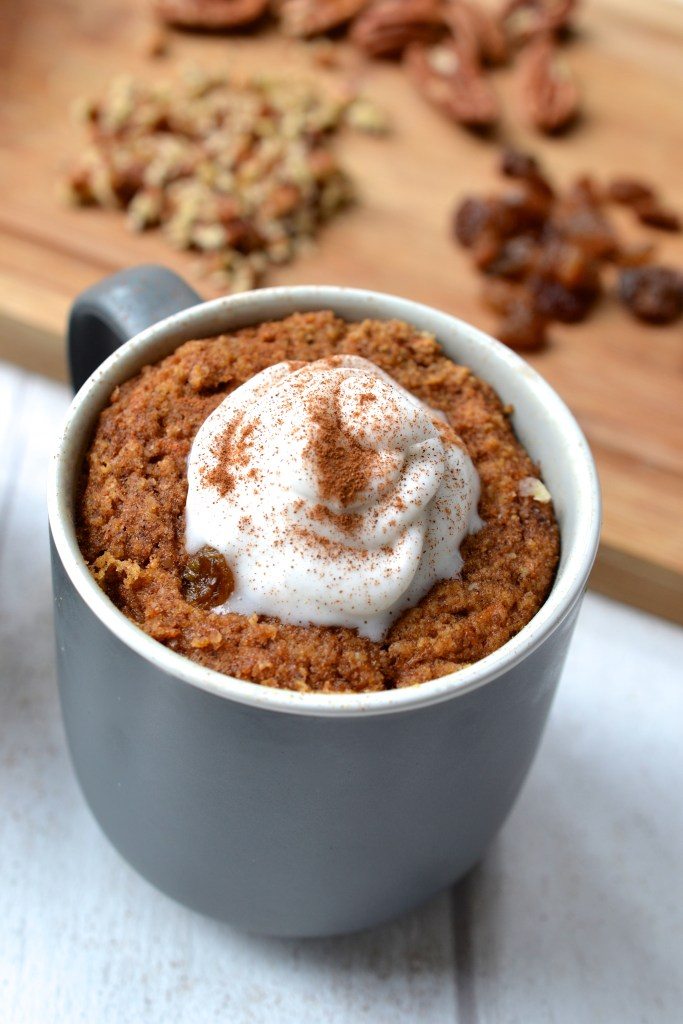 I like including chopped pecans and raisins for some added texture, but if you aren't a fan then feel free to leave them out. Alternatively if you are one of those people who likes pineapple in your carrot cake (I'm still a bit skeptical) then you can add a tablespoon of chopped pineapple chunks.
For added decadence I top the mug cake with a scoop of coconut cream that is quickly whipped with a teaspoon of honey. If the mug cake is warm the coconut cream melts and becomes a bit messy but so delicious.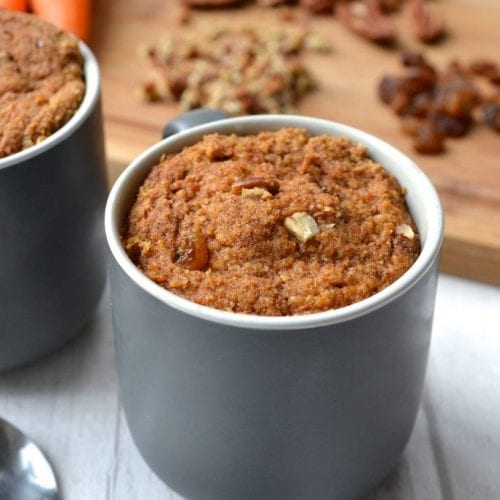 Gluten Free: Quick Carrot Cake in a Mug
Carmen Sturdy
Ingredients
1 1/2

tbsp

coconut oil

2

tbsp

coconut flour

2

tbsp

almond flour

1/4

tsp

baking soda

1/2

tsp

cinnamon

2

tbsp

orange juice

1/4

tsp

vanilla extract

1

egg

2

tsp

honey

1/4

cup

finely shredded carrot

1

tbsp

raisins

1

tbsp

chopped pecans or walnuts
Instructions
Put the coconut oil in the mug and microwave for 15-20 seconds until melted.

Add to the mug the coconut flour, almond flour, baking soda and cinnamon and stir. Next add in the orange juice, vanilla extract, egg, honey and finely shredded carrot. Once everything is mixed add the raisins and chopped nuts.

Microwave the mug for 2½ to 3 minutes or until the cake has risen and the top is fully cooked and no longer wet to the touch. Serve topped with coconut cream.
Carmen Sturdy
Carmen discovered the Specific Carbohydrate Diet (a diet free from grains, gluten, refined sugar, processed food, lactose and soya) after being diagnosed with an autoimmune disease 2 years ago. She now lives symptom and medication free thanks to the diet. She created Every Last Bite to share healthy recipes and show people that no matter how restricting your diet, you can still enjoy delicious food.